Top 5 Sites to Browse for Unique Vintage Clothes
last updated:
Apr 09, 2019
1718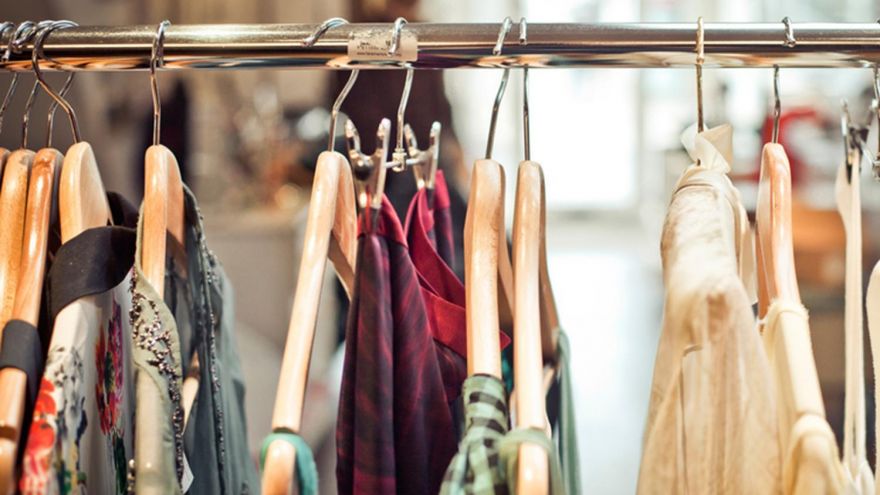 More and more people are becoming interested in buying vintage pieces. Though unfortunately, finding these items at your local thrift store can be tough. Most thrift stores are picked through early every morning and their best vintage pieces are bought first. If you're in the market for some of the most unique vintage finds, here are 5 sites to consider.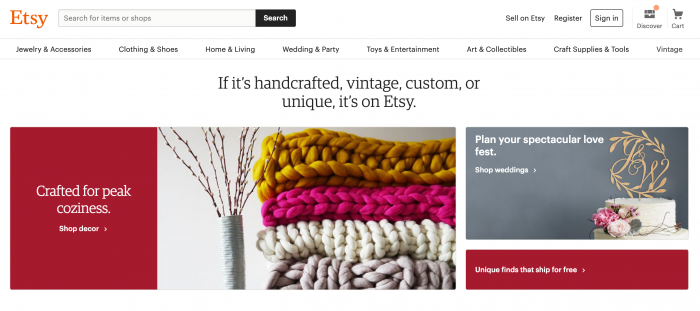 Etsy isn't a website that only sells handmade items. In fact, they have a hugely thriving marketplace for vintage clothing, homeware, and accessories. When you land on the website, all you have to do is visit the "Clothing – Vintage" section. The only issue that we have with this particular site is their pieces are sold based on what sellers think they are worth. With that being said, you're not going to find a $5 vintage shirt, instead, it could be priced around $15-$30.
The most notable aspect of Etsy's vintage pieces is that there is an immense number of items. You can easily find vintage jackets from Russian naval officers or a throwback flannel that was once loved in the 90s.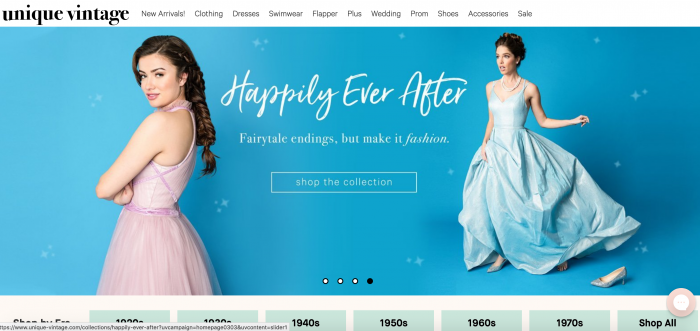 Unique Vintage is interesting because it's not a website that deals in truly vintage pieces. Instead, they create new pieces based on vintage fashion. If you're someone that isn't particularly interested in wearing second-hand clothes, this is the site for you. Apart from their online site, they also have a brick-and-mortar location in Burbank, California.
What we love about Unique Vintage is that it takes a new spin on thrifting. You won't have to worry about whether an item is priced accurately for its decade. You also don't have to revitalize older pieces so that they're wearable today. Instead, every article of clothing is newly manufactured, but designed to look just like an original vintage piece would. Their website features plenty of categories including swimwear, plus size pieces, weddings, proms, shoes, accessories, and everyday clothing.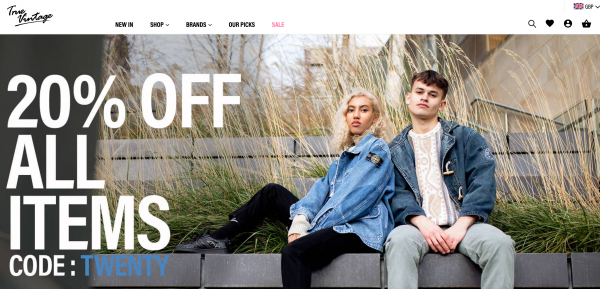 True Vintage is a luxurious website that resells fashionable items that you'll be sure to love. However, it's the most expensive website on the list when it comes to trendier pieces. This is because all of their picks are top tier brands that are still popular today. The other thing we realized about True Vintage is they typically deal with articles of clothing based around the 80s and 90s, rather than the 50s through 70s. A couple of the name brands that True Vintage carries include Nike, Champion, Polo Sport, Tommy Hilfiger, and Puma. They also have an assortment of high-end fashion brands including Versace, Stone Island, Burberry, and Christian Dior.
When you visit the website, there are plenty of ways to find pieces you might be interested in. You can look at the "New" section, which features the most recent items that have been added to the site. You can also take a look at the "Our Picks" tab, which is an assortment of items that the staff would pick for the everyday wearer. For more convenience, you can also browse by brand or by a particular article of clothing. If you're someone who is shopping on a budget, we'd recommend sorting by price. Otherwise, considering one of the other websites on this list would be a more cost-effective venture.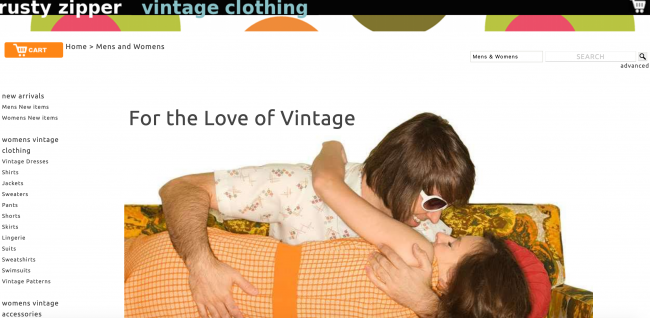 Easily one of the best online vintage shops, Rusty Zipper is a collection of everything that you would expect from a vintage store. They carry plenty of pieces that have been previously loved and used over the decades. Additionally, they don't only focus on the most popular brands that people are wearing right now. When you visit their site, you'll love how it will feel like you're shopping at your very own local thrift store.
Another thing that we love about Rusty Zipper is that they've been in business since 1995. They have been working towards building the largest collection of vintage pieces for years. With that being said, there's plenty to take a look at on their site. You can find men's and women's accessories, dresses, shirts, pants, lingerie, jackets, neckties, fanny packs, shoelaces, wigs, and more. Even if you're interested in making your own clothes, they have an assortment of vintage patterns.
When it comes to price, many of the items on Rusty Zipper are incredibly affordable. For example, you can find genuine pieces from the 70s at around $18 or less. The items that are going to cost more are those that are older. However, they're still incredibly competitively priced. For example, you can purchase a naval peacoat from the 60s for under $100.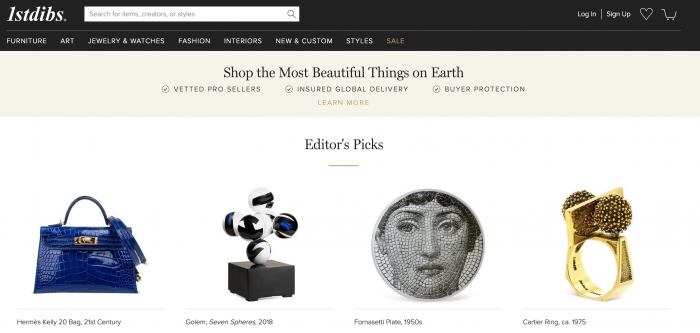 Like a dream for anyone who is interested in vintage luxury designers, 1stdibs has everything that you could possibly dream of. In comparison to the other sites on this list, this one focuses solely on high-end designers for an affordable cost. You can guarantee that you're going to spend more money while browsing through their collections. However, you'll have the opportunity to own some of the most influential pieces in fashion history.
Some of the brands that you'll find on 1stdibs include Alexander McQueen, Tom Ford, Jean Paul Gaultier, Chanel, and Balenciaga. They have an extensive collection of furniture, art, jewelry and watches, fashion, and interiors. Additionally, there is a sale section where you can find extra pieces that have been marked down from their original prices. Even if you're looking for specialized items, you can look at the "Custom" section.
Final Thoughts
Finding the perfect vintage pieces can help you to own a part of fashion history. Even if you're someone who loves wearing clothing inspired by a different decade, there's something for everyone. Instead of trying to browse through your local thrift store only to leave without a good find, use online sites.
Out of these five, there is surely a website that everyone will love, whether you're looking for high-fashion pieces or everyday sportswear. When it comes to finding online vintage stores, with a quick search online, you'll easily be able to find the perfect source for what you need.
Pin for later