Shop for the Perfect Beach Dress for a Summer Cocktail Party!
last updated:
Jun 17, 2019
1560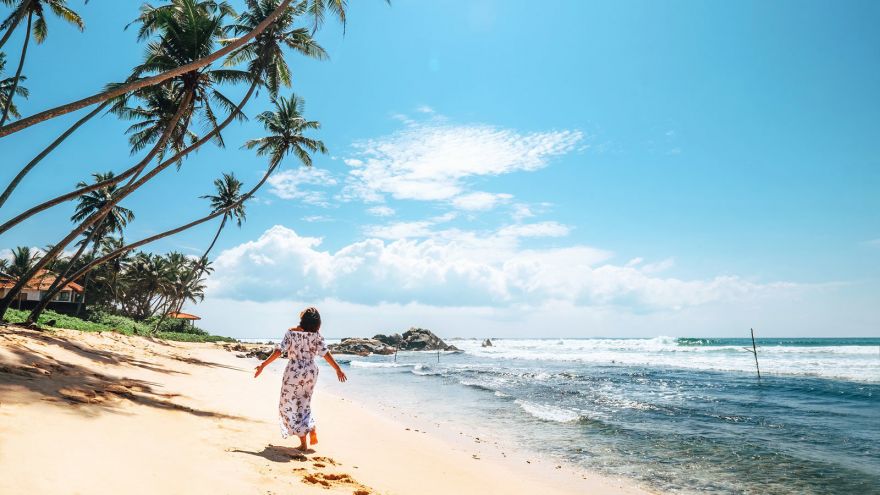 We've found 10 fantastic beach dress options that are not only perfect for the beach, but that will also be ideal for a summer cocktail party.
With summer quickly approaching, you're going to be on the hunt for the most stunning beach dresses possible. With the ability to buy one garment that easily transitions from fun in the sun to a night out for drinks, you won't have to run home to change.
10 Affordable Beach Dress Picks!
1.Sarin Mathews Off-the-Shoulder Ruffle Dress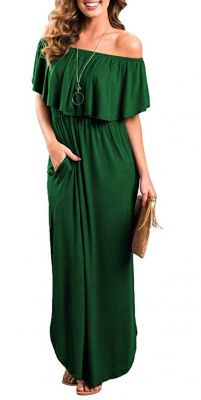 When you're headed to the beach, you might be looking for something a little more conservative until you're ready to prance around in your bathing suit. This ruffle dress is a fantastic option.
It is a floor length gown that looks elegant when worn for drinks but that is lightweight enough to be comfortable to wear on the beach. It also has off-the-shoulder sleeves, exposing the perfect amount of skin.
An additional feature that we found quite useful is that it comes with two pockets on either side, perfect for your valuables. With the cotton and spandex material that is breathable, soft, and stretchy, you'll feel incredibly comfortable on the hottest days of the year.
2. Dearlove Wrap Split Dress
This dress is by far one of our favorites because of how unique it is designed to be. It's also one of the few dresses we've found that would be perfect for women of any body type. With a more formal top and a flirty bottom, it's perfect for a hot beach day and even more beautiful for a night on the town for summer cocktails.
The dress is designed like a wrap dress, meaning it's easy to take on and off with your bathing suit. When worn normally, it also looks like a summer dress rather than a coverup. We also love how there are over 14 different colors and patterns to choose from.
If you're looking for something that excels in femininity and shows just enough skin to be considered sexy for a night out, the Dearlove Wrap Split Dress is a fantastic option.
3. SVALIY Floral Maxi Dress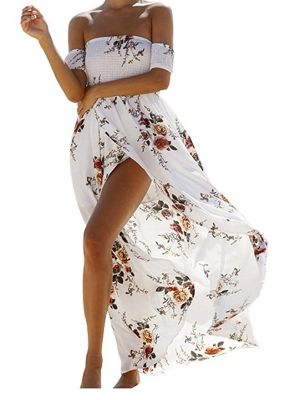 This dress captures everything that you would expect a summer dress and beach dress to have. The plunging slit up the front allows for optimal airflow and breathability, meanwhile adding a sexy touch to the entire garment. We also love the ruched bodice which adds comfort and a lot of stretch for every woman.
The two main fabrics used to make this style of dress include polyester and chiffon, and it also features a slip inside to help protect your undergarments from being seen. The overall design is perfect for weddings, clubs, cocktail hour, and hanging out with friends in the sand.
4. FANCYINN Tie Front Midi Dress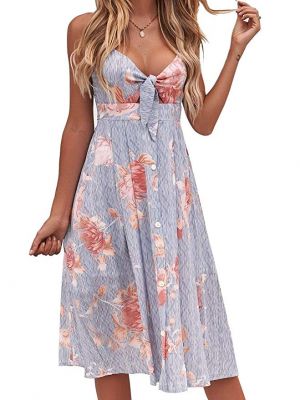 If you're someone that isn't interested in a maxi dress or a mini dress for the beach or cocktails, this garment falls perfectly in between. The most exceptional feature of this dress is its bodice, as it has a stunning bow at the front of the dress that brings the plunging neckline together. You'll show the perfect amount of cleavage without being too over the top.
We also love the style of the button down skirt, as it adds an extra flair that keeps the dress on-trend for this year. With spaghetti straps and raw fabric materials, this is easily one of the most flowing and comfortable gowns on this list.
5. LILBETTER Crochet Backless Maxi Dress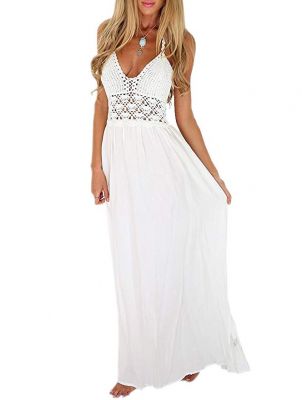 Thisamxi dress has so many features that it's hard to understand how it is so affordable. The crochet bodice is particularly exceptional as it has plenty of fine details you aren't likely to see in other inexpensive summer dress options. What we love the most is how effortlessly this design transitions from day to night.
With a heavily bohemian-inspired design, the halter style top and flowing skirt work well together to create a stunning silhouette. It's also available in three subdued colors, as well as white, so you can find the perfect aesthetic for your upcoming event. Lined with polyester and crafted from 100% cotton, it's supremely comfortable and breathable.
6. Berydress Casual Beach Dress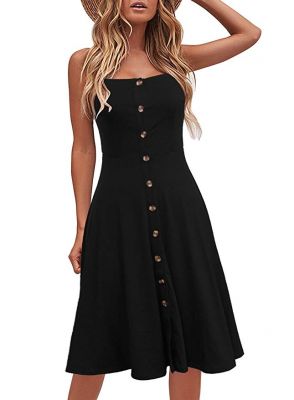 Summer dresses with buttons down the front are arguably the most flattering. They are fantastic for smaller women and even pregnant women that need something comfortable and fashionable to wear. This casual beach dress is designed with every woman in mind, which is why it's our favorite on the list.
With the combination of an A-line silhouette and midi length, it falls perfectly between your calves and your knees. The button fly closure is spectacular for women who want to go from the water to land without trying to fit into a tight-fitting garment. However, it still fits tightly in all of the right places, accentuating your beautiful curves.
7. BELONGSCI Bell Sleeve Shift Dress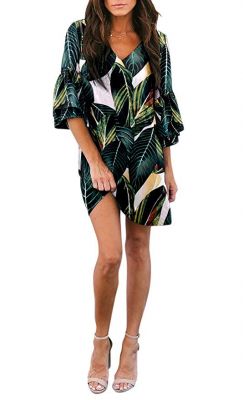 By far, shift dresses are one of the easiest styles to wear on the beach and then also wear to cocktails after a day in the sun. They look exceptionally modern and are designed in a way that you can dress them up or dress them down. This dress, in particular, is perfect for women of every size and age.
Crafted from polyester and fabric, the materials are woven together to feel incredibly soft against your skin. You'll also appreciate the length of the dress as it will show off your legs without being too exposing. In addition, it's highly breathable for the hottest days of the year.
8. KILIG Asymmetrical Maxi Dress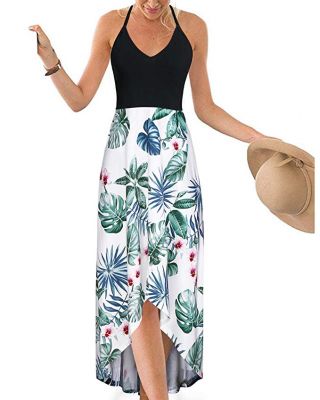 Perfect for women that love the idea of a maxi dress but are still in the market for a breathable garment; the asymmetrical maxi dress has everything you need. With nine different floral prints to choose from, this color blocking dress is fantastic for all occasions.
The skirt is crafted using stunning floral printed cotton. The top is solid black for the perfect amount of contrast. We also love its plunging neckline and comfortable spaghetti straps that help to keep you secured.
The asymmetrical design of the skirt adds an extra ounce of confidence so that you can look and feel your best, no matter where you are.
9. MISFAY Spaghetti Strap Casual Dress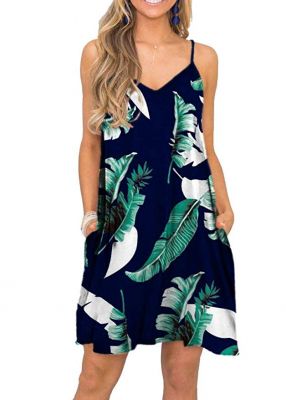 The main thing we love about this dress is how easy it is to pair with any accessories or no accessories at all. If you're looking for something that you can throw on in a rush before heading to the beach and still look perfectly put together, this is the one to choose. The shorter shirt with the casual spaghetti strap bodice creates a comfortable yet curated appearance.
We also love the two pockets added to either side of the skirt, which plays on the casual nature of the garment. Made from spandex and rayon, it's stretchy, soft, and easy to wear in warm weather.
10. MISFAY Casual Tank Dress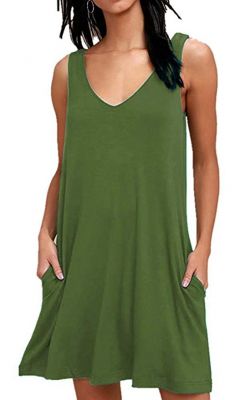 Above all else, we highly recommend the causal tank dress as a simple yet stunning casual dress. It is perfect for running errands before going to the beach or the pool. Yet you can still dress it up with a necklace, bracelets, and a fantastic pair of shoes!
This style is highly recommended for women who live in areas where the heat gets up to 100 degrees F; the rayon and spandex construction is highly breathable. It also has a specially designed hem that prevents the dress from blowing up in the wind.
With the perfect beach dress, you can look your best no matter where you are. We highly recommend all 10 of these styles. They're accommodating to every type of woman, no matter what your style is.
Pin for later