This product is listed here: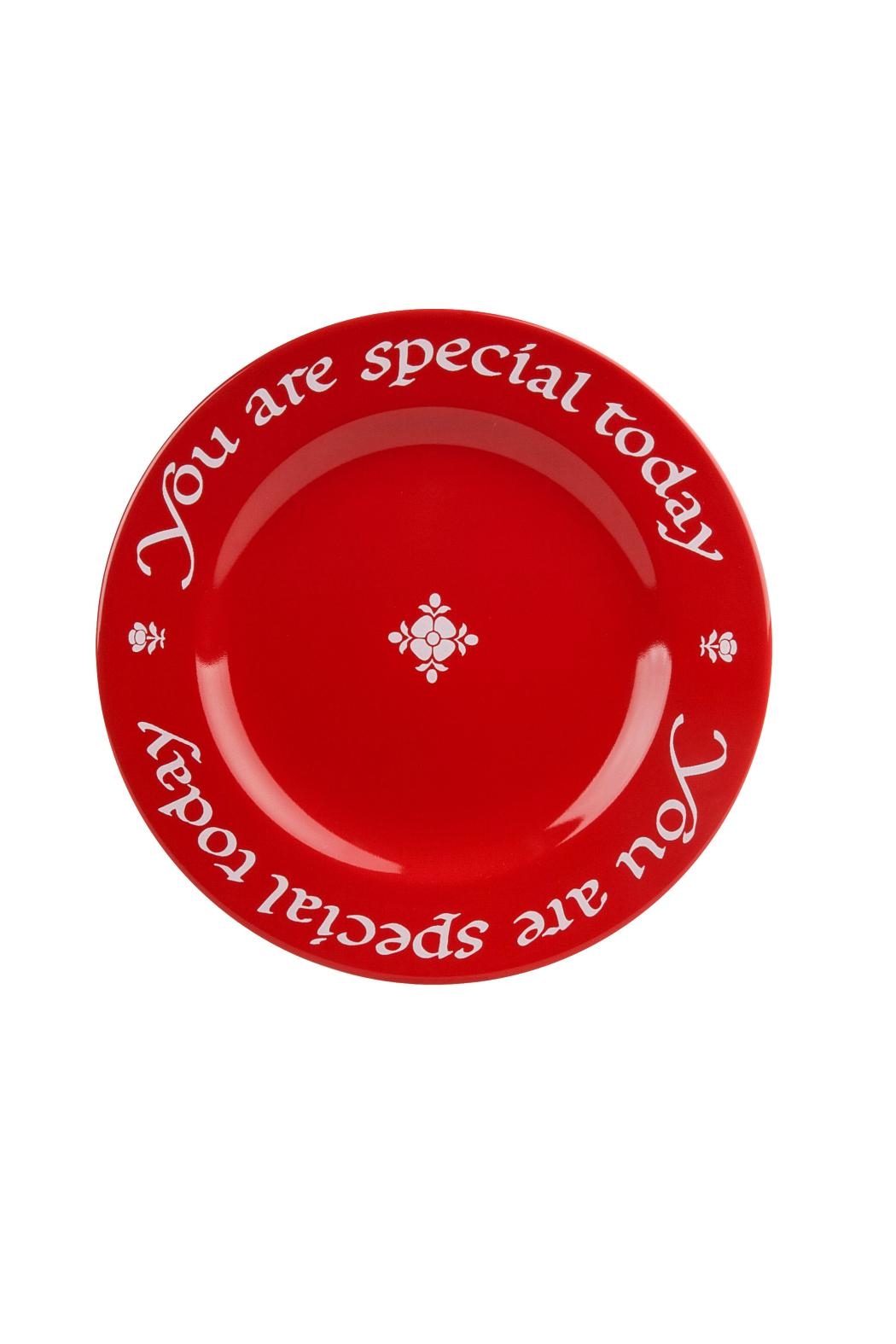 Waechtersbach Plate
There is an old American tradition that has been handed down from the times of the early settlers. If a member of the family did something praiseworthy or needed special attention, they had their dinner from the red plate. Today this time honored tradition is still popular among American families and has been passed down through the generations. It is a perfect way to recognize your family members' achievements, birthday celebrations, graduations, achieved good grades at school, you name it and it can be rewarded by means of this simple tradition.
The red plate from Waechtersbach is colored cherry red all over except for the words 'You are Special Today' and three small flower emblems.
Detailed information about Waechtersbach Plate
It is designed and produced so that this simple item can become a family heirloom good enough to be cherished down the generations.
The red plate is 10.5" in diameter and comes in a gift box with a special pen so that the achievements can be written down on the plate and remembered. It also comes with a handy little card that explains the history of the tradition and how to use the plate. It is crafted from good quality glazed ceramic and will look good on anyone's display shelf. The seller recommends that the Red Plate is hand washed rather than placed in an automatic dishwasher.
WHY WE LIKE IT?
This is a lovely Cherry Red Plate with white lettering for use in your family to uphold the tradition of the red plate
It is a glazed ceramic plate that can be used over and over again
The red plate is large enough for anyone to be served their dinner on
It comes in a gift presentation box together with a pen to note the special occasions on the plate as well as a card describing the tradition and how to use the plate
WHY WE dont LIKE IT?
Handwash only; do not place in a dishwasher
What we love about this product
It reminds us that recognition or a reward does not have to cost the earth, it can be something as simple as eating from a red plate that can be used time and time again.