This product is listed here: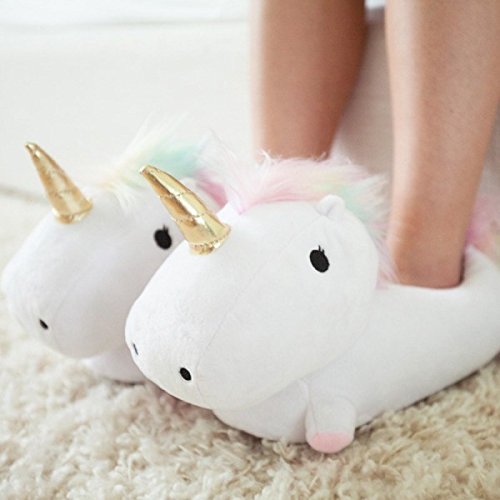 Smoko Plush Buddies Unicorn Shaped Slippers
Super fun and totally comfy, these plush slippers are the perfect gift for a little girl (or let's face it, any woman) on your shopping list! These slippers aren't just comfortable, they are also totally unique in design and will be fun for absolutely anyone to wear.
These aren't just your typical slippers, they come in the shape of unicorns. Perfect for anyone obsessed with the mythical creatures, these slippers are complete with cute faces and of course, unicorn horns. To make these slippers even better, they also light up. That's right- there are hidden LED lights in the cheeks of the unicorn that light up when you turn them on. We can't think of a better accessory to show up to a slumber party with than these.
Detailed information about Smoko Plush Buddies Unicorn Shaped Slippers
If you are shopping for a birthday present for your daughter or granddaughter, this should instantly shoot to the top of your list. The switch to turn on the light is conveniently hidden each unicorn 'mane' so you can easily turn the lights on and off. Imagine how much fun she will have waiting for it to get dark, and the surprise on her friends faces when her slippers light up. This is such a fun gift that any girl will love.