This product is listed here: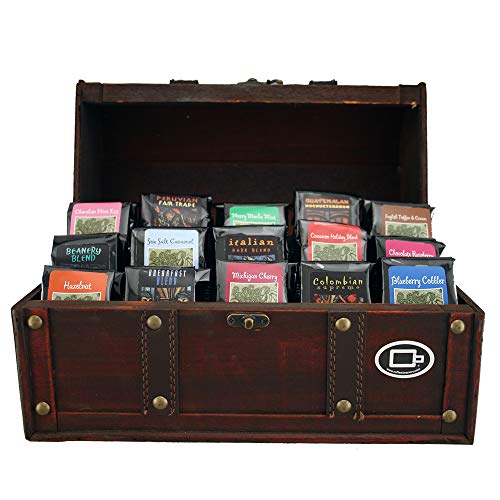 Treasure Chest of Coffee by Coffee Beanery
This wonderful assortment of the very best coffee from Coffee Beanery is certain to be treasured by anyone it is given to. Each of the fifteen flavors makes a full six to eight cup pot of the delightful brew, so there will be plenty for everyone to enjoy.
Coffee Beanery has been an American institution since 1976, long before the specialty brew craze got started. That means that they were at the forefront of the crafted coffee revolution, and practice certainly does make perfect. Each of the fifteen flavors included in this gift box has many years of their expertise behind it.
Detailed information about Treasure Chest of Coffee by Coffee Beanery
The flavors run from several types and roasts of unflavored beans such as Kenya AA Specialty roast and Peruvian Fair Trade beans to some of the most interesting flavored brews out there such as S'mores flavored coffee, Sea Salt Carmel, Pumpkin Spice, and Toasted Almond just to name a few.
There is quite literally a flavor for everyone on your shopping list. Each package contains perfectly roasted and ground beans that make a six to eight cup pot of coffee, depending on the final strength of the brew desired. Each one of these coffee samples offered is Kosher, alcohol, gluten, and lactose-free as well as sugar-free.
WHY WE LIKE IT?
Fifteen different varieties of Coffee Beanery favorites
Packaged in a clever and practical wooden treasure chest that can be reused
All samples are comprised of roasted and ground beans perfect for an automatic drip machine
WHY WE dont LIKE IT?
None
What we love about this product
Once emptied of its original coffee lovers treasure, this gift chest is a perfect candidate for re-use or upcycling as a beautiful storage container; the possibilities for its use are limitless.