This product is listed here: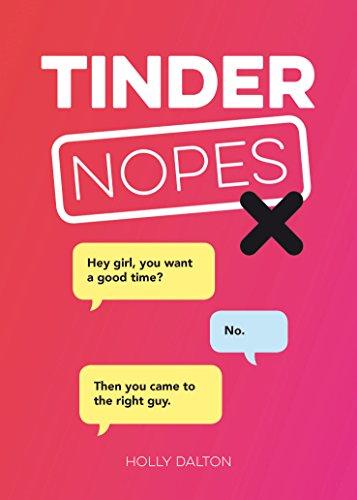 Tinder Nopes: The Best of the Worst Online Dating Fails
This item is actually a 160-page book written by Holly Dalton. It was published on 12th October by Summersdale Publishers. It describes the best of the worst chat-up fails from lines that are funny to the ones that are awkward. All in all, it is a collection of embarrassing conversation-starters. The main reason why online dating was introduced was to ease the process of finding a potential partner. It can be done from the comfort of the home while being behind a phone or a computer. However, the fact that online dating is instant and requires almost no effort – often brings the worst in people. This hilarious book covers the best of the very worst ways to begin a conversation with strangers online.
Detailed information about Tinder Nopes: The Best of the Worst Online Dating Fails
With this book, readers will be able to work their way to becoming a pro in online dating.  Through trial and error that other people already made - everyone will get to see the cringe content that people usually produce online. This book contains everything a person should not do while trying to online date. This would be a perfect gift for a friend who perhaps does not have too much of a luck when it comes to dating!