This product is listed here: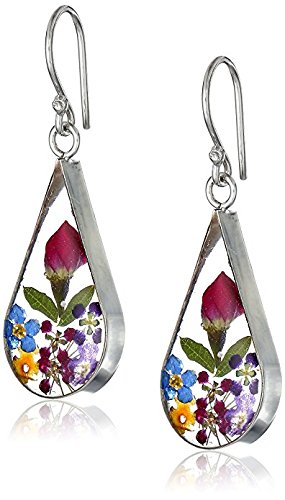 Sterling Silver Pressed Flower Teardrop Earrings
Here is something special for your mom, sister, daughter, wife, girlfriend or a dear friend. The unique sterling silver pressed flower translucent teardrop earrings are the kind of items that should not be missing in a woman's jewelry box. If you are celebrating her birthday, Mother's Day, anniversary or you want to gift her for no reason at all, but just because you can, then you will definitely make her day with these beautiful teardrop shaped earrings.
This unique silver pressed flower earrings will without a doubt bring tears of joy on her face. They are exceptionally elegant and will match with just about any outfit she wears. They are perfectly sized and shaped into small matching teardrops.
Detailed information about Sterling Silver Pressed Flower Teardrop Earrings
The earrings are masterfully crafted into fine artistry. These little pieces of jewelry are undoubtedly one of a kind. They are crafted with real flowers collected and carefully gathered from the fields and gardens of Taxco. The flowers are then dried and preserved in the best of clear resin which gives these special pieces of jewelry an exceptional vibrant appearance.
The flowers make a lovely statement and create a colorful and an eye-catching appearance that becomes the center of attraction in these earrings. This look is definitely one-of-a-kind, and each piece acquires a unique image with slight color variation due to the type of flower used and its composition.
The teardrop shape encasing the flowers together with the fishhook backs give them a delicate feminine look. These pieces will be a delight to the lucky person who receives them. They are not only elegantly crafted, but they are also lightweight. This makes them comfortable to wear every day, all day long, anywhere and to any event.
WHY WE LIKE IT?
Made from real pressed flowers
The earrings are lightweight which makes them comfortable to wear
The pieces are handcrafted into a lovely teardrop shape with fishhook backings
They are available in different colors
WHY WE dont LIKE IT?
None
What we love about this product
The flower pressed earrings are crafted by hand which gives them a special character and makes a wonderful gift for expressing uniqueness and individuality. But it's the genuine pressed flowers that set these sterling silver earrings apart from the rest in the market.