This product is listed here: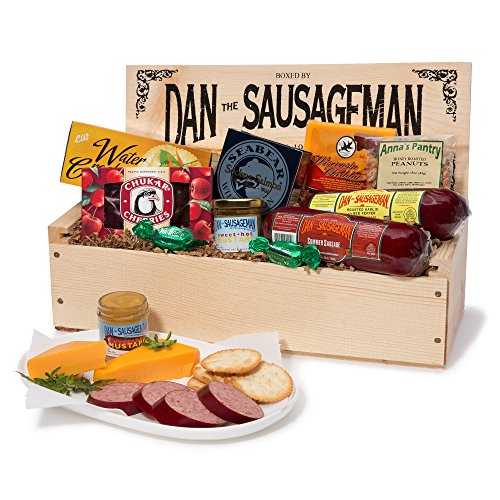 Dan the Sausageman's Favorite Gourmet Basket
Most cheese lovers agree that the best cheese in the United States comes from Wisconsin right?!? Well, Dan the Sausageman agrees and he has put together a gorgeous Gift box which showcases the very best of that cheese and all that goes with it!
You can't go wrong giving this fantastic selection of snack time goodies, and the snacker in your life will appreciate this gift more than you can imagine.
Detailed information about Dan the Sausageman's Favorite Gourmet Basket
This is not your typical snack assortment, oh no, this selection from Dan the Sausageman is definitely a step up! This decadent box of goodies includes the quintessential Wisconsin cheese - cheddar, as well as delicious summer sausages in two flavors, gourmet crackers, and other assorted goodies, all brought to you by Dan the Sausageman.
Dan has been in the business of delivering the finest in food gift boxes since 1988, and in 2018 Dan was awarded the Washington State Small Business of the Year! His commitment to selling exclusively the finest quality items only adds to the value of his gourmet food packages.
WHY WE LIKE IT?
Dan the Sausageman is an award-winning business owner who has been in the food business for over 30 years
Attractively packaged in a handsome and sturdy wooden gift crate
Everything you need to feed an intimate group of friends
WHY WE dont LIKE IT?
None
What we love about this product
This package contains smoked salmon, Dan's original recipe summer sausage as well as a second summer sausage featuring red peppers and roasted garlic, cheddar cheese from Wisconsin, crackers, peanuts, mustard – sweet and hot from Dan's own recipe, and for dessert, chocolate covered cherries!