This product is listed here: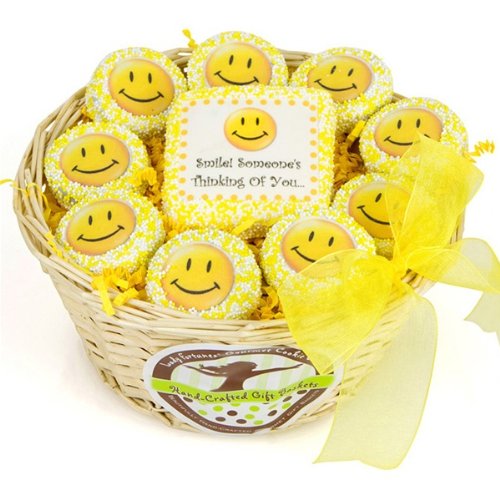 LOTS O' HAPPINESS Basket from Lady Fortunes
Many times when a loved one is sick, the first thought is usually to get them a bouquet of flowers and some chocolates. But, the tradition can be boring and monotonous that you would need a unique way to show you care. The good thing is that there are customizable gift baskets for any occasion matching the recipient.
One good example is this Lots O' Happiness basket from Lady Fortunes. It is designed to bring smiles to a loved one that is battling an illness or is going through a hard time. The basket can be sent out to anyone regardless of gender or age.
Detailed information about LOTS O' HAPPINESS Basket from Lady Fortunes
The gift package features a round woven basket with a decorative ribbon for the extra design. Inside the basket are 9 Oreo cookies arranged around the circumference of the basket. The cookies are dipped in original Belgian white chocolate and finished using yellow and white flakes. Additionally, each cookie has a 100 % edible print of a smiley face to uplift the spirits of a loved one.
At the center of the basket is a card which can be customized to add a personal message to the recipient. You decide what is to be written on the card which makes the gift suitable for any occasion. Think of a birthday message, a get-well-soon encouraging phrase or a special word to a loved one. There is no limit to how one can use the basket as a gift.