This product is listed here: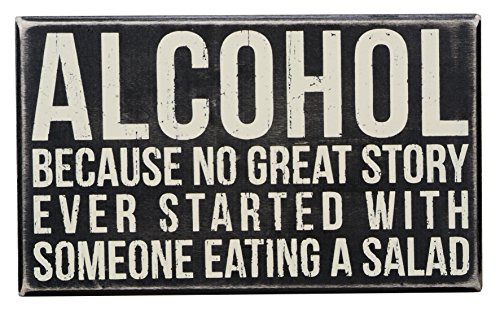 Primitives by Kathy – Funny Kitchen Decor Sign
This clever piece of kitschy artwork is the perfect addition to the kitchen or perhaps to the bar area. It would make an ideal gift for a friend or relative and is sure to get a thank you as well as a good laugh.
Primitives by Kathy are known for their humorous and well-made signs as well as their attention to quality. The item shown here is another witty example of what this company has to offer, and with its distressed finish and minimal color palette, it would be at home in most any décor.
Detailed information about Primitives by Kathy – Funny Kitchen Decor Sign
Primitives by Kathy signs are constructed in a box style that allows for versatility and adaptability in the way that this product is displayed. With this type of fabrication, this item can easily be hung up on the wall alone or in a grouping, or if preferred it can be displayed by standing the piece on a solid surface such as a kitchen island or counter.
Either way this charming and humorous novelty will be a fun addition to any home. It would also fit right in on the home bar, perhaps in front of the bottles, for an added bit of fun.
WHY WE LIKE IT?
Box sign style that can be hung on a call or stand upright by itself on an island or countertop
Slightly distressed looking wood and painted writing
Printed in a sharply contrasting black background with white printing
WHY WE dont LIKE IT?
None
What we love about this product
Primitives by Kathy offers numerous signs in a similar theme, and grouping them together on a kitchen wall would be interesting and make for a perfect conversation starter when entertaining.