Personalizing Wine Glasses: Here is How to Do It!
last updated:
Aug 31, 2018
1124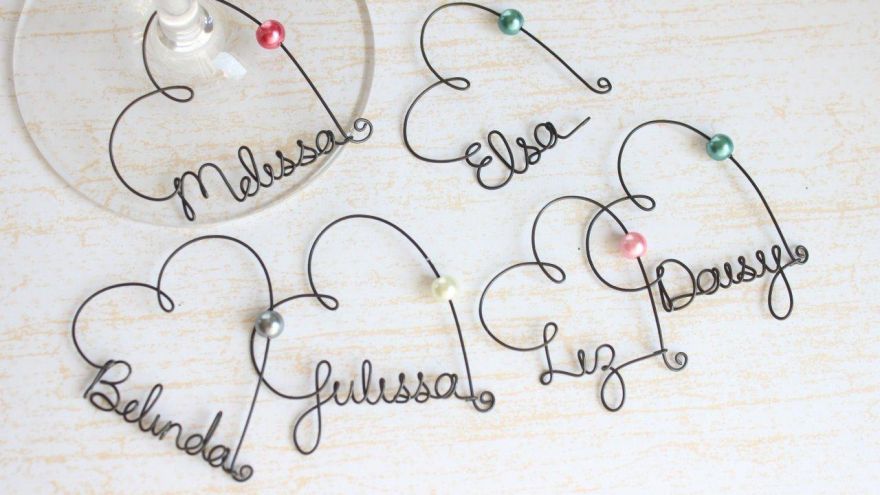 It's guaranteed that there's at least one person you know who loves enjoying a glass of wine after a long day at work and you can guarantee they have a set of generic wine glasses that you can buy from any big box store. When it comes to getting the perfect gift for the wine lovers in our lives, you're going to want to come up with something personal that they'll use over the years, such as personalized wine glasses.
When it comes to creating a concept for the wine glasses, all you need is your creativity, though it's also important that you have the right tools to make all of your creative desires come true. Below are the best products that you can get to personalize wine glasses in a wide variety of ways.
1. Acrylic Paint Pens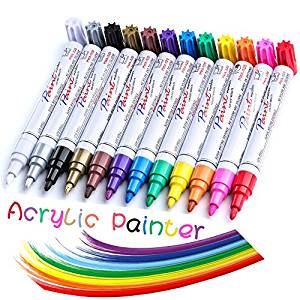 Paint pens are a great craft supply to have in your home because they work on a wide variety of different materials including glass, stone, metal, and ceramic. With these specialty markers, you'll receive 12 different colors, giving you more than enough opportunity when it comes to creating a wide variety of different vibrant, modern, or even traditional designs.
Due to the design of paint pens, you can use them for fine details or for coloring large sections of the glass. Plus, they are entirely resistant to physical wear and tear, water damage, fading, and smearing, which makes them the perfect partner for wine glasses.
2. Wine Glass Markers and Stencils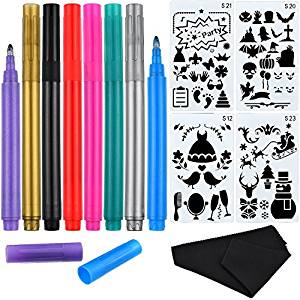 If you're looking for an all-in-one solution where you won't have to be responsible for coming up with unique designs on your own, you'll love this wine glass marker and stencil set that is ready to use right out of the box. Not only will you have 8 different markers to choose from, but also 4 stencils with a wide variety of designs ranging from skulls and pumpkins to wedding cakes.
All of the markers offer a wide application, which means they're perfect for working with stencils and getting the ideal amount of pigmentation onto your wine glasses. However, the important thing to remember is that these markers are not designed to be permanent without a glass sealant, though this makes them the perfect choice for parties where your guests will want to be able to personalize their wine glass.
3. Wine Glass Stencils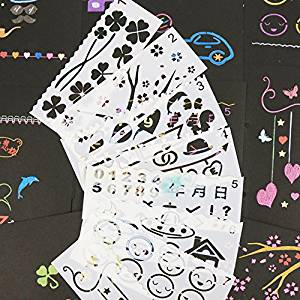 Even though it might seem like a great idea to tackle the task of personalizing wine glasses on your own, sometimes, you'll need a little bit of extra help to give them a professional flair. This is when stencils come into play, as they give you access to a wide variety of designs without having to worry about creating straight lines and perfect edges.
Paired with permanent wine glass markers, you'll have absolutely everything you need to make the most out of your special gift. With these wine glass stencils, you'll receive 16 different sheets with an ample amount of decorative accents that your friend and/or family member will be sure to love. Additionally, they are reusable, and if you decide to create more personalized gifts in the future, you'll always have stencils ready.
4. Chalkboard Wine Glass Labels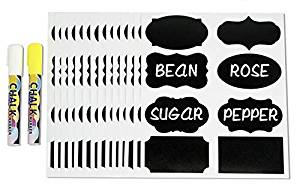 If you're leaning more towards a classic and traditional aesthetic rather than a hand-drawn design, it can always be beneficial to rely on chalkboard wine glass labels as they take all of the hard work out of the task and give you an easy way to make a great design fit for any country kitchen.
The best part about labels is that all you have to do is worry about achieving the perfect placement, you won't have to worry about buying chalkboard paint, sealing the paint, and then drawing any designs that you desire. Another thing that makes chalkboard labels unique is that you can choose whether you want to permanently mark the label with a chalkboard marker or if you would prefer to leave them blank so the recipient can re-label the glasses as they please.
The adhesive on these wine glass labels is spectacular as well, as it's designed to work on a wide variety of materials including glass, ceramic, or any other coated object. Also, you can unstick and re-stick them to any surface at any time.
5. Metallic Wine Glass Markers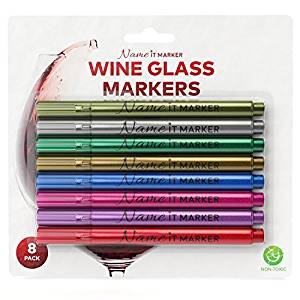 Similar to the first set of wine glass markers on this list, these metallic ones are phenomenal for people who are interested in creating stellar designs that will surely catch the attention of the recipient. You can also guarantee that the pens are safe to use on any type of surface, as they're made out of food grade ink and the colors are incredibly vibrant and sparkling.
With these wine glass markers, you'll receive 8 different colors ranging from metallic green to metallic red. You also have the option of keeping them permanent with the help of a glass sealant or you can wash them off with soapy water at the end of a party that you might be hosting.
6. Fine Tip Metallic Wine Glass Markers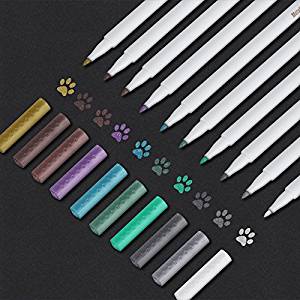 Ideal for the finest detailing you could imagine, these fine tip metallic wine glass markers will easily become one of the most used art supplies that you have in your home. Each of 10 unique shades has a metallic hue that is sure to impress, and they have a very fine tip, which gives you the power of impeccable detailing with ease.
An added bonus is that the ink is entirely non-toxic, waterproof, and kid-friendly, which means that you can give your children a fun project that will turn into a memorable gift for a loved one.
Final Thoughts
There are plenty of different ways that you can personalize wine glasses, as long as you're open to a little creativity. If you're looking for a permanent solution, it's recommended that you opt for the glass pens on this list that are water resistant, however, the other pens can also be used with a waterproof sealant. You should also consider buying stencils, as this will give you the inspiration you need for professional designs without having to put a lot of effort into protecting your drawing skills.
Pin for later