Our Favorite Statement Necklaces That Make for a Perfect Gift!
last updated:
Sep 24, 2018
1808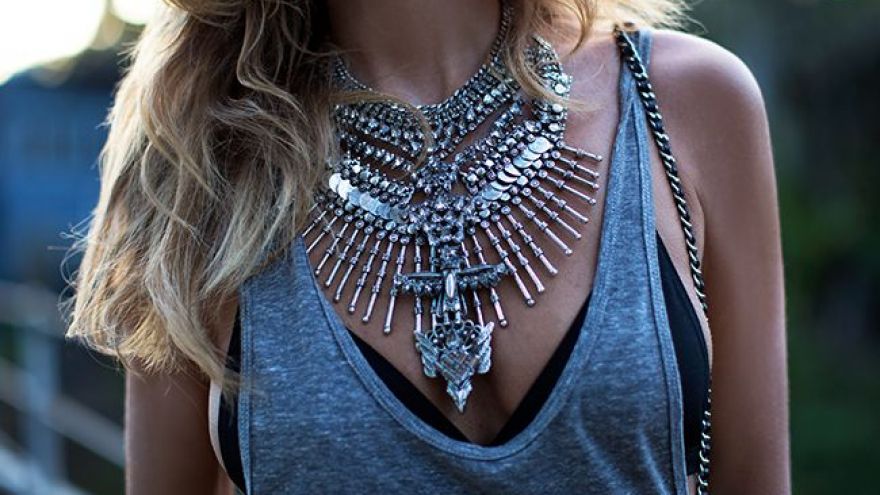 Jewelry is one of the best gifts that you can offer to a friend or a loved one, especially if you're looking for something that is heartfelt and will be useful in the near future. Gifting an ordinary or traditional jewelry set is something of the past, especially when there are plenty of phenomenal statement necklaces on the market. We've curated a collection of our top favorite statement necklaces that would easily make the perfect gift for someone close to you.
1. Jerollin Vintage Gold Tone Choker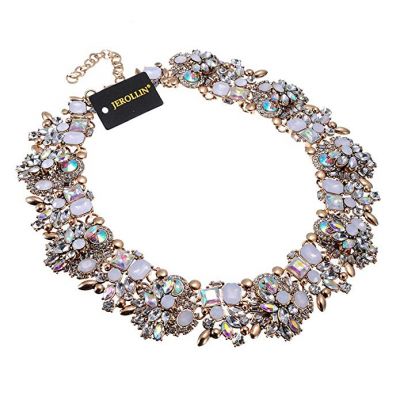 The Jerollin Choker combines everything that you would expect a statement necklace to have including large and ornate stones, breathtaking colors that work perfectly together, and a strong chain that offers a delicate finish to the necklace. There are over 15 different color combinations that you can choose from, easily making this one of the best gifts for a wide variety of occasions as it can be worn to dress up a plain outfit or to compliment a more formal garment.
With the combination of opalescent stones affixed to a gold chain, there are plenty of great features you're sure to appreciate about this choker. Above all else, it feels relatively heavy which speaks to its quality and it will easily be one of your most used accessories in no time.
2. Holylove Crystal Vintage Statement Necklace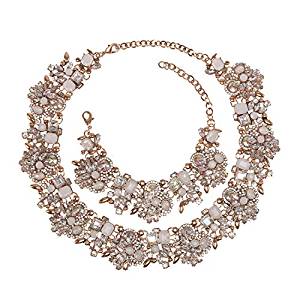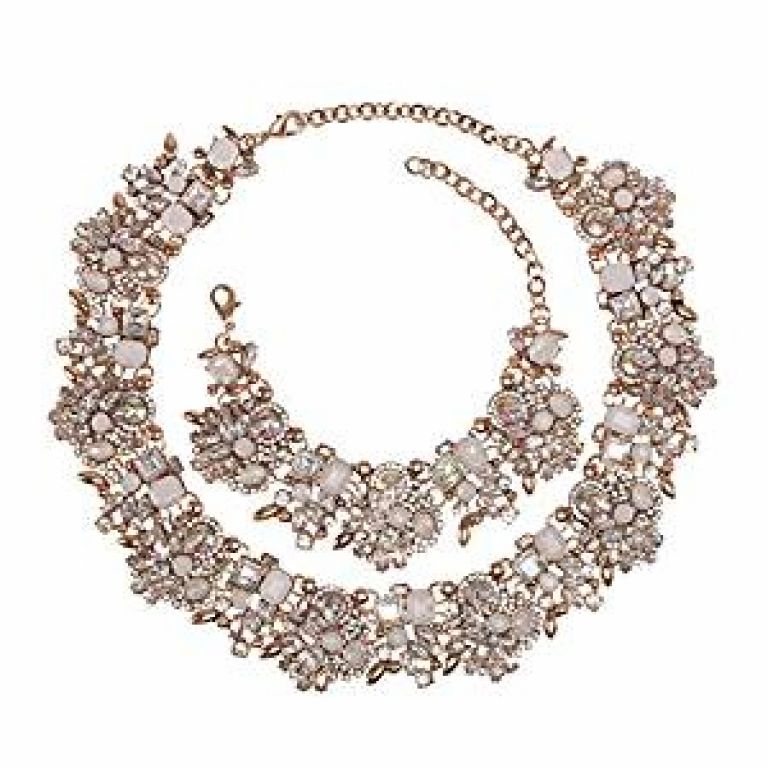 If you're looking for a jewelry set that has absolutely everything that you'd need for a formal night out, the Holylove Crystal Vintage Statement Necklace is one of the best options. Not only does it come with a stunning and ornate necklace, but you'll also be able to take advantage of its bracelet and earrings as well.
What makes this particular jewelry set so unique is that it is made out of vintage metals which gives it an authentic tarnished appearance that is crafted with such expert artisan techniques that you'll absolutely fall in love with its beauty. With the combination of the antique chain, multi-layered glass beads, and sparkling crystal, you'll easily be able to pull off this cadmium-free, nickel-free, and lead-free accessory.
3. Jane Stone Statement Choker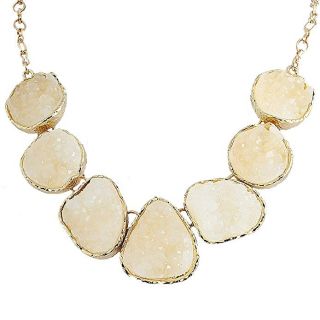 As another great choker option on this list, the Jane Stone Statement Choker excels in simplicity, however, it certainly doesn't lack in appearance. In comparison to the other two necklaces, this particular design focuses primarily on natural stone rather than ornate beading and crystals. This is also what makes it the perfect option for someone who doesn't have experience with wearing thick and ornate jewelry but is still looking for a piece to dress up their ordinary outfit.
Constructed using a brilliant like-gold chain with stunning natural stone pendants, the choker is surely something that friends and family will be talking about when you give it to a loved one as a gift. When you place your order, you'll also receive the necklace in a stunning jewelry box, making it perfect for wrapping and gifting right out of the box.
4. Jerollin Gold-Tone Glass Crystal Choker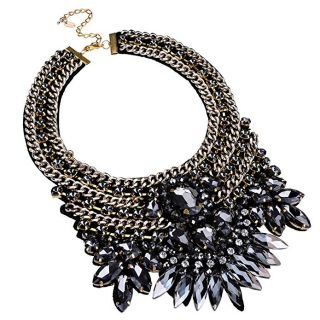 If you're ready to give a gift that will have heads turning when the person walks into the room, the Jerollin Gold-Tone Glass Crystal Choker is the perfect statement necklace for your needs. It excels in plenty of areas, especially when it comes to the craftsmanship put into the necklace. It is relatively heavy, which only speaks to its quality, and it combines a wide variety of different textures and materials to make it a necklace that someone will cherish for years to come.
With stunning gold chains across the collar of the piece, you get a modern yet punk rock vibe from the necklace and then it is finished off with a stunning glass ornament at the bottom of the necklace that is layered in the perfect design. You'll also fall in love with the intricate crystal details that help to add a little bit of extra depth and dimension to the entire necklace.
5. Fit&Wit Rhinestone Choker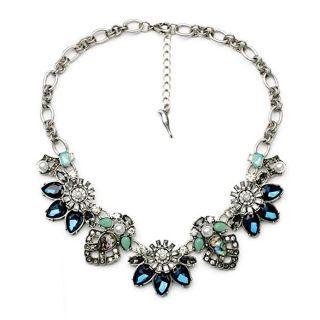 Adding a little bit of color to your outfit is something that will surely make it pop, especially if you're someone who typically prefers a monochromatic wardrobe. The Fit&Wit Rhinestone Choker would work perfectly with any outfit as it isn't over the top but it does have delicate pops of color throughout the entire necklace that makes it stand out from the rest.
All of the stones used in the necklace are imitation, which is what helps to make it quite affordable but they still sparkle and shine just like the authentic rhinestones would. With pops of blue and turquoise, it could easily become the necklace worn to the next family function or a piece that someone could wear on their wedding day. You'll also fall in love with the perfectly placed crystal pieces that help to add even more shine and sparkle to the necklace.
6. Holylove Costume Statement Set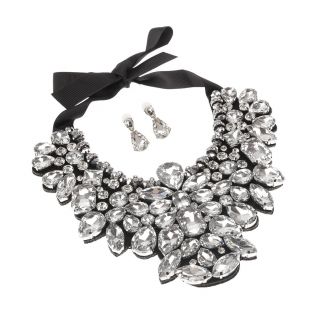 Available in five different colors, we'd like to say that the Holylove Costume Statement Set is easily the most ornate set on this list as it features an abundance of different stones that will transform absolutely any outfit. Above all else, you'll also receive a set of earrings that perfectly match the necklace, creating the perfect set. What we love the most about these pieces is that you can't see any chains, only crystal, which makes it look like you have a display of art simply hovering over your neck.
It's truly the perfect gift to show someone that you care and that you think they need to show off all of their best features and get noticed by everyone in the room.
Final Thoughts
There are plenty of different statement necklaces to choose from, especially if you're looking for something extraordinary. From minimalistic necklaces that still have beautiful pops of color to ornate pieces that are filled with crystals and rhinestones, there's something for everyone on this list and you can guarantee that you'll be giving a gift that will be remembered for years to come.
Pin for later