Our Favorite Picks from the Olive Garden Menu!
last updated:
Apr 09, 2019
4876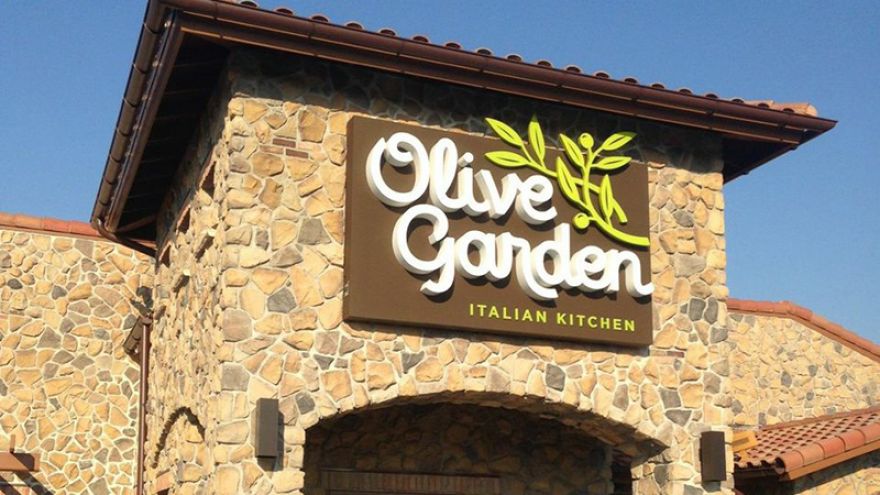 Choosing the right place to go for dinner can sometimes be tricky! There are so many options today, how do you make the right pick for a perfect meal? Whether it is a Friday night date night, or a Sunday lunch with family, or a spontaneous Wednesday lunch with a friend, you can't go wrong with Olive Garden.
Yes, Olive Garden! From the delicious salads and breadsticks (yum, we have dreams about the breadsticks) to their creamy pastas and savory soups, there is something for everyone. Italian food is a favorite for most people, and combined with a variety of options, this is a perfect restaurant choice no matter your company!
Did you go to Olive Garden growing up? Maybe that is where you went for your birthday, or to celebrate your graduation. It is a popular restaurant, and for good reason! If you haven't been in a while, it may be time to head back to the family focused restaurant. You've heard the commercials – when you're here, you're family!
We have looked over their latest menu and had the (incredibly difficult) job of picking the best picks. While everything is good, there are some solid choices that you cannot miss out on! From the best starters and entrees, to the best desserts and more, here is what you need the next time you head out for lunch or dinner!
To Share: Lasagna Fritta
Naturally you will start your meal with salad and breadsticks. That is a given! And trust us, you never want to turn down their salad and breadsticks. However, you might want a little something else to share with friends and family! Our choice for the best appetizer is their lasagna fritta. Even the name is fun!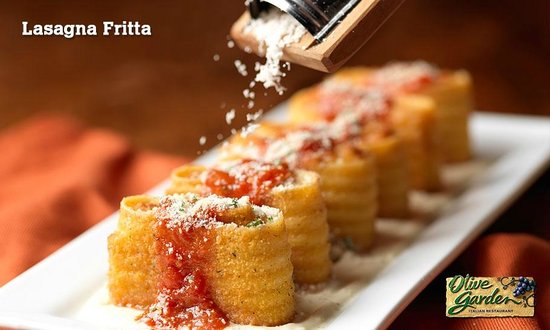 Let's face it – fried food is delicious. It just is! And have you ever thought to fry your lasagna? Genius! What we love is that this is a starter so you aren't going to have a huge portion of it. If you try to limit your fried foods but need to satisfy that craving every once and a while, this is a great way to do it.
The start is simple – Olive Garden takes its classic lasagna (which you can never go wrong with) and breads and deep fries it. I mean come on- that is a recipe for success! We love this starter and sometimes find it hard to share- oops! This is a great way to start your meal and a real favorite of ours that we can't ever seem to resist.
To Start: Zuppa Toscana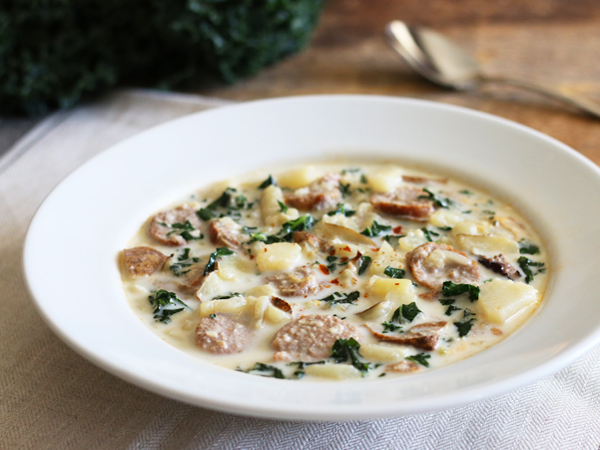 You could dive right into your entree, but why, when Olive Garden is known for having some of the most amazing soups! In particular, their zuppa toscana is a real fan favorite. Seriously, we could probably easily down a gallon of this soup. It is just so delicious!
A creamy potato based soup, this also has kale (so hey- it's healthy!) red pepper flakes, onion, bacon, and sausage in it. We can't think of a better ingredient list for a delicious, creamy, hearty soup.
Overall we find that this soup isn't super heavy (souper?) and is still a great way to start your lunch or dinner without completely ruining your appetite. And pro tip- dip your breadsticks in this soup for a delicious flavor combination that will totally change your world!
You could easily stop here and be happy, but there is so much more to explore on this menu!
To Savor: Tour of Italy
Now for our choice for the best main entree – it is their Tour of Italy! Do you have trouble making decisions? Then don't make any! We love that this entree allows you to try out some of Olive Gardens fan favorite dishes. We simply couldn't pick a favorite, and clearly we were not alone. This is not just a smart marketing tactic, it is a wonderful addition to the menu that we recommend to anyone!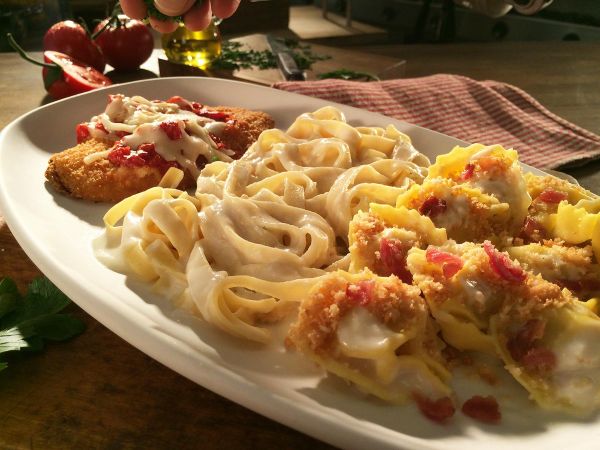 The Tour of Italy allows you to sample their chicken parmigiana, lasagna, and their fettuccine alfredo. Each unique, this is a great sampler entree that allows you to taste so many great items – their delicious breaded chicken, famous lasagna, and classic pasta with alfredo.
If you don't come to Olive Garden often (or let's be honest even if you do) this is a great pick as you get to really sample some of Olive Garden's best food! Our mouth is watering just thinking about it!
To Finish: Zeppoli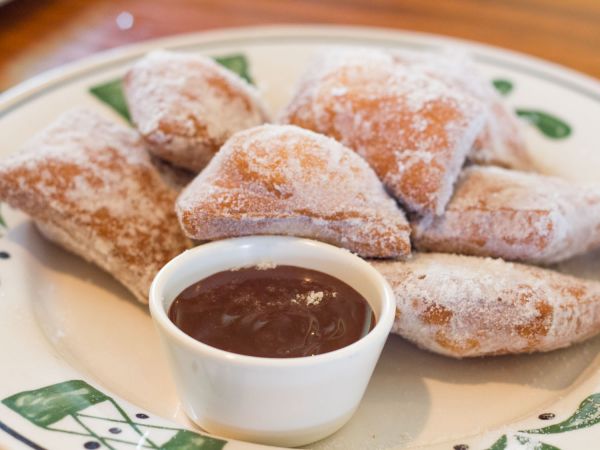 You can't stop now! We also picked out Olive Garden's best dessert, and man is it excellent. Their zeppoli dessert is basically an Italian doughnut. Similar to world famous beignets, these zeppolis are absolutely delicious. This is a great dessert to order for the entire table, although we won't judge if you end up eating all of them yourself!
Deep fried dough covered in sugar. Need we say more? We don't- but we will! This dessert also comes with a delicious side of chocolate sauce to dip them in. Personally, we love eating them on their own, but the sauce is a great addition that plenty of people will love to use to top off their sugary treat.
If you've eaten everything on this list you are sure to be pretty full by this point, but trust us, saving at least a little room for dessert is totally worth it! Plus, you can always take your leftovers home and enjoy them for lunch or dinner the next day!
Bonus: Create Your Own Pasta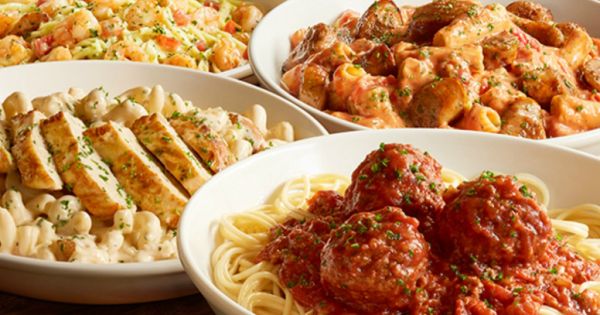 We had to include Olive Garden's Create Your Own Pasta on our best of list because we really love having the option of building the perfect pasta dish! With this option you can pick your noodles, sauce, and any meat you want to add. If you are a picky eater this is an excellent option for you, as you can craft the perfect dish that you will enjoy eating! Not to mention, everything on the list is delicious, so you really can't go wrong! From red sauces, to creamier sauces, to lighter sauces for those on a diet, there really is something for everyone. We love it!
Wrapping Up
Are you already out the door on your way to Olive Garden? We don't blame you! Their delicious food options make it one of the best restaurants to take the family (or to just take yourself!) Whether you fill up on salad and breadsticks, have an endless amount of soup or pasta, or if you are lucky enough to save some room for dessert, you are sure to leave feeling completely satisfied.
Which is your favorite item off the menu? Did we leave anything off that deserves some recognition?
Pin for later