10 of the Most Original Dinnerware Sets You Will Want to Show Off at Your Next Dinner Party!
last updated:
May 30, 2019
3213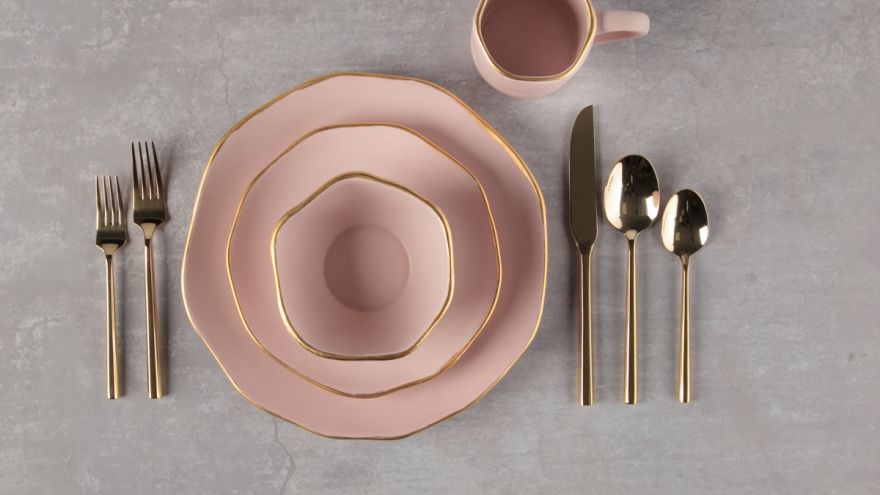 When it comes to throwing a party there is a lot to consider. What will the theme be? What food will you serve? Who is invited? What music should you play?
All of that is certainly important, but something we always enjoy the most is planning all of the smaller details that make a big impact! It is these details that can sometimes be the most memorable, and they help set your party apart from other similar parties.
In particular, something that can make a huge difference at a dinner party is your dinnerware set! Plates, cups, and bowls are not just something to place food or beverages in – they are part of your decor! You can easily take your dinner parties to the next level by investing in a unique dinnerware set.
We found 10 of the most original dinnerware sets – from modern pieces, to more traditional ones, there is something for everyone on this list! No matter what you choose, you are sure to receive tons of compliments at your next party. Let's see what made the list!
1. 18-Piece – Cursive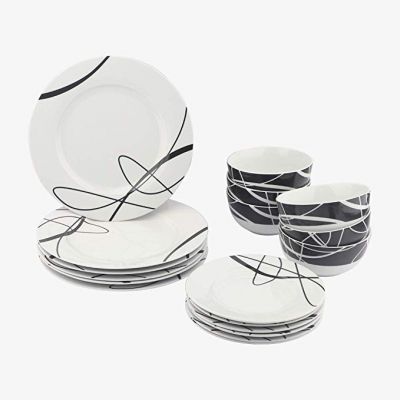 First on our list is this gorgeous black and white set. We love the look of black and white- it is timeless and fits for any occasion. This set in particular takes a modern approach to the classic style by adding in a cursive swirl-like design. We love that each plate and bowl looks a little different and that the print is subtle-it is very modern, while also being timeless.
A perfect combination for a dinnerware set you will be able to use for years to come! With the bowls being mostly black and the plates mostly white, they make for a gorgeous combination and will look great as a place setting at your next party.
2. Gibson Home Rockaway 12-Piece Set Service for 4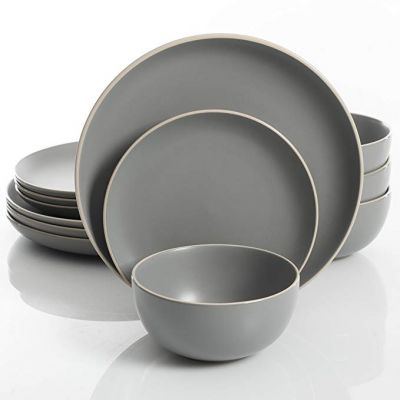 If you want something unique but have a modern leaning style, consider this next modern set. We love how sleek and modern this set is, complete with the perfect shade of gray everyone loves and a matte finish.
No matter what your existing decor is you can add this gray set in nicely. This is a great set that you will be able to use all year long. Pair it with pops of color with your napkins or other decor (if you like) or stick with all neutrals for a sleek, modern look that is totally eye catching.
3. American Atelier 6702-16-RB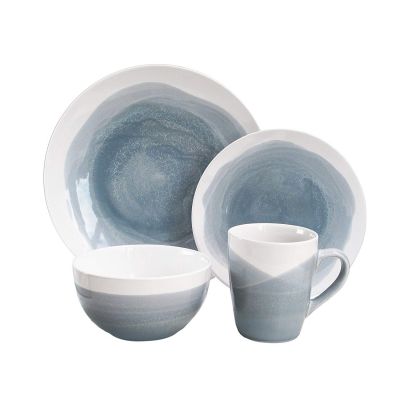 If you are in love with the watercolor trend that has been everywhere lately, this next set is for you. This gorgeous set is complete with mugs, bowls, and plates that all have a hand painted/watercolor appearance that we absolutely love.
Complete with a muted pastel shade of blue, this is another modern leaning set that will look great at your next dinner party. If you aren't a fan of the blue, you can get this set in another muted shade, such as a nice rose pink, mint shade, or a teal shade complete with some gold accents. Overall, this is a great unique looking set that you can easily use all year long.
4. Pfaltzgraff 5143149 Chateau Cream 16-Piece Set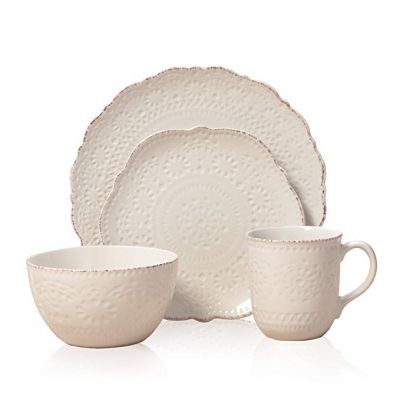 Looking for something a bit fancier looking? We love the unique appearance of this next set. If you don't like experimenting with color, you can still get a unique set by experimenting with shapes and textures.
This cream set features a scalloped uneven edge and a 'dimpled' pattern. The edge has just a touch of copper to it to make it stand out. This is a very elegant set, perfect if you enjoy hosting more formal dinner parties.
5. Melamine Dinnerware Piece Dinner Dishes Set for Camping Use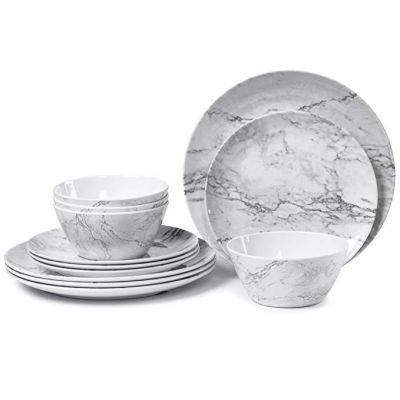 We don't know about you, but we love just about anything that has a marbled pattern. It looks so classy and modern! This marbled dinnerware set is a perfect unique set that is still subtle enough to use year round and for any occasion.
These can easily be placed at a more informal dinner, or something much more fancy. They are super versatile, and super gorgeous looking! We think these would look great placed on a white table with a dark set of flatware – totally eye-catching, simple, yet unique!
6. 16-Piece Classic White Dinnerware Set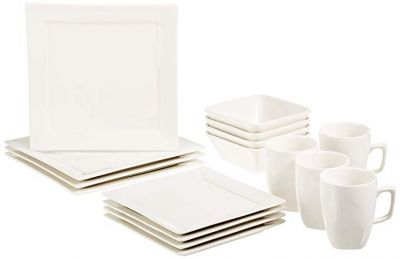 If you want something unique but aren't a fan of colors or patterns, why not go with a unique shape? This square set of dinnerware is still eye-catching in its simplicity, and it will go along with any other items you have.
Believe it or not this set would actually make a big impact when set at a table and is the perfect addition to a modern table setting. Perfect all year long and for any occasion – from informal to fancy!
7. Gibson Home 107282.12 Almira 12 Piece Set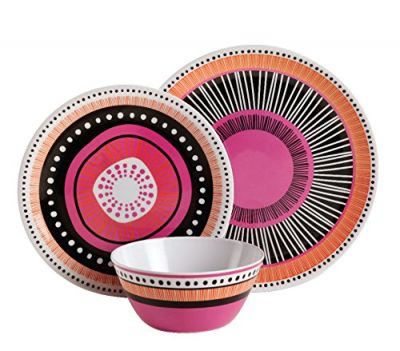 There are those that like neutrals, and those that don't! If you enjoy adding a pop of color to your decor, this dinnerware set is perfect for you. Complete with a modern design of dots and lines and fun, bold colors, this is a great way to spice up your dinner party!
Perfect for a summer party, we love how much of a statement this dinnerware set would make at a dinner party! Best of all, you can choose from several different color palettes so that you can find the perfect set that matches your existing decor or aesthetic.
Choose between pink and orange, yellow blue and orange, pink and green, or blue and yellow! All are bold pairings, and incredibly fun.
8. Elama ELM Petra 16 Piece Stoneware Set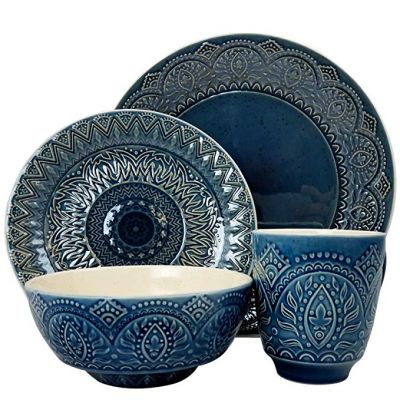 This next set is absolutely gorgeous and looks like it would be incredibly expensive (but surprise- it isn't!) We love the deep, elegant shade of blue that this set has, and the design itself is more traditional leaning, perfect for those who are looking for a more 'old world' looking set.
Set up this dinnerware against a white tablecloth for a gorgeous, bold looking setting (without being over the top). This is a perfect set for those who wish to experiment with color without being too bold.
9. Melamine 12 Pcs Dinner Dishes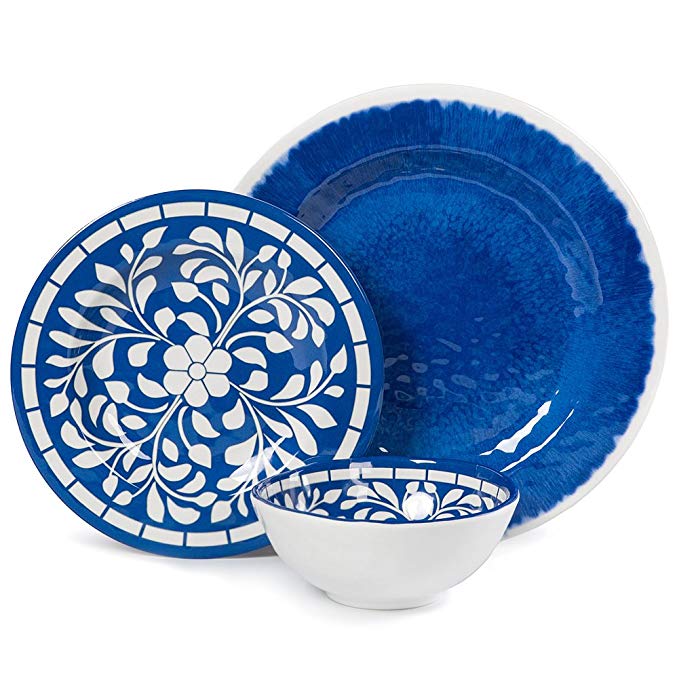 Usually with dinnerware sets you have to choose between having a pattern or not. Not with this set! We love that the smaller plates have a design and the larger plates have a gorgeous bold color, complete with a subtle watercolor like finish.
This is a gorgeous dinnerware set that would make for a beautiful place setting – you wouldn't even need any more decor! The simple floral patterns makes these items unique looking without being too bold or over the top.
10. Melange 12-Piece 100% Melamine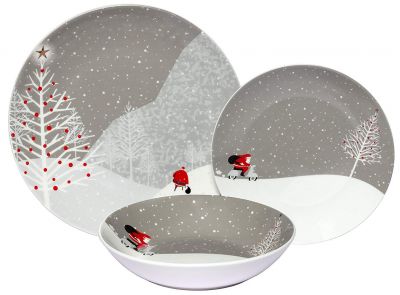 Finally, we felt like we had to include one holiday set of dinnerware! While you may not be able to use these all year (although if you are a fan of hosting a Christmas in July party – we say use them then!) they are great to invest in for use during the holidays.
We particularly love that these plates are unique holiday plates- most dinnerware sets we see around the holidays all look pretty similar- but these are completely unique!
Each piece focuses on Santa in a different scene making his way home. We love this set and think it is perfect for any and all Christmas parties you will host.
So there you have it! We love the wide variety on this list, each is unique and perfect for use during any dinner party! Which set did you love the most? Do you prefer bold colors, unique shapes, or do you like to keep things simple? Let us know!
Make 2019 your best year yet when it comes to hosting! Invest in a fun set of dinnerware and you are well on your way. Enjoy!
Pin for later