Fun Family Photo Ideas to Take Over the Holidays!
last updated:
Dec 17, 2018
967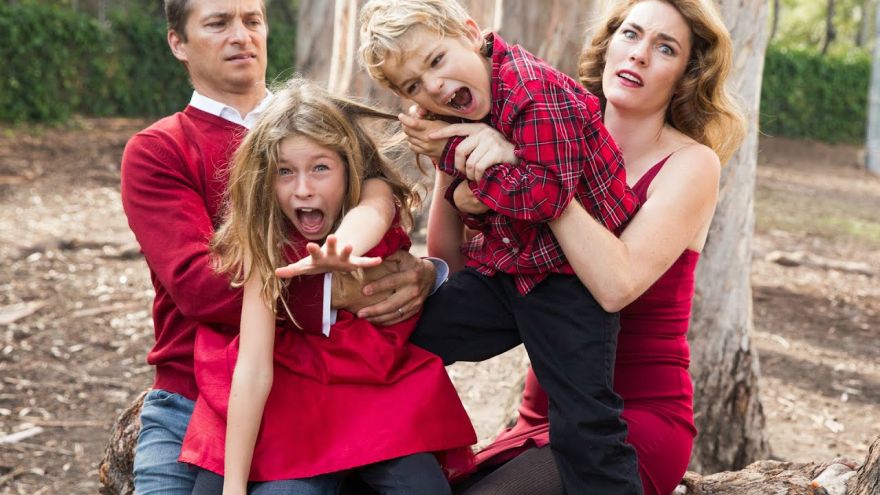 Doesn't it seem like the holidays go by in the blink of an eye? Especially when you've got small kids, the time goes by so fast, and before you know it, they are all grown up! While we are all about living in the moment, we also think it is a great idea to take family photos each year!
It is so fun to look back on old photos, the memories come flooding back when you look at them! Planning to take family photos is a great idea so that you know you will have priceless memories that will last a lifetime.
What's even better than taking a family photo over the holiday? Taking a fun family photo! There is nothing wrong with getting the family together and all smiling, but we love seeing photos that really show off everyone's personality! Plus, years from now, you can show your kids when they are all grown up and see their reaction (and also their partner's reaction- always fun!)
If you are lacking a bit of creativity when it comes to your family photos, now is the year to change things up! We've rounded up some super fun ideas to give you some inspiration. We are sure this is going to be your favorite year yet!
1. The Human Christmas Tree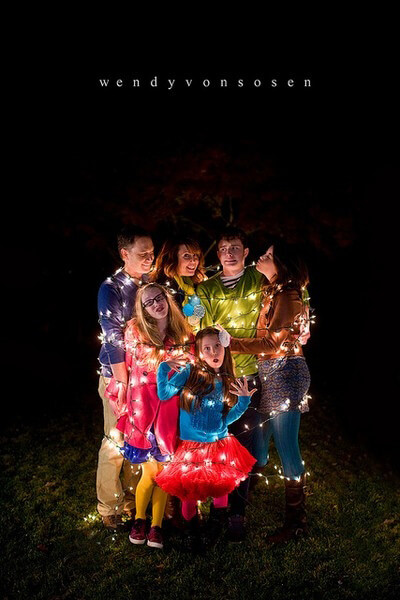 We love this photo idea! Who needs a real Christmas tree when you could instead wrap up the family in lights? This is a fun photo idea that involves the whole family- the more the better! Each person can pick the expression they want that best matches their personality, making this an excellent photo to look back on through the years.
Image Source: https://www.shutterfly.com/ideas/family-photo/
2. I Saw Mommy Kissing Santa Claus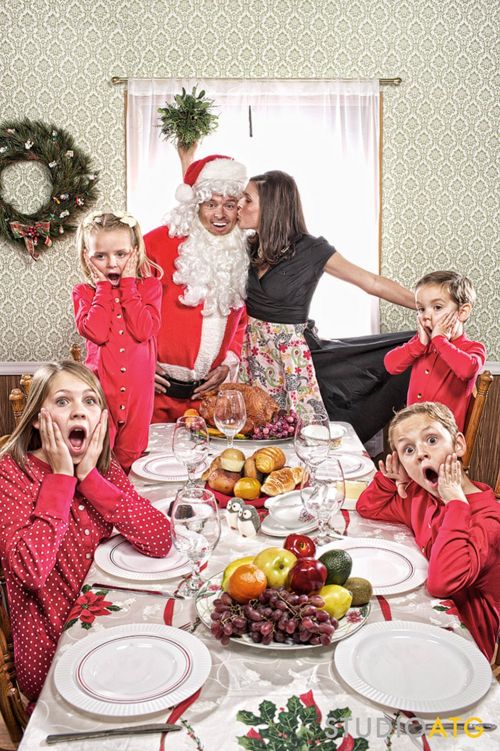 Why not bring the classic Christmas song to life? This is a perfect idea for a family with young kids, and we think it would make for a great Christmas card. Complete with dad in a Santa suit, mistletoe, mom sneaking a kiss, and all the kids gasping! Show the love you have for your family while also making people laugh, what could be better than that?
Image source: https://www.brit.co/funny-family-holiday-photo-ideas/
3. The Awkward Family Photo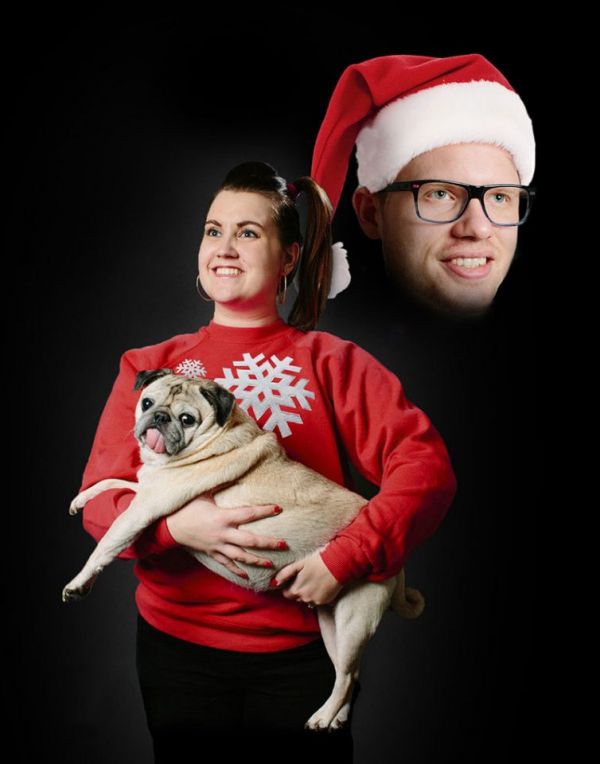 If you don't have kids, that doesn't mean you shouldn't get in on the holiday photo fun! Awkward Family Photos has taken the Internet by storm the past few years, and we think it is a great idea to purposefully go for that awkward photo that you'll be able to laugh at for years!
This is great if there is just two of you or if you want to involve your furry family members as well. The more awkward, the better!
Image source: https://www.yahoo.com/news/16-hilarious-christmas-photo-ideas-for-1310953666871350.html?soc_src=unv-sh&soc_trk=pi
4. All Plugged In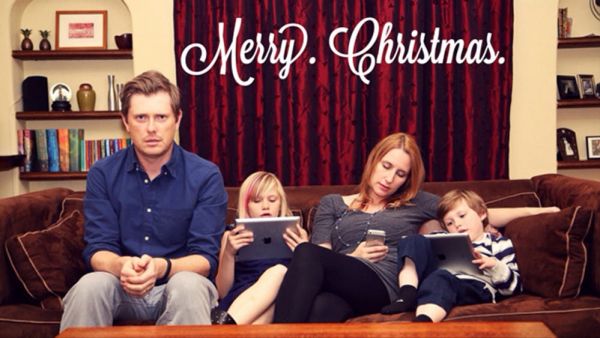 We all can admit to being too addicted to technology. As funny as this photo is, we think it also serves as some important social commentary on the 'connected' world we live in! Is this what your couch looks like on an average Friday night? You aren't alone. There's no problem in embracing it for a fun photo, but maybe use it as inspiration to put the phones and tablets down and enjoy each other's company this season! Send this as your Christmas card, and maybe you'll inspire your friends and family to do the same as well!
Image source: https://www.brit.co/funny-family-holiday-photo-ideas/
5. Recreating A Favorite Christmas Movie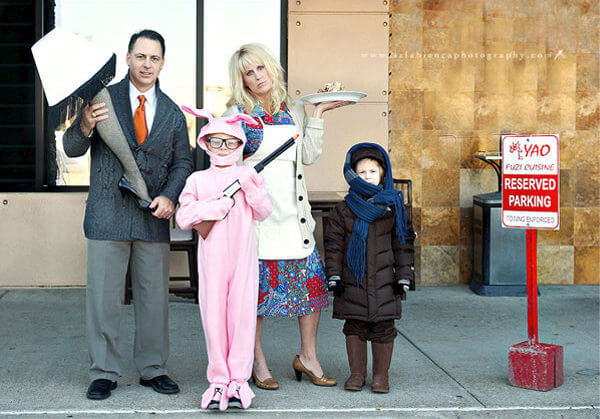 We think this is such a great idea for a family photo- get into character by dressing up as people from your favorite Christmas movie, like this photo inspired by A Christmas Story! If Halloween is your favorite holiday, this is perfect for your family! Bring back costumes in December by getting into character and posing for a photo. There are so many great movies to choose from, you pick your family's favorite!
Image source: https://www.shutterfly.com/ideas/family-photo/
6. Mix it Up!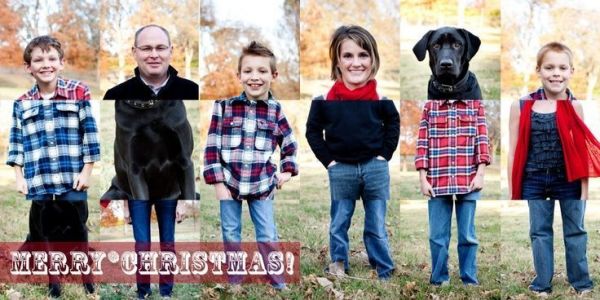 Turns out, you can take a more 'normal' holiday photo and still turn it into something fun! With just a little editing you can mix up the family and see what hilarious results you end up with! Perfect for involving all members of the family – including the dog! This is a cute, and easy way to have some fun over the holidays.
Image source: https://www.yahoo.com/news/16-hilarious-christmas-photo-ideas-for-1310953666871350/photo-head-swap-1448904887909.html
7. On The Naughty List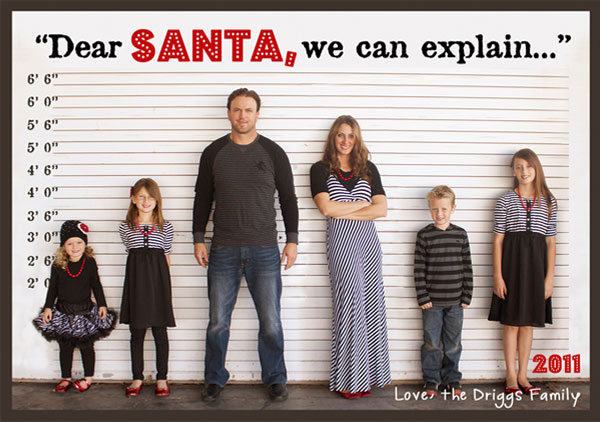 Do you have some explaining to do this holiday season?? We think this is a hilarious photo idea. Line up the family and have them make their best serious face (or, whatever face they want) for a group 'mugshot'! We also like that this serves as a cool way to document everyone's height in a totally hilarious way! Just make sure Santa knows that you don't actually deserve a spot on the naughty list!
Image source: https://lollyjane.com/25-cute-family-christmas-picture-ideas/
8. Reality Check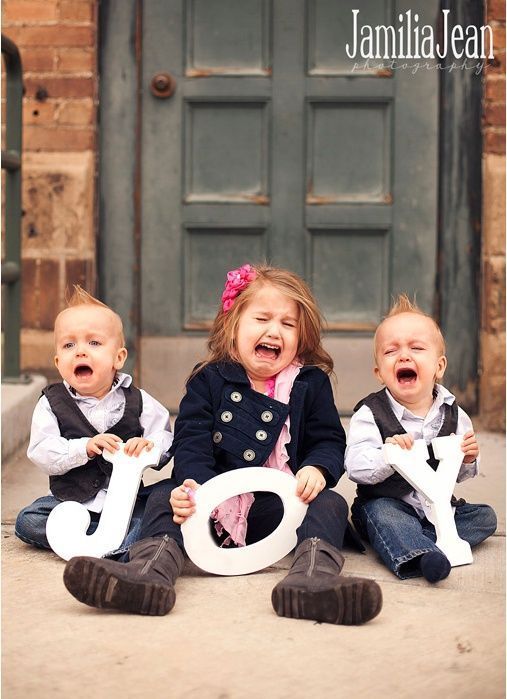 Finally, who needs the picture perfect holiday shot? Sometimes, it is best to go with reality. If you've got young kids you can easily relate to this hilarious 'joy' shot. You've probably got similar ones for your own family- and why not embrace them? This is an ironic shot that is sure to be an instant classic in the family. Life can get stressful, sometimes all you can do is accept reality and laugh at it! Other families are sure to appreciate it as well. Why spend hours and hours to (maybe) get one 'good' shot? Document what is real, and trust us, you'll be able to laugh about it years from now looking back!
Image source: https://www.yahoo.com/news/16-hilarious-christmas-photo-ideas-for-1310953666871350/photo-joy-to-the-world-1448904887909.html
Wrapping Up
So there you have it! There are plenty of ways to get creative this holiday season, and you will be so thankful years from now to have these memories to look back on! Whether you go for something really creative and involved, or something more simple, there are plenty of options when it comes to having fun this holiday season.
The holidays can be stressful, but make sure you take some time to spend with the ones you love to relax and have fun! Do you have a tradition each year when it comes to holiday photos? Let us know- and Merry Christmas!
Pin for later