12 Nude Flats Every Woman Will Fall in Love With!
last updated:
Sep 17, 2019
5042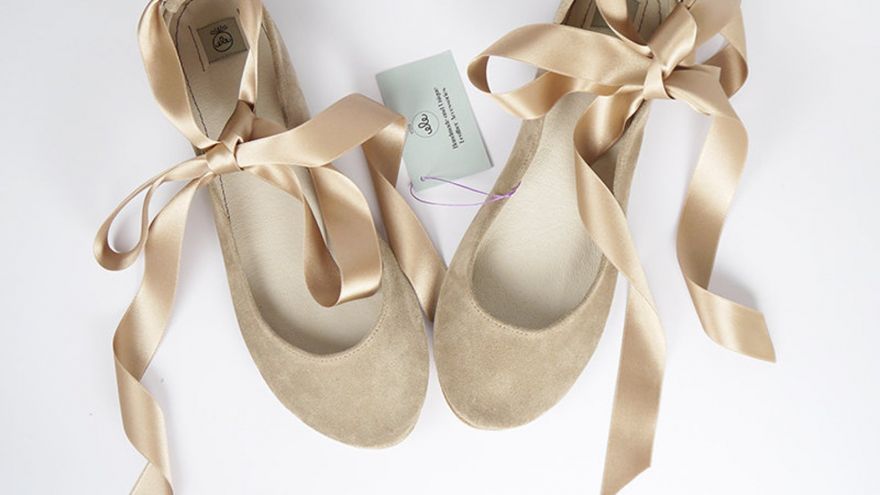 Nude flats are an iconic part of many women's wardrobes. This is especially true if you're looking for a comfortable & trendy pair of shoes that are designed to go with anything in your closet.
With the ability to be paired with a casual set of jeans or to be used as your favorite formal footwear, the options are endless.
Below is a list of our top 12 nude ballet flats that you'll want to get your hands on to transform your style.
Comfy & Trendy Nude Flats | 2019-2020 Edition
1. Dream Pairs Amiga Wedge Flats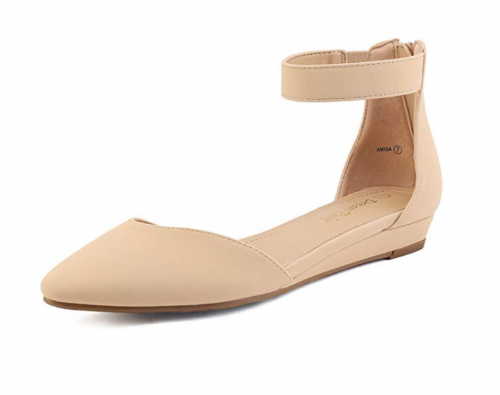 What we love the most about these nude flats is that they have all of the most stunning features you'd expect from a high-quality pair of flats. Also, not only are they available in nude, but they also come in over ten different colors.
The vast color selection enables you to have full control over which pair you'd like to introduce to your wardrobe. Designed for elegance and comfort, you'll surely appreciate the ankle strap for added support and the elegant design of the toe box.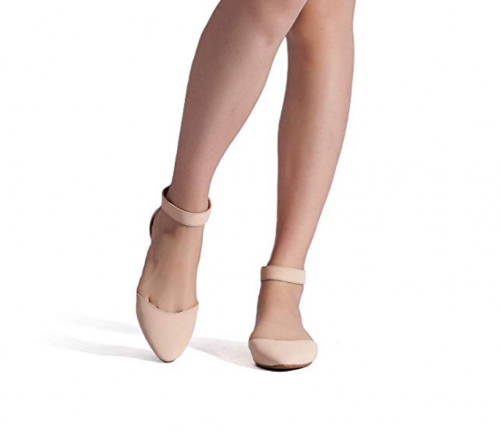 Made to feature a cushioned footbed and a rubber sole, you'll find that these flats have a little more support than most others on this list. Wearing the same pair of shoes for hours will be far more relaxed, as the cushioning is designed to prevent fatigue and discomfort over time.
2. Amazon Essentials Ballet Flat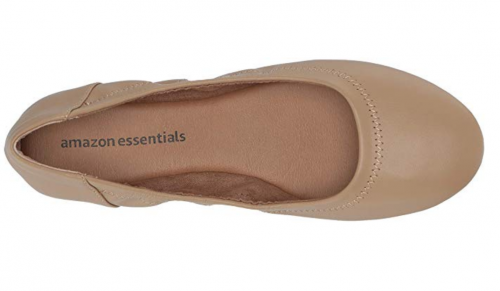 Unless you intend on buying a specific designer-brand shoe, it can be convenient to have an inexpensive pair of nude flats for emergencies.
The Amazon Essentials Ballet Flats are an excellent option for the everyday working woman who needs an essential pair of nude shoes that you can easily store in a bag. They may not be the most stylish; however, they are incredibly functional and highly recommended as a backup solution.
With its classic and versatile design, these offers a fantastic fit that adapts to the contours of your feet. The faux leather upper and elasticized topline gives your feet the flexibility they need. Y
ou'll also appreciate the faux suede microfiber lining inside of the shoe that is soft against the skin. Compared to other flats, these are also slightly more breathable, which makes them ideal for warmer days.
3. Bella Marie Angie Classic Ballet Flats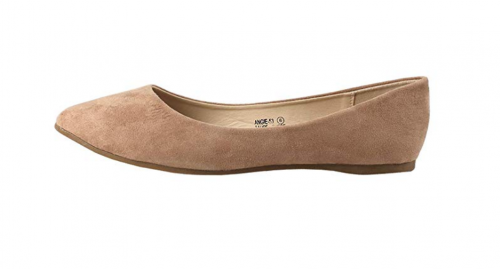 Classiness and elegance are the two words we would use to describe the Bella Marie Angie ballet flats. These are the type of nude flats that look exceptional on anyone's feet. T
his is true no matter if you need a pair of shoes for work or for running errands at the end of the day. Designed to be entirely slip-on without the need for zippers or ties, they are an incredibly convenient solution to have.
The simple silhouette adds an ounce of femininity, and we also love the softly pointed toe that keeps the shoes from looking too basic.
Constructed out of premium synthetic materials, you'll find that these nude flats don't have a shiny faux-leather upper. Instead, the content is quite resembling of nubuck, which adds an ounce of luxury you wouldn't commonly find with ballet flats.
4. Dream Pairs Classic Ballet Flats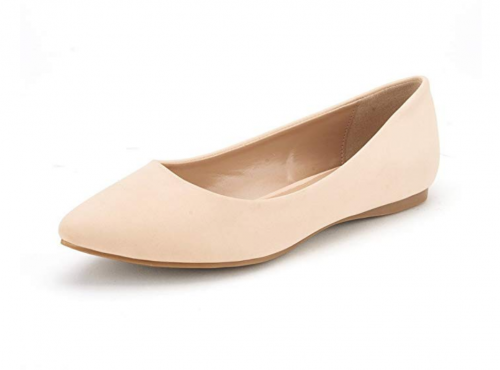 If you're planning a wedding and are on the hunt for a comfortable pair of wedding shoes for dancing the night away or walking down the aisle, we highly recommend this pair.
The Dream Pairs classic flats arrive in a pinkish nude, rather than a brown nude. The pink hue is what makes them the perfect partner for an off-white or non-traditional wedding dress.
When selecting the nude color, you'll find it listed under "Nubuck," however, we see the actual color of the shoe to be slightly rosier.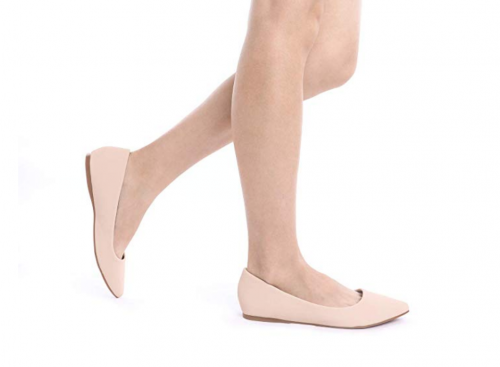 Similar to the other Dream Pairs shoes on this list, these flats are designed with a soft lining. The lining allows you not to have to worry about chafing and blisters while wearing ballet flats for the first time.
They also have a TPR rubber sole for optimal traction and a cushioned footbed so your feet can stay far more comfortable for more extended periods.
5. Dream Pairs Heeled Ballet Flats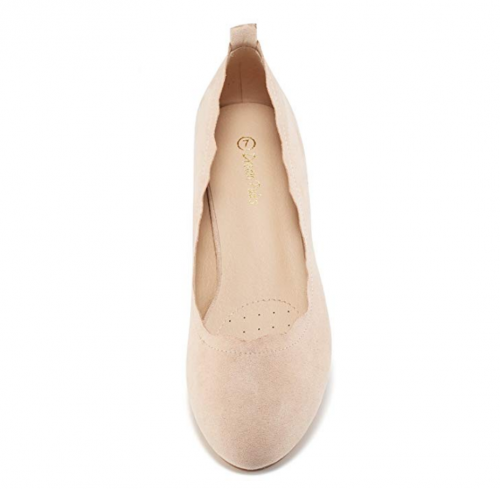 Ideal for the woman that loves the appeal of nude flats but needs a little bit of extra height added to the bottom of the shoe, we highly recommend this pair.
Although they aren't technically ballet flats, the Dream Pairs heeled flats combine cuteness with a subtle elegance that will work well with most outfits. We especially love the scalloped edging that makes the shoes far more feminine than most other flats we've seen.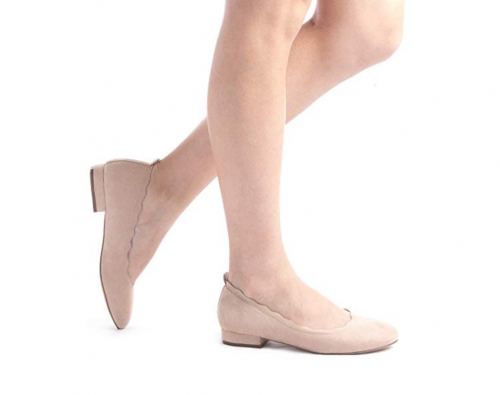 Created with vast attention to detail, you'll find that these shoes come with a removable ankle strap that is also fully adjustable. With the strap, you can opt to wear the flats with or without the added support for a more customized fit.
The rubber outsole is also superiorly designed to offer fantastic traction, even in wet weather, which is essential for flats with a small heel.
Also, the cushioned footbed makes the shoes far more comfortable for long periods of wear-time, and the heel is about one inch in size, if not a little shorter.
6. Circus by Sam Edelman Connie Ballet Flat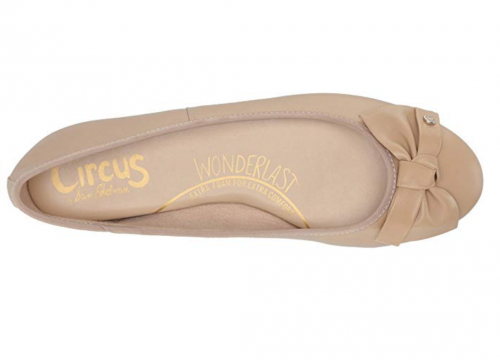 Sam Edelman is easily one of the most influential shoe designing houses in the entire world. They have collections ranging from a punk-rock style to an elegant cuteness that is adaptable to women of every age.
The Circus by Sam Edelman flat is a perfect example of feminine yet a cute type of flat that can quickly work with any outfit. The classic nude color of these flats is precisely what you would expect from a nude shoe, which makes them easy to work with.
By far, the most notable aspect is that it features 6mm of padding on the insole and the sides of the shoes for exceptional comfort. They are one of the top-rated shoes we'll discuss when it comes to all-day wear.
7. Mila Lady Mavis Loafer Flat Shoes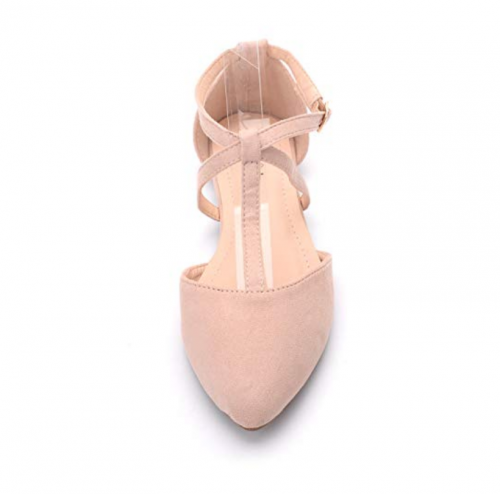 What we love the most about the Mila Lady Mavis shoes is that they are a combination of flats and loafers in one. The mixing of styles makes them one of our favorite pairs on this list for more formal occasions.
The elegance of these shoes is quite resemblant of a pair of traditional ballet flats, but you'll have far more structure to use to your advantage. Also, there are multiple different colors and styles to choose from, depending on your preference.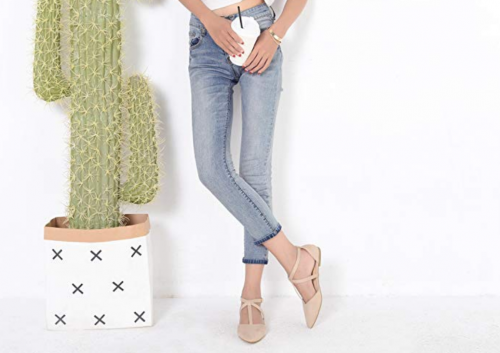 Featuring an adjustable ankle strap, you can create a more customized fit for the shoes, and it also makes them easy to take on and off. The material is also something to write home about as it looks and feels luxurious, which makes them perfect for relatively any occasion.
8. Clarks Gracelin Vail Nude Flats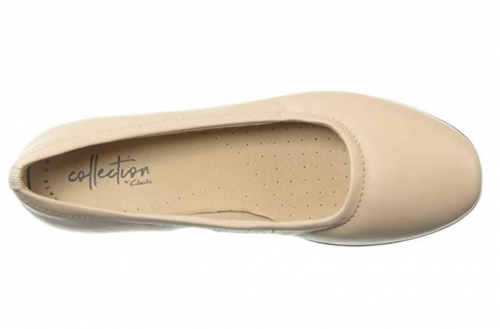 Women who are on the hunt for the most comfortable shoes on the market should surely take the time to review the diverse selection of footwear from Clarks.
Designed for the everyday modern and traditional woman, the Clarks are a fantastic option for comfort and basic style. These shoes aren't the most contemporary style on this list, but they will surely become one of your most-worn pairs of shoes.
Similar to another pair we've discussed, the nude for the Clarks is more of blush nude rather than a brown nude. The color variation is vital to keep in mind. These flats are also made out of 100% leather, which adds an ounce of luxury that makes them more remarkable than other styles.
In terms of comfort, you'll fall in love with the OrthoLite molded footbed which forces the comfortable padding at the sole of the shoe to adapt to the specific contours of your feet.
The more you wear these nude flats, the more comfortable they will become. Also, the lining of the flats is remarkably smooth, which is perfect for breathability and all-day-wear.
9. Rohb by Joyce Azria Maison & Soho Pointed Flats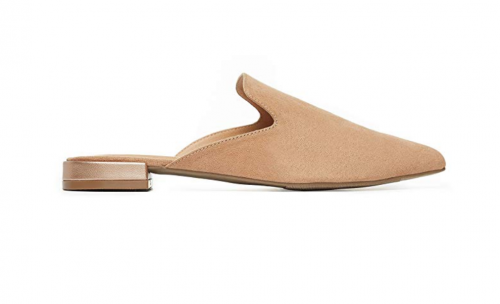 We all have an idea of what traditional nude ballet flats look like. But, what if you were to take that idea and instead opt for a pair that is more similar to mules?
We especially love the Rohb by Joyce Azria Maison & Soho pointed flats. They are equally as convenient as ballet flats, but they have a far more modern and bohemian vibe.
The duality of styles makes them perfect for everyday occasions as well as part of an awesome formal outfit. We also found that these shoes carry an air of luxury to them, which makes them look and feel more expensive than they are.
There are several colors to choose from, and the nude upper is paired with a rose gold heel. With the combination of colors, the style is perfect for a little bit of bling to offset the softness of the exterior material. All of the materials used in the shoe are human-made and resemble a nubuck-type material.
On the inside of the shoe, you'll immediately notice that there is a cushioned insole that makes them far more comfortable to wear. Also, the outsole has a specialized no-slip tread so you can comfortably wear these flats in any weather without worry.
10. Dream Pairs Estella Nude Flats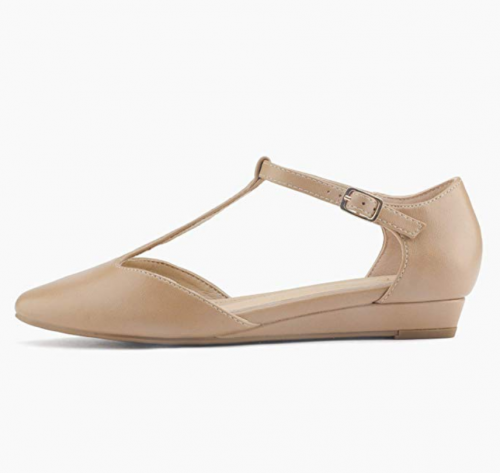 Nude ballet flats with a small heel are the perfect feminine touch to a more casual outfit such as a plain white dress shirt or blouse for work and a pair of skinny blue jeans.
These are the perfect addition to your wardrobe because they have the beauty you'd expect from flats with the comfort of everyday walking shoes. Their soft interior lining makes them even more comfortable for daily wear.
Our favorite feature of these flats is the basic ankle strap and foot strap that adds a little exciting touch to the shoes. First, the adjustable ankle strap helps you to customize the fit of the flats.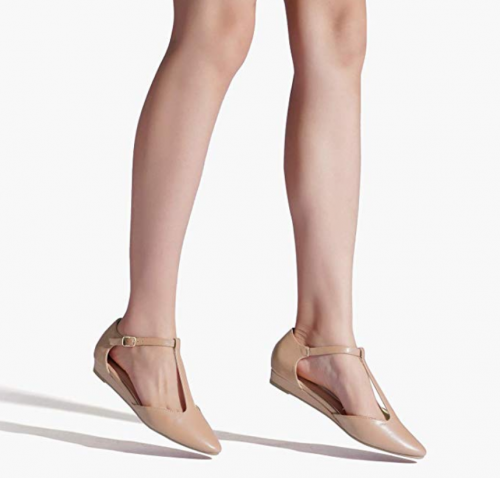 Second, it also contributes to its style and silhouette to transform these into a more stylish pair of shoes. The TPR rubber shoe is ideal for situations when you wear the shoes in wet weather, as they are less likely to slip.
Also, the cushioned footbed is optimal for all-day excursions where your feet need to stay comfortable and be able to breathe.
11. Feversole Macaroon Patent Ballet Flat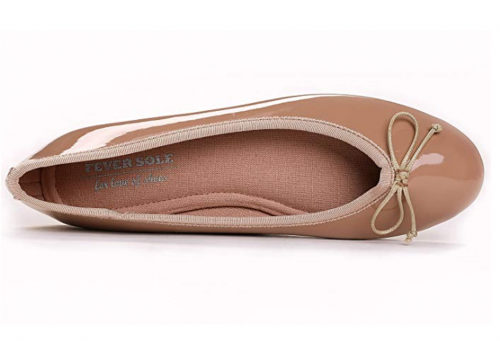 One thing we have yet to showcase on this list of the best nude ballet flats is a pair that is crafted from high-quality patent leather. These flats are by far one of the most classic pairs on this list, which may make them perfect for your upcoming occasion.
Not only that, but they are also incredibly affordable when compared to some of the other pairs we've found.
The Feversole flat is clearly designed for the everyday woman as they feature a memory foam insole. The insole gives you the durability, comfort, and breathability you'd expect from a high-end pair of shoes.
They also feature an incredibly small heel for an added touch of elegance without taking away from the comfort of the flats. Its slim and sleek silhouette also adds some style without making your feet look too large.
12. Cole Haan Bambra Skimmer II Flats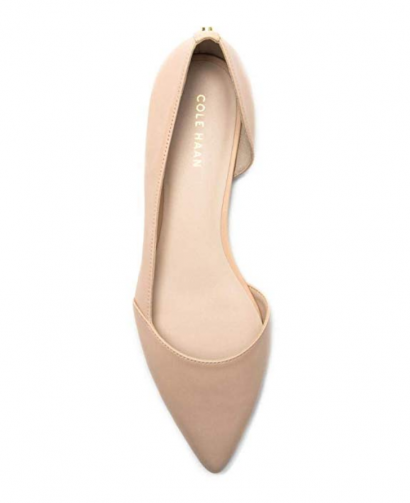 By far the most luxurious pair of flats we'll showcase is the Cole Haan Bambra Skimmer II Flats, but they are undoubtedly well worth the expense.
There's something about these that makes them our favorites out of all of the others. Likely because they have a sleek and modern aesthetic that is easy to pair with any outfit.
The attention to minute details is also something to write home about, as you can tell a lot of thought and effort have gone into the silhouette of these nude flats. You'll find that they are far less basic than what you would expect from other designs.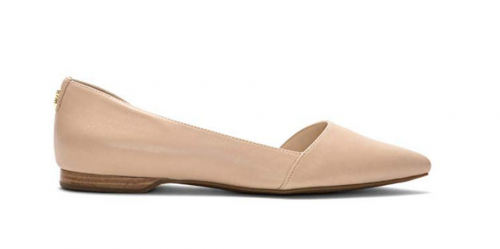 Made from 100% leather, these flats have the perfect feminine appeal with a curved silhouette that makes the shoe look as if it is draped over your foot. On the inner edge, you'll notice the upper is far lower, so your feet will have more flexibility and more exposure.
Whereas on the opposite side of the shoe, it's a little more conservative with a full-sized upper. We love the idea of wearing these flats for a wedding, a casual outing, or a romantic date as they exude confidence and a striking taste for fashion.
Final Thoughts
With the perfect pair of nude flats, you can easily take on any occasion in style. Without having to worry about a giant heel getting in your way, flats are a great alternative that still helps to contribute a more formal flair to a casual outfit.
We highly recommend each of the 12 pairs on this list, as they are fantastic options for women of all ages and styles.
Pin for later