Cute Blouses for Work We Bought Recently!
last updated:
Sep 02, 2019
1793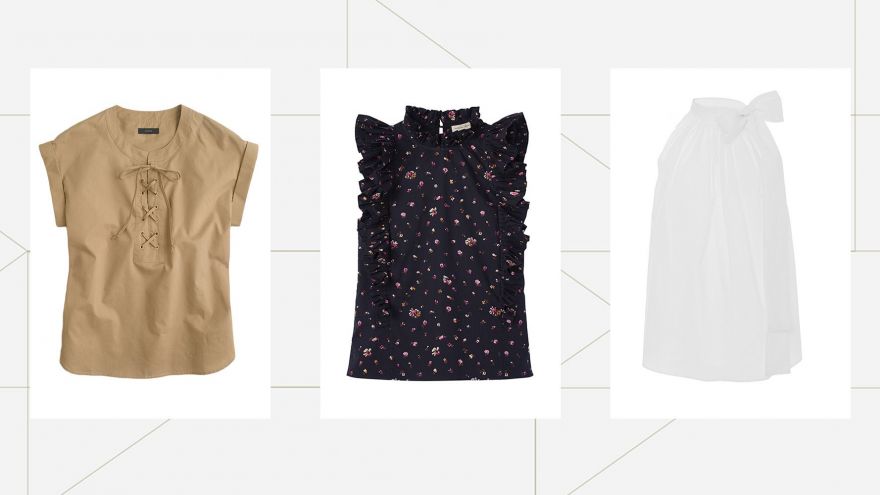 Check out these 10 blouses for work we just recently purchased and see what you think. While some are more traditional, some are also a little more fashion-forward while still being appropriate for the office. No matter your style, you are sure to find something here that you like as well.
Finding the perfect blouses for work is no easy feat! Having to balance office dress code policies along with your own personal style, staying on budget, and finding pieces that you actually want to wear outside of work can be quite difficult. However, thanks to the wonders of the Internet, it has gotten a lot easier.
In particular, we just recently went on a bit of a (virtual) shopping spree and were able to find so many cute blouses for work on Amazon that totally work appropriately.
Best of all, they are all incredibly affordable (all are under $25!) and fashion-forward. In fact, we would gladly wear any of these work blouses out to grab drinks with friends or even out on a date.
Best of all, if you feel like you need any of them for your work wardrobe – you can do so easily – just add them to your cart and have them arrive in a few days! Don't you just love shopping on Amazon?
The Blouses for Work We Bought Ourselves!
1. Floerns Summer Short Sleeve Tie Bow Neck Top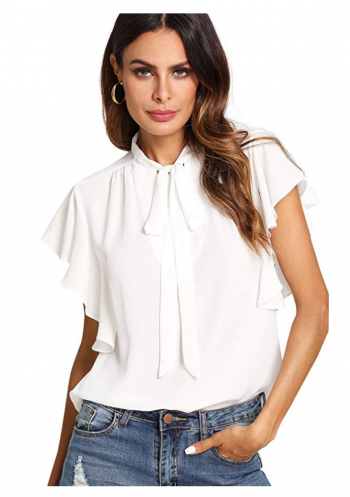 We absolutely love the bow detail on this blouse – it's not overpowering like some bows can be, but it's enough to give this blouse a unique, elevated appearance.
The piping detail around the neckline and sleeves also makes this blouse stand out from any ordinary work blouse.
We personally love the simple white shade, but if you don't like it, you can get it in pink or salmon!
Easily wear this with pants or a pencil skirt and you've got the perfect work outfit.
2. roswear Polka Dot Sleeve Blouse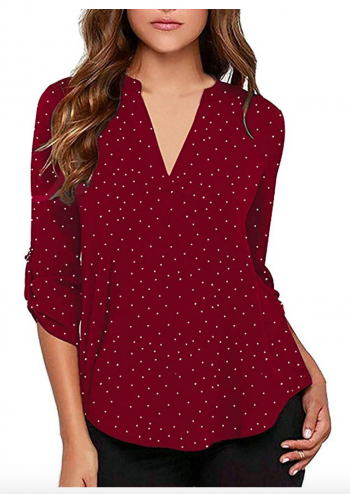 Polka dots really never go out of style, and we love what they add to this blouse!
The ¾ length sleeves are also a nice addition to this shirt and we love the roll tab closure that they have. There is a pretty deep V on this blouse, so we recommend pairing this with a camisole underneath when wearing to the office.
The slightly longer length of this shirt makes it a perfect work appropriate blouse that you can either wear untucked, or tucked into pants or a skirt.
This also comes in a variety of colors so be sure to stock up! We love this deep wine shade, but also really love this blouse in pink and navy.
3. Romwe Color Block Blouse Short Sleeve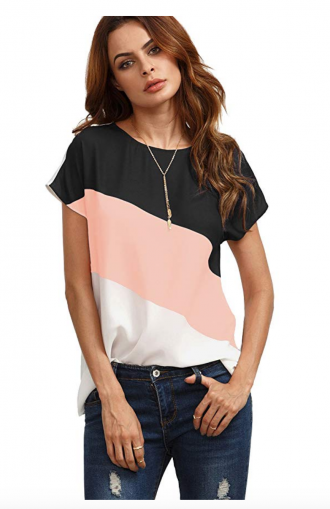 There is something so fashion-forward about color blocking, and that is what we love about this blouse!
This is a great way to add a touch of your personal style to your work wardrobe without fear of not being work appropriate.
This shirt is loose fitting and has a high neckline, making it perfect to wear to work. You can easily pair this with a blazer or cardigan for the perfect work outfit.
Going out after work? Lose the blazer and pair with a nice pair of skinny jeans and you've got a great night time outfit.
This blouse does come in several colors, but we absolutely love this combination of pink, black, and white. Timeless, yet modern- we love it!
4. Stylelachic Chiffon Work Blouse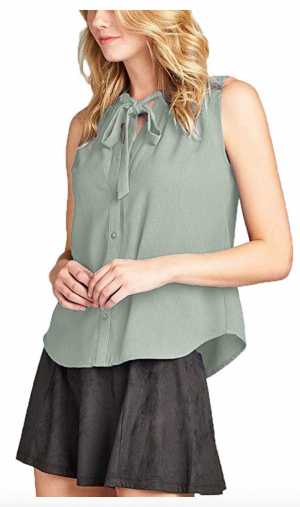 This is a great modern take on the classic button-down shirt that everyone has in their closet.
First of all, we love the modern muted seafoam green shade of this blouse. We also love the bow detail at the top!
This is a great blouse that you can easily pair with either pants or a pencil skirt. Because it is sleeveless, we recommend wearing it with either a blazer or cardigan while at the office.
After work, you can ditch the jacket and you've got a great, breezy summer blouse to wear out to dinner, drinks, or anywhere else! If you don't like the green shade, you can also get this blouse in black, blue, or a nice pale pink.
5. Floerns Splice Peter Pan Collar Cap Blouse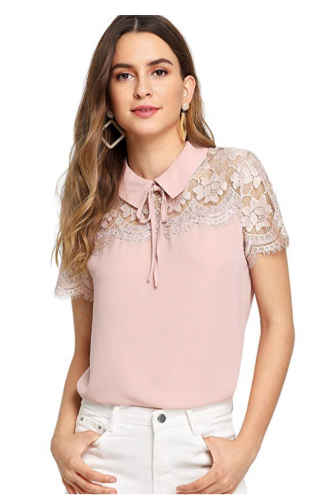 This might be our favorite blouse that we purchased – we could not resist the gorgeous lace sleeve detailing, but paired with the high neckline and collar, it totally works appropriately!
We love the look of this blouse and have so many ideas about how to style it after work as well. At the office, pair this with either pants or a pencil skirt.
After work, you can either play up the feminine lace and pair this with a skirt or balance it out with something a little edgier – say some leather leggings or a ripped pair of denim.
You've got a lot of options with this blouse, and that is what we love about it!
6. Button Down V Neck Shirt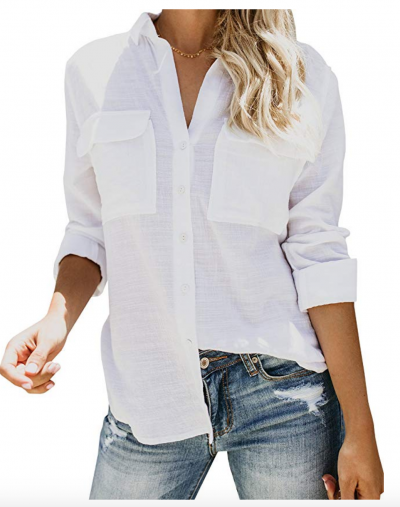 Of course, we had to pick up a classic white button-down shirt – everyone needs one in their closet! What we like about this shirt is that it is a bit more casual than your typical button-down.
Made of more lightweight cotton fabric, this is a classic piece that you can still make more formal by pairing with a blazer. This blouse has long sleeves, but you can easily roll them up to make the shirt ¾ length sleeves and secure them with roll-tab closure.
We recommend wearing the sleeves down at the office, and rolling them up and unbuttoning the top button for a more casual after-work look.
Because it is a more lightweight material we also recommend wearing a camisole underneath since it can be slightly see-through depending on the lighting (and we all know that office lighting tends to be very unforgiving!)
7. SheIn Casual Side Bow Blouse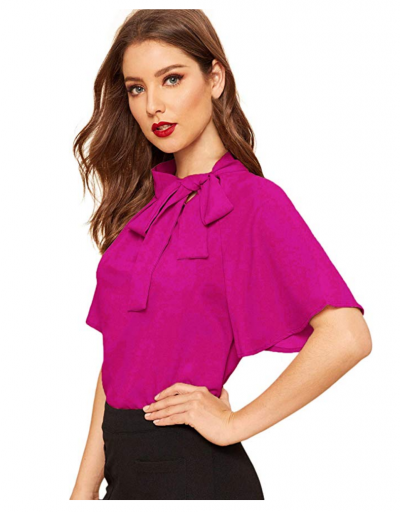 If you want to be a little more bold with your work blouse, why not go for this gorgeous top that features a larger bow accent and a bright fuschia color?
The blouse itself is tailored for a closer fit, but it balances out nicely with the flutter sleeve and bow detail. This is a gorgeous blouse that is perfect to wear to the office and out after work.
If you are worried that the color is too bright, you can easily tone it down by pairing with a blazer or cardigan.
Alternatively, you can also pick this blouse up in another shade – it also comes in other more muted or neutral shades like black, white, dark green, or brown.
8. BLENCOT 3/4 Bell Sleeve V Neck Lace Patchwork Blouse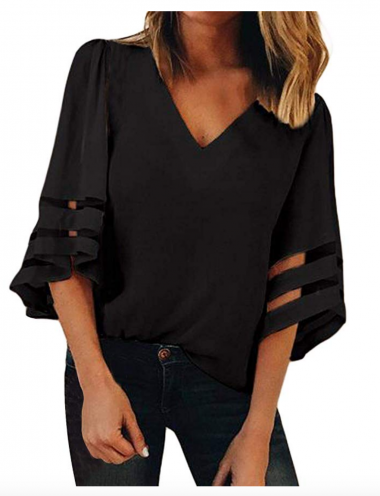 Get it here
We loved the sleeves on this blouse, we just couldn't resist adding it to our work wardrobe! This is a great way to elevate a basic black blouse that you probably have tons of in your closet.
This bell sleeve with the added sheer cutouts totally transform the look of this blouse, but it is still a work-appropriate blouse. It does feature a V neck so we recommend wearing with a camisole while at the office.
We also love that these sleeves are not full length- they are ¾ length.
The problem with bell sleeves is that they can easily get in the way while typing or eating, but you won't have to worry about that with this blouse since the sleeves are not full length!
If you don't want this in black, you can get it in blue, red, white, or pink.
9. Milumia Tie Short Sleeve Blouse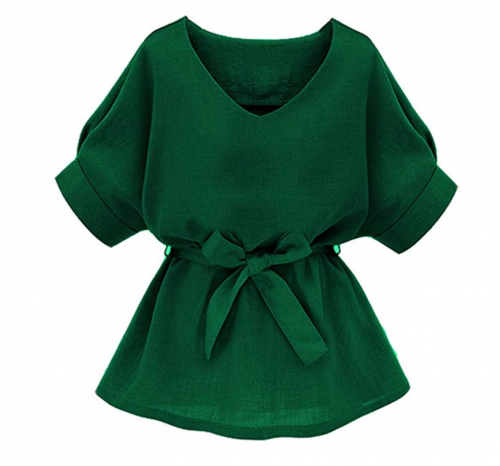 This next blouse is incredibly flattering on any body type and best of all comes in a variety of colors and patterns- 22 to be exact!
This blouse features a slight v neck – meaning you don't have to worry about pairing with a camisole, short sleeves, and a tunic fit. The shirt itself is very loose, but what we love is that it comes with a tie that allows you to cinch in the blouse at the waist.
Whether you have a tiny waist or want to have the appearance of one, you can achieve it with this self-tie blouse.
Because it is a looser fit, we recommend pairing with a pencil skirt or straight-legged pants. After work, pair with leggings or ripped skinny jeans for a more casual look!
10. ANGVNS Office Work Blouse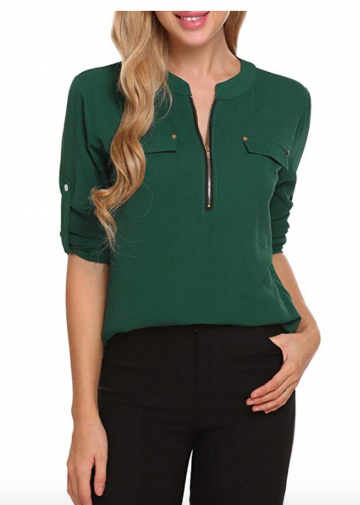 Finally, the zipper and pocket detailing on this last blouse stood out to us and we knew we had to pick it up. Overall, this is a pretty classic work blouse, but those small details still give it a little something extra.
The sleeves are long or can be rolled to ¾ length and the zipper allows you to show a little skin if you want. Obviously, while at the office we recommend keeping things zipped up, but after work you can slide the zipper down to show off a little more skin and easily wear this blouse out for drinks or on a date!
We like the rich green shade of this blouse, but it also comes in a variety of other colors and patterns, including several floral patterns that are perfect for spring or summer.
Wrapping Up
We must admit, we are so thankful that finding a fashionable, affordable blouse for work is so much easier these days thanks to the Internet.
These 10 blouses for work, in particular, are all so cute, appropriate, and affordable. If you constantly feel like you have nothing to wear to work, why not refresh your wardrobe with some of these pieces?
What is your personal work style? Do you like to keep things traditional, or do you try to add in your own style wherever you can?
Let us know, and happy shopping!
Pin for later