Our 10 Favorite Bridal Shoes That Won't Break the Bank
last updated:
Apr 06, 2019
3108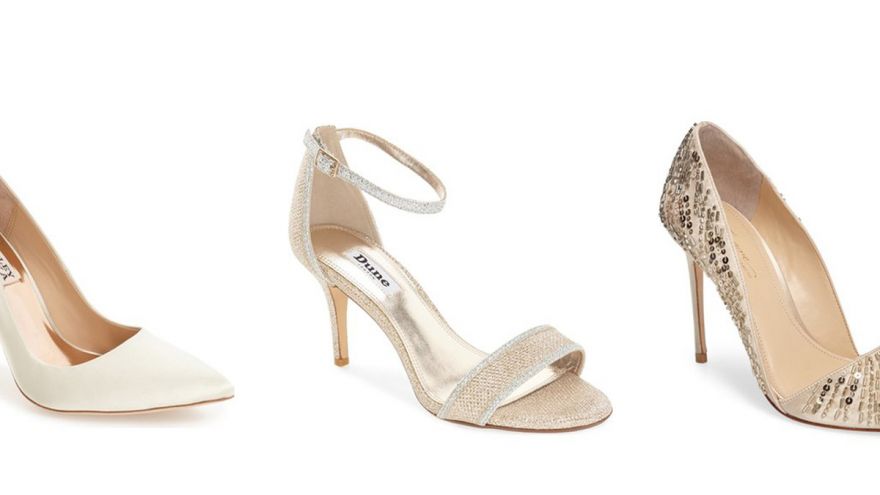 Choosing the perfect bridal shoes is a combination of style and budget. As you've likely spent a lot of money on other aspects of your wedding, you'll want an affordable pair of shoes. With that being said, you can't compromise on style when it comes to finding budget-friendly accessories. We've found a collection of 10 amazing shoes that will compliment anyone's wedding dress. Not to mention they all ring it at well under $80.
1. ElegantPark Peep Toe Rhinestone Pumps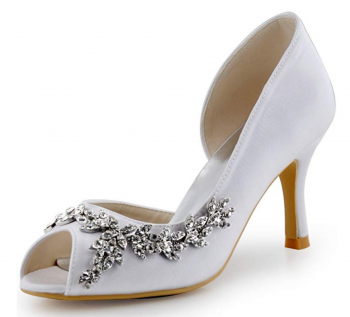 Designed similarly to the shoes that you'd expect a modern bride to wear, these pumps are the perfect style that won't take away from your dress but will still look fantastic on their own.
Made of imported satin and with a 3" heel, they are incredibly comfortable. We also love the addition of the peep toe, which helps to make them more breathable. However, the rhinestone accent on the side of the shoe is what speaks volumes to your personal fashion sense.
2. Dream Pairs Divine High Heels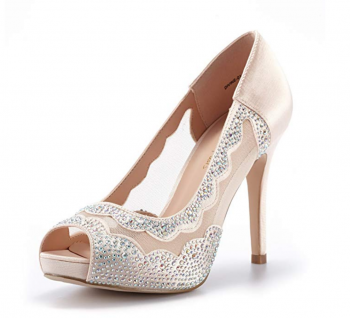 If you're looking for a more elevated appeal to compliment an over-the-top wedding dress, the Dream Pairs Divine High Heels are a fantastic option. In fact, these are the type of formal shoes that you can wear for many occasions. The heel is approximately 4" tall and they also feature a 1" platform for added comfort.
Additionally, there is a padded faux leather insole which helps the shoes to maintain their shape over time. The small rhinestone details add an extra layer of elegance to the shoes that will match perfectly with any fashionable dress that you choose.
3. Dream Pairs Swan High Heels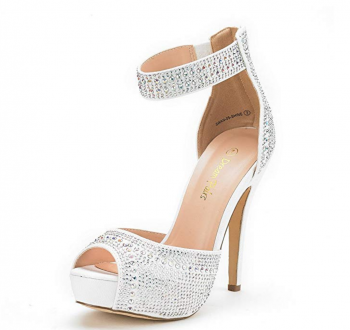 As another great pair of wedding shoes from Dream Pairs, these Swan heels are absolutely stunning. Not only will you have a high pair of heels to wear on your special day, but they are crafted to be comfortable on every type of foot. With an added ankle strap, you won't have to worry about trying to learn how to wear heels before your wedding.
The approximate heel high is 5", however, you'll also have 1.25" of a platform for added comfort. Similar to the other Dream Pairs shoes, there is also a faux leather insole for durability.
4. ElegantPark HC1521 Mary Jane Pumps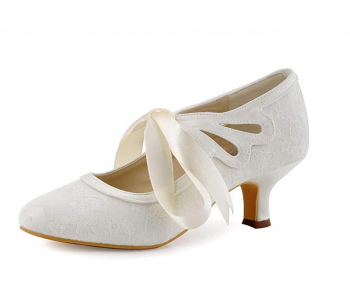 If you're not particularly interested in wearing a heavy-duty heel on your wedding day, these are a great alternative. Not to mention these pumps would also work perfectly for more vintage weddings or mature weddings. Covered in delicate lace, the low heel pumps have the perfect level of femininity. We also love the ribbon detailing which is an added feature that only speaks to the beauty of the shoes.
5. Dress First Pointed Glitter Pumps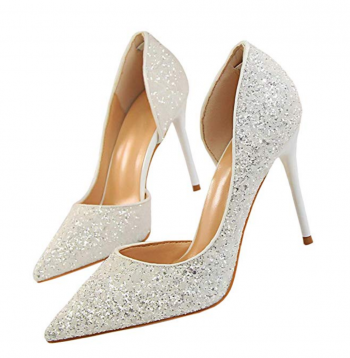 Having some sparkle on your wedding day is one of the best ways to feel like you're the star of the show. Not to mention having a pair of pumps that you can wear for multiple occasions is also convenient. The Dress First Pointed Glitter Pumps are the type of shoes that you'll wear multiple times throughout the year.
They have a design that will work perfectly with any type of dress but they also have a strikingly modern design. With a moderate heel height of 3.5", you won't have any discomfort during the day. We also love how the lining of the shoes is highly durable and breathable. Additionally, you'll have a lot of support while wearing them for hours.
6. Getmorebeauty Mary Jane Flats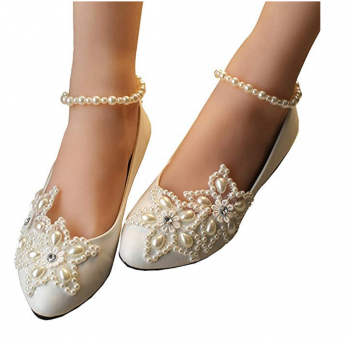 Not every bride is interested in wearing a pair of heels for their wedding. Especially if you don't have a second pair of shoes to wear after the ceremony. The Getmorebeauty Mary Jane Flats are the best of both worlds, as you'll have an elegant pair of shoes that are arguably the most comfortable on this list. Not to mention they're also one of the most affordable pairs on this list.
The main shoe decals are crafted using faux pearls with small rhinestones for an added ounce of glitz and glam. We also love the pearl ankle strap, which brings the elegance up the entirety of your foot. There are three different designs that you can choose from, including a pair with lace for classic elegance.
7. JIAJIA Women's Bridal Shoes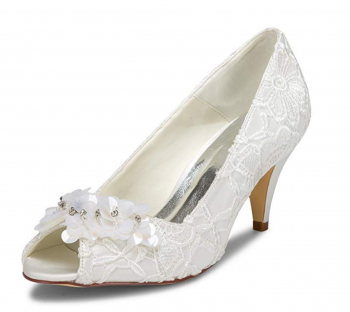 The first thing you'll notice about these shoes is they have the traditional bridal design that most other shoes have, however, they're far more affordable. The JIAJIA Women's Bridal Shoes are available in one color and are crafted with thick lace. The heel is incredibly short, so they could be referred to as Mary Jane pumps. What we love the most about their design is the faux floral banding on the front of the shoe right above the peep toe. It adds an extra ounce of elegance.
8. Dream Pairs Chunk Low Heel Pumps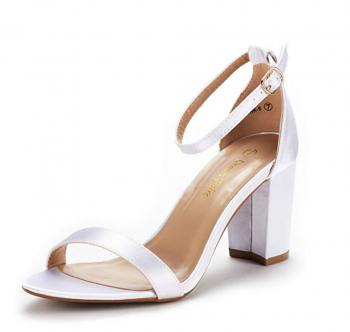 These shoes are iconic for the type of bride that is looking for a plain and simple pair of shoes. They are especially fantastic if you have an outdoor wedding and aren't interested in wearing luxurious high heels. The Dream Pairs Chunk Low Heel Pumps feature a plain band across the toes and a plain ankle strap.
There aren't any decorative elements and the chunky 3" heel offers optimal support. With the perfect combination of elegance and functionality, these shoes are one of our favorite pairs.
9. ElegantPark Leaf Rhinestone Pumps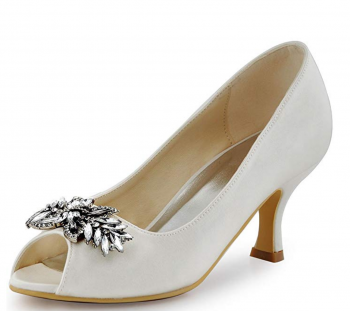 The most notable element of these wedding shoes is the stunning leaf brooch on the toe of the shoes. It adds an extra ounce of glamor that helps to pull the whole design together. It's also the focal point of the pumps, as the rest of the shoe is crafted out of satin. If you're looking for a modest yet stunning pair of shoes that will work with any type of dress, this style is the best for you.
10. City Classified Comfort Strappy Rhinestone Sandals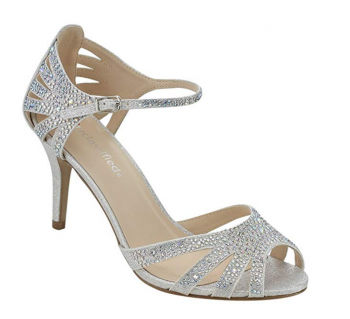 Equipped with everything you would expect in a rhinestone-covered pair of bridal shoes, these sandals are an exceptional choice. The heel height is average, measuring it at around 3" and they also feature an open-toe design for optimal breathability. The rhinestone embellishments help to elevate the design, making them ideal for occasions that are more formal. We love the delicate nature of all of the features, which only compliments the overall design of the shoes.
Pin for later