The Most Comfortable Heels to Wear All Day Long!
last updated:
Aug 27, 2019
1200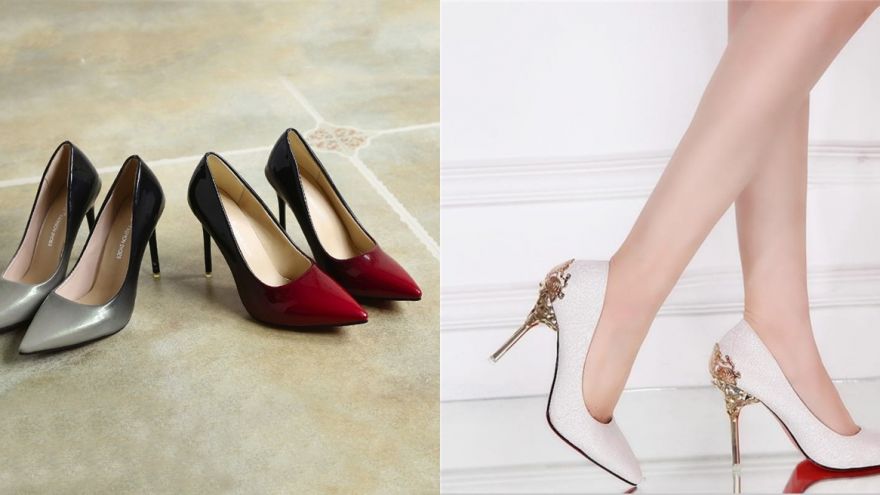 Heels are a wonderful way to dress up a casual outfit or to pair with a formal dress, but they are also known to be very uncomfortable. Finding the perfect pair of comfortable heels that look great and also prevent blisters by the end of the night can be tough.
You'll want to choose a pair that have an ample amount of support and comfort features so you won't want to take them off halfway through an event.
Below are the most comfortable heels we've found that you'll certainly want to sleep in.
The Most Comfortable Heels We Swear By!
1. LifeStride Women's Suki Pump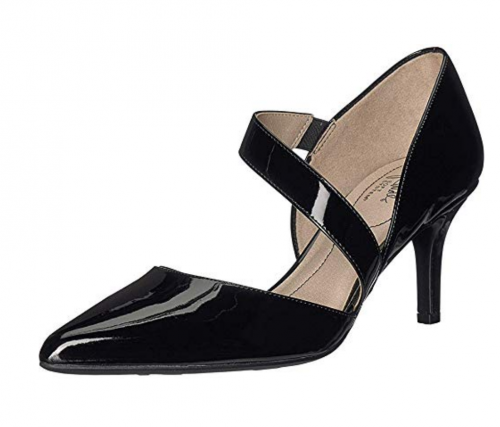 Not only are these pumps affordable, but they also look fantastic as well. With a combination of classic and modern features, you'll easily be able to pair these with any outfit in your closet.
There's a single strap that will sit comfortably over the top of your foot but you also have the added convenience of a closed-toe at the front. Some of the other most interesting features of the LifeStride pumps include:
LifeStride Soft System: The support system in these heels is phenomenal as it gives you cushioned traction and all-day support. Additionally, you'll find the sole is far more flexible than with other heels, which creates a more custom fit for your feet.
Comfortable Heel: There's no need to worry about walking on a five-inch heel, as the heel on these shoes is a comfortable 2 ¾".
Slip-on Design: Even though there is an asymmetrical strap across the top of the foot, it is bound to the shoe with elastic, so it will stretch as needed. In addition, you can slip the shoes on instead of having to strap them on every time you need to wear them.
2. Naturalizer Pressley Platform Sandals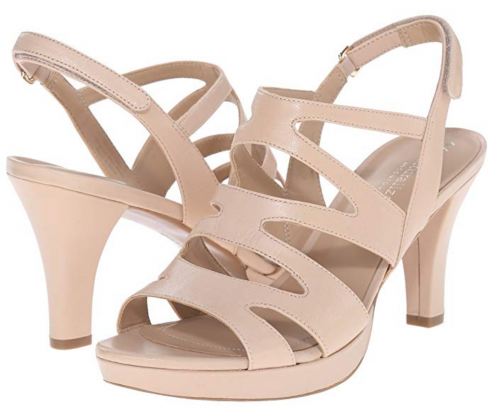 What we love the most about these comfortable heels is that they fall somewhere in between formal platform pumps and a comfortable sandal. The strap details make them the perfect option for a summer event, such as a wedding.
They feature an open toe with more than enough breathability to be worn in exceptionally hot weather and they are crafted from 100% leather for an added luxurious touch. A few additional features include:
Cushioning: The added padding inside of Naturalizer shoes is something to write home about as all of their shoes are known to be the most comfortable heels on the market. They will adapt to the contours of your feet for the most comfortable experience.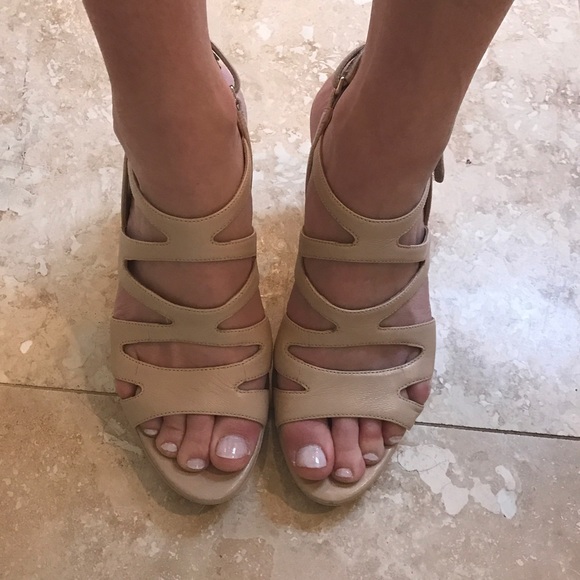 Heel to Toe Balance: The way that these shoes are designed is notable as they have a perfect amount of balance from your toes to your heels. You'll never feel like you are off-center and your feet won't ache in one area more than another.
Breathable Lining: Aside from the fact that the shoes themselves feature straps instead of closed features, the lining on the bottom of the shoes is also breathable. This helps to prevent sweating and discomfort as well as unappealing smells.
3. DailyShoes Round Toe Pumps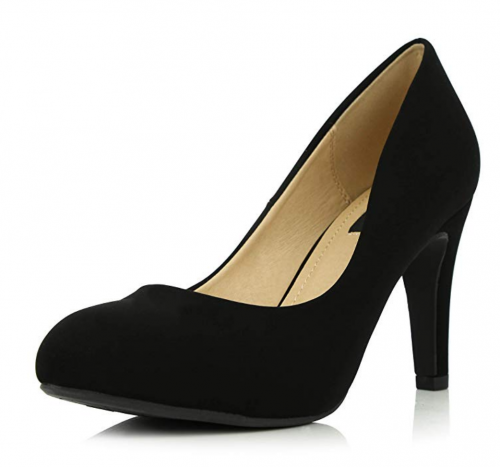 Perfect for women that want a regular pair of heels that are easy to put with absolutely any outfit, these pumps have a classic elegance unlike any other pair on this list.
With a closed round toe and a moderate heel, these synthetic leather heels are the perfect partner for a night of dancing or an afternoon business meeting.
Available in black, nude, red, and white, you can find the ideal pair for any event. A few other features include:
Non-slip Soles: If you know that there's a likelihood you'll have to wear your heels in wet weather, you'll be glad to know that the soles on these pumps feature a redesigned non-slip tread.
Cushioned Insole: Instead of having to add your own insoles, these heels come with comfortable padding that will keep your feet from feeling sore during the day.
4. Clarks Linvale Jerica Pumps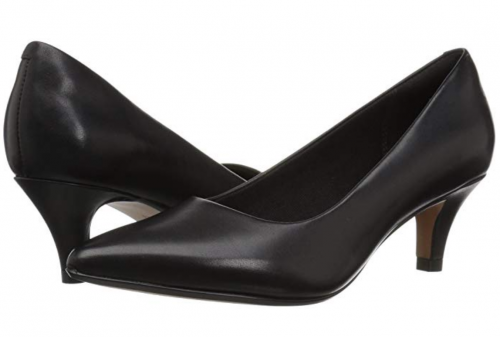 Perfect for the modern working woman, these pumps are surely something to write home about. The luxurious leather upper with a synthetic wood heel sets the perfect contrast to contribute to all of your favorite outfits.
We particularly love pairing these shoes with skinny or distressed jeans for an afternoon brunch with your friends or to put with a flirty dress for a date night.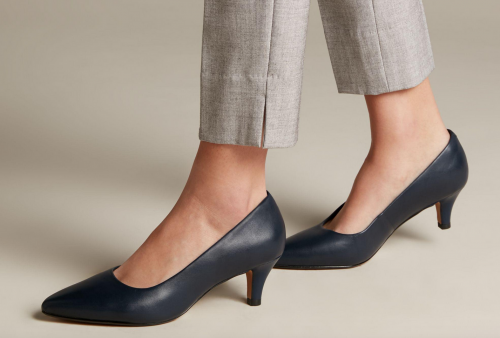 You can purchase them in either blush or black, depending on your preferences. Some of the most notable features include:
100% Leather: If you're searching for quality over quantity, you'll be glad to know the entire upper of these shoes is crafted out of genuine leather, instead of synthetic materials.
OrthoLite Footbed: With the help of OrthoLite technology, the footbed of the heels features optimal breathability and moisture management, even on the hottest days of the year. You'll also love how it helps to offer additional support so your feet always feel comfortable.
Soft Upper: The top half of the shoe is extremely flexible, which means you won't have to worry about breaking the heels in. Once you wear them for the first time, they'll fit firm to your feet as if they were made specifically for you.
Full-Length Cushioning: For optimal comfort under your feet, the footbed is covered with cushioning, including at all of the pressure points of your feet.
5. Clarks Adriel Viola Dress Pumps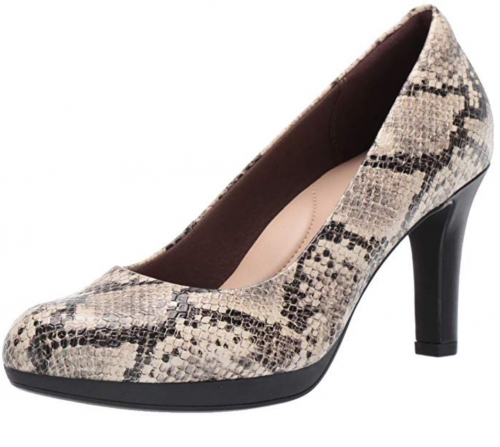 When you're getting ready for a luxurious event, there's nothing better than having a pair of shoes you can feel confident in and the Clarks Adriel Viola pumps are our number one choice.
Instead of a matte leather, these feature a shiny leather that will surely set the right impression
. With all of the best features that most Clarks pumps have to offer, these shoes are a phenomenal choice for every woman. A few added features you'll love include:
CushionSoft and OrthoLite: The combination of the CushionSoft and OrthoLite technologies help to make the pumps more breathable and soft for all-day comfort.
Balanced Design: The round toe with a small platform and the tapered heel will work perfectly together to create a balanced pair of pumps that will always fit you perfectly.
There you have it!
We promise you these are the most comfortable heels and we tested and own a pair of each one. With any of these, you'll be strolling around all day long while feeling like you're walking on super plush clouds!
Pin for later