This product is listed here: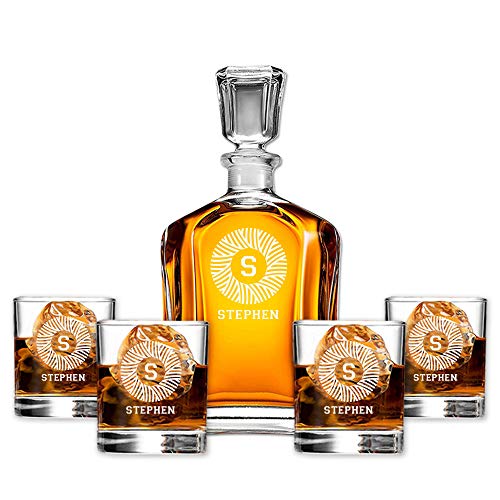 Monogrammed Whiskey Set
This year you are not going to gift the whiskey lover in your life yet another bottle of their favorite single malt. There many other ways to celebrate these fine drinkers to make sure they enjoy their favorite spirit in style.
A whiskey lover knows a lot about their drink. They know how its distilled, aged and flavored. It's not a wonder that when they finally get to stock up their favorite brand, they will make sure they serve and store it in style.
They know their choice of drink too well, and when they finally get a moment, they will savor it. So going by this information, we couldn't think of a better gift than this custom monogrammed 5-piece gift set by Froolu.
Detailed information about Monogrammed Whiskey Set
Whether the recipient is an occasional whiskey drinker, a beginner or an expert-level-imbiber, this 5pc set will certainly impress them.
This is an incredible monogrammed present not just for whiskey lovers, but also for rum and wine fans.
The set comes with a decanter that holds 26 oz. of whiskey or any of your favorite spirit and 4 matching rocks glasses.
The items are made of quality material. They are sturdy, heavy, and durable.
A good decanter should have a good weight to it and provide an easy grip when pouring from it. From the reviews, this particular one fits the bill.
WHY WE LIKE IT?
A 5pc set, personalized with custom engraving
The set is classy and stylish
A great gift for various occasions
Comes well packaged
WHY WE dont LIKE IT?
None
What we love about this product
It's the freedom to have this set engraved and customized that makes it the most suitable gift to give to the gentleman in your life.
The seller offers free laser engraving, which means you can include the name of the recipient, a logo, or a text to customize the entire set.