This product is listed here: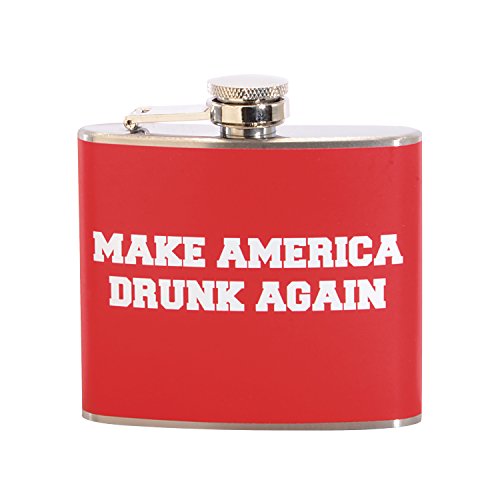 Make America Drunk Again – Stainless Steel Flask
In your circle of friends, there is always that one person who has a fine taste when it comes to alcohol. The one whom you always have unforgettable nights with and never turns up for events without a drink.
Here is a gag gift that we are confident will be received with lots of laughter, and the best thing about it is that your friend can always sip their whiskey, anytime, anywhere on the go (responsibly).
This stainless steel liquor flask by Thirsty Rhino is trendy, stylish and super cool. It will always have a place in any social gathering events or when having a good time with friends at the game.
Detailed information about Make America Drunk Again – Stainless Steel Flask
It fits easily into a pocket or a purse and can be carried anywhere when skiing, hiking, climbing, cycling, backpacking, camping, partying and any other outdoor activities that call for a few ounces of bourbon whiskey or any other spirit.
It is durable, and it will not scratch or dent which makes it great for nearly all occasions. And we can't that deny stainless steel has an enduring appeal.
What makes this liquor flask a great gift choice for a friend or a groomsman, it's the vinyl wrapper with a funny saying that reads "Make America Drunk Again" written in white making a lovely contrast against the red background.
WHY WE LIKE IT?
Made of premium stainless steel
The material doesn't taint the drink stored inside
The flask has a vinyl wrapper with a funny saying
Capacious enough but small enough to fit in a pocket
WHY WE dont LIKE IT?
The label with a funny saying is not engraved on the flask
What we love about this product
It is a high-quality hip flask with a capacity of 5oz. It is made of food grade premium stainless steel. This is an excellent material when it comes to storing liquor and beverages as it ensures that there are no chemicals transferred to the drink.