LBD? Get over It! It's the Time to Get Yourself a Little White Dress and We Have 10 Perfect Options!
last updated:
May 06, 2019
1814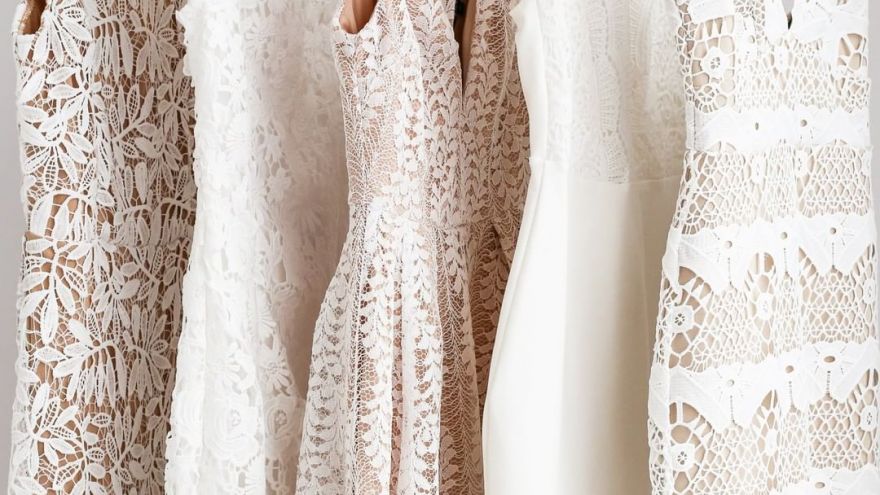 We all know that little black dresses have had their time to shine, but in the summer, it's time to show off all of your best features without being draped in black.
It's time to put out LBDs away for the year and start a new collection of little white dresses. Perfect for any occasion ranging from brunch with the girls to baby showers, these dresses will help you look and feel your best.
Our 10 Favorite Little White Dresses!
1.V-Neck Bell Sleeve Shift Dress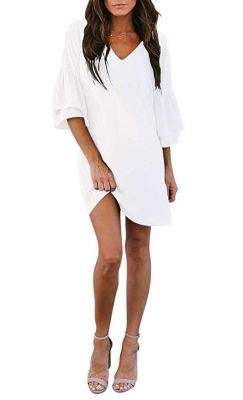 Made out of polyester, fabric, and spandex, this shift dress is the type of garment that looks absolutely stunning on anyone. The flowing bell sleeves add the perfect feminine appeal meanwhile the rest of the dress sits comfortably on every curve.
If you're in the market for an above-the-knee gown that combines the perfect amount of formality and casual wear, this is the one to choose.
2. Spaghetti Strap Mini Dress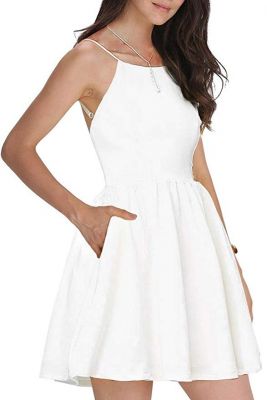 For more formal occasions, you might not be interested in a floor-length gown, which is why we love this spaghetti strap mini dress. The bodice is incredibly simple with two straps that reach behind the shoulders, leading to an open back.
We adore the simplicity of the fabric and the flare of the skirt that helps to add a stunning touch to the entire garment. You'll love to wear this dress for prom, to a party, or even on a date.
3. Backless Lace Mini Dress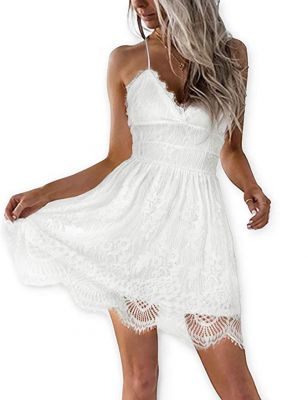 If you're the type of person that isn't interested in boring and bland outfits, this is a fantastic option for you. This backless lace mini dress has a lot going on but it works so perfectly together to create a boho-inspired earthy garment. The cinched waist is by far our favorite feature of the dress, as it will help to pull in your waist so the rest of the dress can flow beautifully.
Constructed out of high-quality polyester and lace, this is the perfect dress to wear to an outdoor event in the middle of summer. It's highly breathable and comfortable against the skin.
4. Off-the-Shoulder Cocktail Dress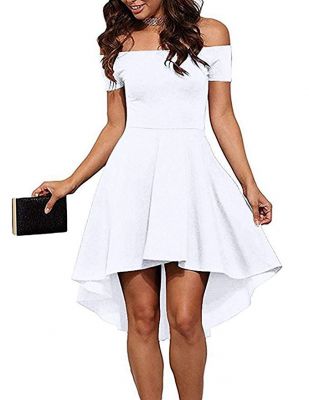 If you're looking for a dress that will have all eyes on you when you enter the room, this is the one to choose. This high-low cocktail dress has a lot of unique features that work perfectly together, making it the ideal garment for a variety of events. We'd even recommend it for a quick and short wedding ceremony when you don't want to invest in a two-thousand dollar gown.
The off-the-shoulder sleeves help to expose the perfect amount of your upper body meanwhile the high-low skirt exposes the perfect amount of leg, without being too over the top. We especially appreciate the plain white material without any patterns, which helps to add minimalism and modernism to the entire dress.
5. Off-the-Shoulder Bodycon Dress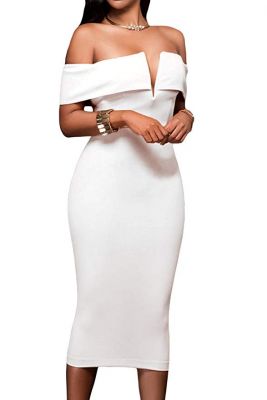 Perfect for people who love the idea of off-the-shoulder gowns but are looking for something a little sexier, we highly recommend this stunning evening gown. Though it's not the type of dress that is recommended for grocery shopping, we can guarantee it will show off all of your best features. We especially love the V-neck slit down the front of the dress that helps to break up the sheath of the skirt and adds an extra ounce of flair.
6. Cold Shoulder A-Line Skater Dress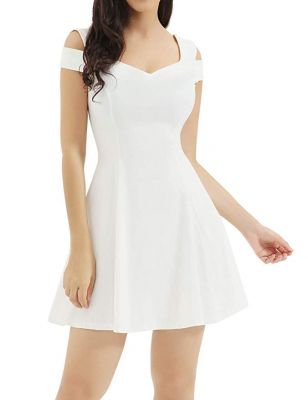 Thus far, most of the dresses on this list are recommended for young adults and adults. However, this cold shoulder A-line skater dress is the perfect option for teens and younger wearers. The slit shoulders expose the right amount of skin to make the garment more feminine, however, it's still very conservative.
The minimal pleating on the skirt prevents the dress from feeling too "cute" but still offers a flattering silhouette that combines both elegance and fashion.
7. Pencil Bodycon Tank Dress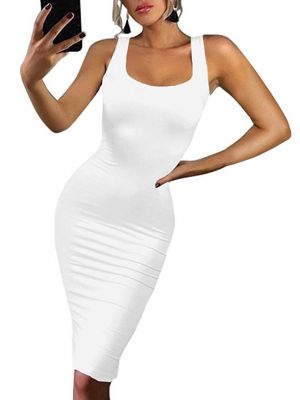 At first glance, this dress might seem a little intimidating, however, it can be perfectly paired with a ton of other items. For example, slipping on a jean jacket and your favorite trainers for a more casual and conservative look. If you're in the market for a dress that will show off all of your curves, this is the perfect one for you.
The simple silhouette with the combination of the comfortable tank top is what makes this one of our favorite choices for a little white dress. It's also made out of polyester and spandex, so the dress is breathable, comfortable, and will move with your body with the right amount of stretch.
8. Halter Chiffon Beach Dress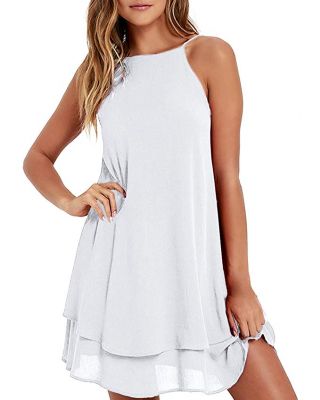 There's nothing that says you're ready for a day out in the sun more than a cute and comfortable dress that you can throw over a bathing suit or wear on its own. The one thing we love the most about this halter chiffon beach dress is how easy it is to wear for any occasion.
You can style it up with accessories and the right pair of shoes, or wear it completely causal for a beach day with your friends. It flows beautifully, is elegant, and is incredibly comfortable for the hottest days of summer.
9. Fit and Flare Cocktail Dress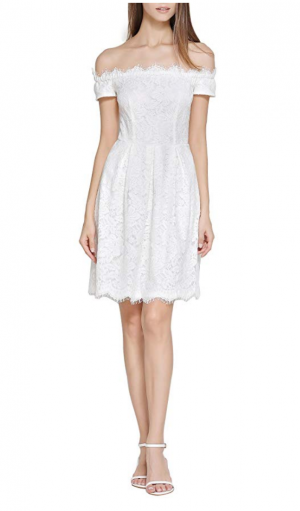 This dress perfectly accentuates vintage beauty without compromising comfort. The fit and flare silhouette is something that looks stunning on any body type. You'll also love the off-shoulder lace bodice which adds a little extra touch to the entire garment. Women who are looking for a more formal and classic design for their little white dress will especially appreciate this design.
10. Casual Crew Neck T-Shirt Dress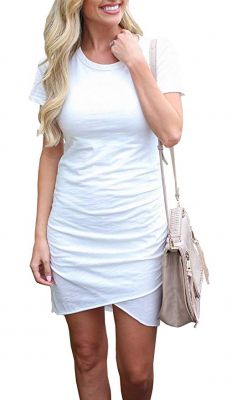 It's always great to have one dress that you can throw on with a pair of casual shoes and be able to get ready in a matter of minutes. This casual crew neck t-shirt dress is one of our favorites on the list because it's comfortable, stunning, and captures all of your best features without having to try too hard.
The dress is simple to take one and off and is made out of the same materials as a regular t-shirt. However, instead of being big and bulky, it will hug your every curve and make you feel confident and sexy in a basic garment. Also, it features a faux-wrapped front that adds a little bit of femininity back into the dress.
With the perfect little white dress, you'll be prepared for absolutely any occasion. With the ability to revolutionize your wardrobe, we highly recommend finding the perfect little white dress for your closet, ASAP!
Pin for later