10 Tea Length Dresses we are Loving this Season!
last updated:
Oct 23, 2020
8807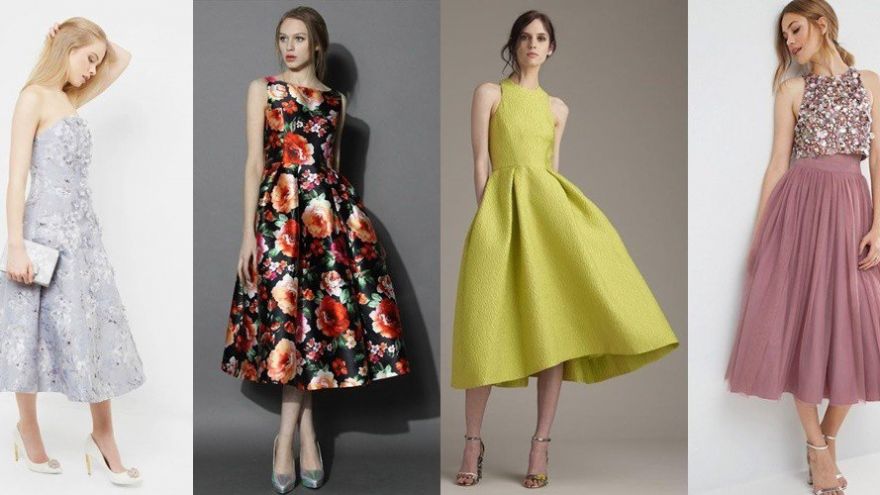 Once winter hits and the leaves start to change, all everyone seems to think of when it comes to dresses are maxi dresses. While it makes sense, we think you can still have a bit of fun when it comes to your fall and winter fashion picks!
In fact, we are loving tea length dresses and think they are perfect to wear during fall, or during winter to a holiday party or other formal event. Hitting below the knee and above the ankle, we love that this is a more modern take on the full length gown. Best of all, it is a very universally flattering dress length! Depending on your body type you can also tweak the hem length to be either a little higher or lower, but no matter what, you are certainly going to look fabulous!
Whether you have a winter wedding to attend, an office Christmas party, a family party, or simply want to mix up your style this season, why not try out a tea length dress? We have rounded up our 10 favorite picks that range from more casual to more dressy. There is something on this list for just about everyone- no matter your style or dress code for the event you are attending!
1. Noctflos Lace V Neck Fit & Flare Cocktail Tea Dress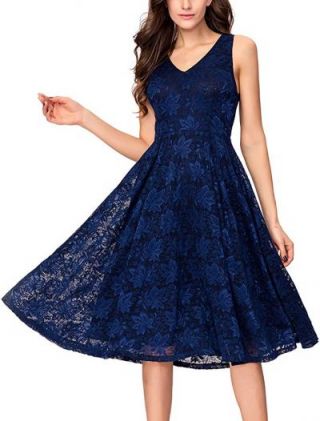 First off, we absolutely love how elegant this first tea length dress is! The expensive looking royal shade of blue, the lace detailing, the fitted waist, v-neck, it is a beautiful dress. This certainly falls on the list as one of the more modern tea length dresses, as the hem hits right below the knee, instead of the more traditional tea length which is right above the ankle. If you prefer showing a bit more skin, this is a great dress for you.
The quarter length sleeves make this a bit more modern, and we also love that the lace is see through on the sleeves and just at the bottom of the dress. This is classy and elegant, something perfect to wear to an evening event or holiday party.
2. Milumia Women's Elegant Frilled Dress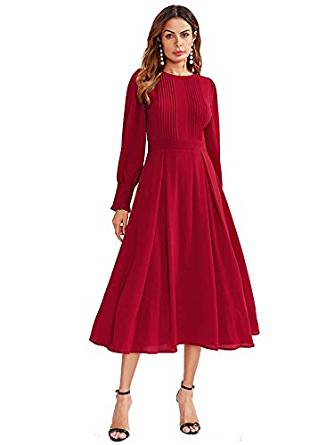 We love how this dress perfectly balances being modest and being sexy. The high neckline and low hem length ensure this is a perfectly modest dress, but the fitted waist and flirty, fun bold red shade make this an absolute show stopper, and we love it! Best of all, we just know this dress would be so fun to spin around in- perfect for a holiday party that will involve dancing! The long sleeves also make this a great dress to wear even during cooler winter months, and the color is bold enough to be interesting while still being perfectly appropriate to wear during the Christmas season.
Hitting mid-calf, this is more of a proper tea length dress and it will pair perfectly with heels. If you are afraid of showing off your lower calf, consider wearing a nude pair of heels to really elongate your legs.
3. Stripe Elastic Waist Casual Dress with Pocket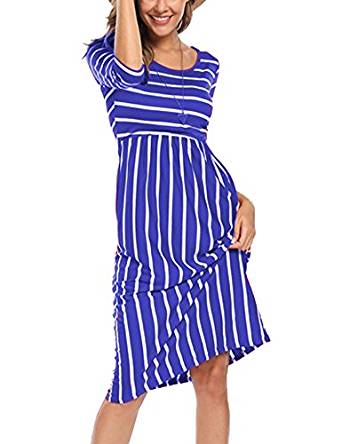 In search of a more casual tea length dress to wear this season? We love this striped dress and think it makes for the perfect fall dress! While this does land on the casual side, you can also easily dress it up or transition it from a daytime dress into a night time dress. During the day? Add a denim jacket and pair with ankle boots. Night? Loss the denim jacket, go instead for a more tailored blazer, and switch to a pair of black heels.
Perfect for a dinner party or holiday gathering! Best of all- the dress has pockets, and we are always suckers when it comes to dresses with pockets. Convenient for keeping your phone, or for keeping your hands warm, we think pockets should be on every dress. The neutral color means you can easily pair it with some color- either in your jewelry, handbag, shoes, or a scarf. So many options- we love it!
4. Selenova V-Neck Half-Sleeve Satin Dress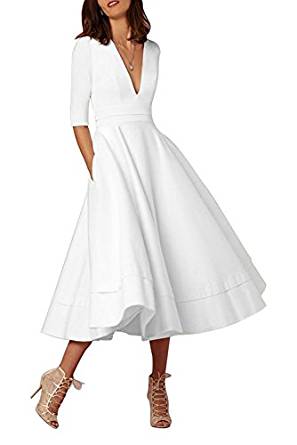 We absolutely love this tea length dress. It has a very vintage vibe which is completely in style again. In fact, we feel like this is a dress that style icon Kate Middleton would wear, and you truly can't go wrong with that! This dress features a traditional tea length hem, three quarter length sleeves, a v-neckline, and a gorgeous fit and flare silhouette that certainly has plenty of flair!
The full bottom makes the dress more elegant and appropriate for an evening event, as well as the satin material that the dress is made out of. If you are going to a formal holiday party or attending a winter wedding, this dress is a perfect option for you. Best of all, it comes in other colors like deep purple or red so that you don't have to worry about wearing white to a wedding. We absolutely love this dress and know that anyone who wears it will feel like an absolute movie star!
5. Alisa Pan Round Neck Lace Dress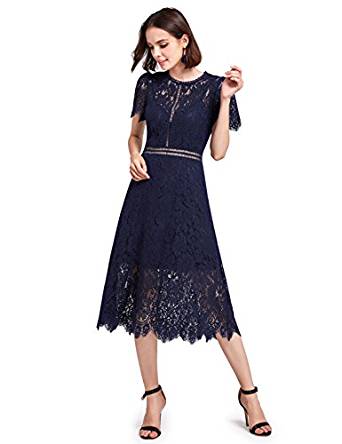 This next dress is a totally modern take on the classic full tea length dress, and we absolutely love it. It still has the fit and flare silhouette, a universally flattering look, but we love all of the unique details this dress has to offer! The delicate lace at the neckline, the scalloped edge on the sleeves and bottom of the dress, the subtle cutout details, and the bottom see-through lace section makes this dress sexy while still being totally elegant and appropriate for almost any fall or winter occasion.
Best of all, the navy blue color is perfect for the cold weather seasons. Hitting slightly below the knee this is on the shorter end of tea length, but still makes the cut! This is one of the most gorgeous dresses we've seen in a while, we would be wearing it all season long if we could!
6. ANGVNS Floral Lace Empire Waist Cocktail Party Dress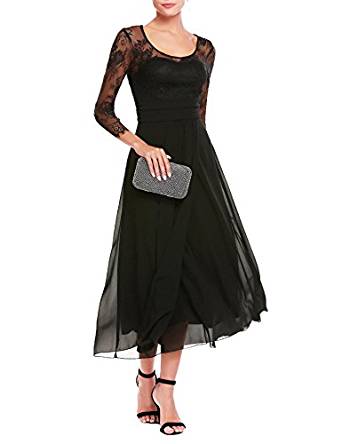 You can't go wrong with a little black dress at any time of year, but especially during the fall and winter season. This dress is a true tea length dress hitting just above the ankle. With lace sleeves and a chiffon skirt, this dress is ultra feminine, sexy, yet still modest and elegant. It combines all of the elements you would want in a dress! This is a great option if you are looking for a more dressy tea length dress, and we think it would be perfect to wear to an evening event. Pair with a nice set of chandelier earrings, a clutch bag, and consider adding a pop of color with your shoes!
What we love about tea length dresses is that they actually allow you to have fun with your shoes since you will actually see them. Going to a Christmas party? Bust out your best red shoes to go with this black dress, and you've got a perfect outfit!
7. Milumia Women's Boho Wrap Split Long Dress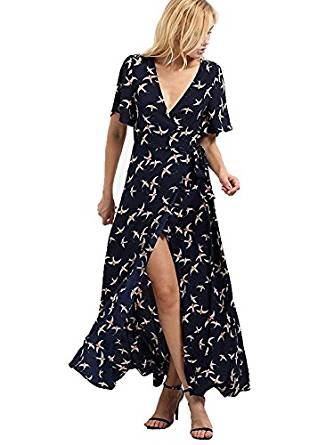 Summer may be over, but that doesn't mean you have to retire all of your floral attire. We love this floral tea length dress and think it would make for a perfect fall outfit. The warm marigold color (a color we are seeing everywhere this season!) mixed with a subtle floral print makes this dress totally unique, and the hem length is a true tea length hitting just above the ankles. Wear this during the day with a nice pair of ankle boots and accessorize with a felt hat (another trend to look out for this season).
The wrap silhouette ensures this dress will look fabulous on every body type, making this a great choice for anyone looking to experiment with their wardrobe this season. Attending a fall wedding? This is a perfect fall wedding dress! We love this dress and think it is the perfect mix of casual and dressy.
8. Gotidy Short Sleeve Formal Evening Gown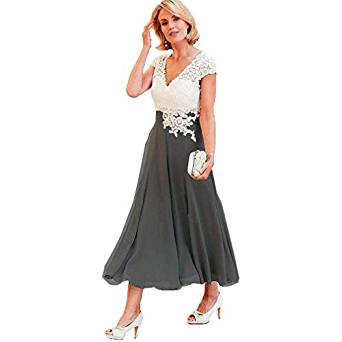 This might be labeled a mother of the bride dress, but we think this dress would be perfect for any wedding guest! If you are attending a formal event but don't want to go with a full length gown, this true tea length dress is a perfect option for you. The lace top combined with the chiffon bottom makes this perfectly dressy, totally elegant, and a real head turner!
Perfectly modest, this is a great dress to wear no matter how conservative the dress code is. However, it is still totally feminine and sexy in an understated way. Pair this dress with a nice pair of heels, a necklace, and your favorite clutch and you are ready for the event!
9. Formal Prom Gown with Pocket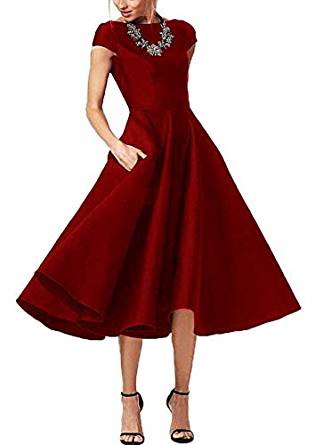 This tea length dress is another on this list with a more vintage, 50s inspired silhouette, which we absolutely love. The fitted waist spills out to a full bottom and the hem hits right above the ankle. Also made of satin, this makes the dress feel more elegant and is perfect for all of those evening events, holiday, and New Years parties you will be attending all season long.
The high neckline and solid color of the dress makes it perfect for pairing with a statement necklace, while the cap sleeve makes it feel slightly more modern. Oh, and best of all, you guessed it – it also has pockets! A perfect mix of modern and vintage, this is a gorgeous tea length dress that you simply cannot go wrong with.
10. AlvaQ Off The Shoulder Evening Bodycon Dress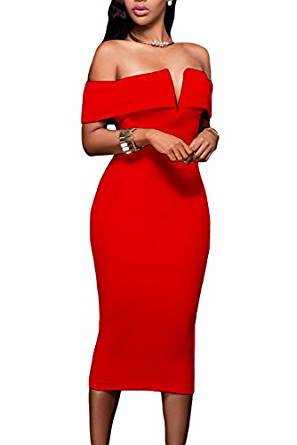 While typical tea length dresses feature a fuller bottom, we wanted to include one fitted dress for anyone who is looking for a sexier tea length dress to wear this season. Body hugging, this dress hits mid-calf and features an off the shoulder silhouette, something very popular this season.
The v-cut neckline also makes this dress bolder and sexier, perfect for any fun holiday or New Years parties you might be attending! If you want to show off your figure but also want to stay covered up, this tea length bodycon dress is perfect.
Wrapping Up
So there you have it! Wouldn't you agree that these tea length dresses are absolutely gorgeous? Whether you go with a more fit and flare style, something more elegant, or something more casual, your tea length dress is sure to amp up your style and you will be turning heads wherever you go.
Which dress is your favorite, and why? Let us know, and happy shopping!
Pin for later