Top 5 Black One Piece Swimsuits You Must Get
last updated:
Apr 09, 2019
1737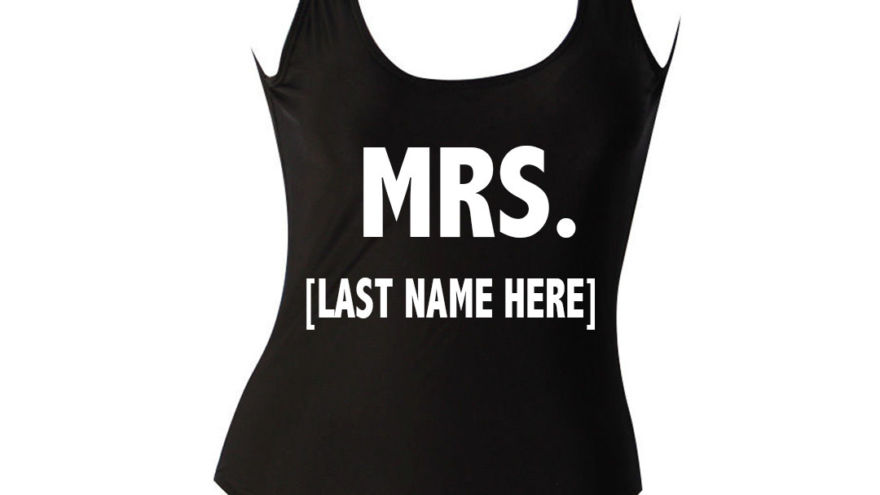 It's almost summer and we are ready for it. It feels like forever since we hit the beach and we've certainly missed the warmth of the sun. Pool parties, beach days or just a swim with the beau – you bet we are going to live it up this summer. But wait, ladies. Do you have the clothes for it though? You don't want to be seen dipping into last year's swimsuit collection. Trust me, everyone remembers.
Besides, in this era of fast fashion, trends change faster than you can say the word and everything you owned last summer is, at best, stuff of the museums. Don't fret though. Nothing makes us women happier than the thought of a wardrobe overhaul and there's still plenty of time. Time to hit the stores for swimsuits hotter than the sun!
This year, you will never be out of trends to have a go at. Retro bikinis which are blasts from the past or shiny futuristic swimsuits that may as well be made of space dust – you can have it all. Let's gloss over some of the biggest fads of 2018.
Polka Dots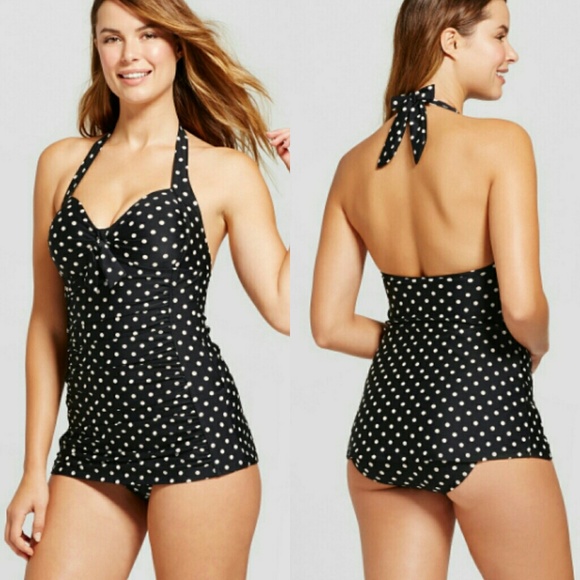 This is a classic and it's back with a bang. While this timeless trend may faded in previous years, the fashion moguls are bringing it back and how. Remember the ravishing Marilyn Monroe in her polka dotted swimsuits? 2018 is living for that low key hot look.
Front Tied Swimsuits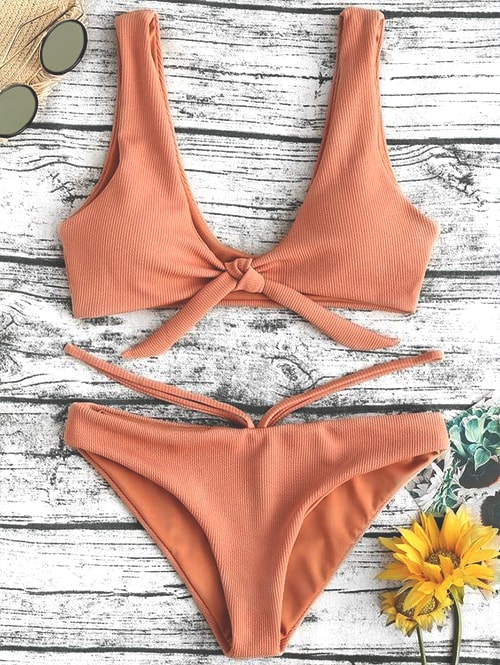 Wear it with a solid colored bikini or a zany animal print, the front tied look blends effortlessly with any design you've got. If you want to look like a total Hawaiian beach goddess, a front tied piece is just the one for you.
Ruffled Anything – Tops, Shoulders, Waists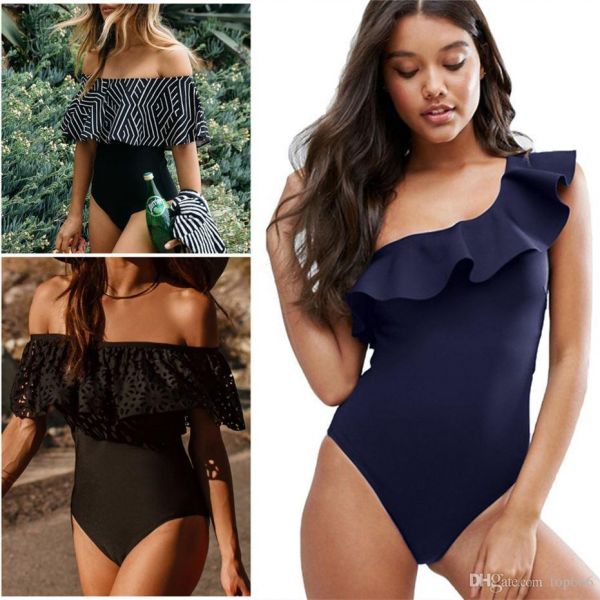 Perfectly balanced or chicly asymmetric, embellished or plain, daring or restrained- this season is all about the ruffles and in every style you can possibly imagine. Ruffled off shouldered bikini tops, we predict, is going to be everyone's go-to beach trend this year.
Ribbed Swimsuits
We've got the Kardashians and the Jenners to thank for this one. This bodysuit-like swimwear hugs and plays up all your curves for a smokin' silhouette. Best when in solid colors, the ribbed swimsuit is a win for all body types.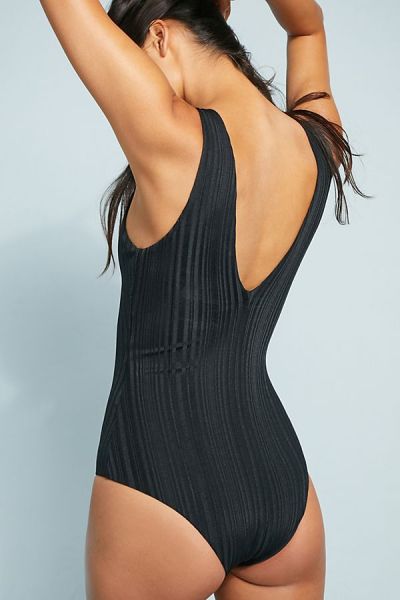 There you go, ladies. You better make sure you get these styles on your next swimsuit shopping spree or risk being labelled a fashion zombie.
What is the one swimsuit that you absolutely must have in your wardrobe though? After all, every collection should have its showstopper. Read on to find which swimsuit nobody can do without.
The Must Have – A Black One Piece Swimsuit
The great one piece swimsuit. Did that ever really leave the fashion charts? From paparazzi shots of celebrities by the beach to long and lean supermodels donning them on the runway, the one piece is everywhere.
Of course, itsy bitsy little bikinis are amazing creations but this classic has its own charm. And if anyone has you doubting its hotness quotient, show them a clip of Pamela Anderson and Carmen Electra running on the sets of Baywatch. We are not to blame if the screen is scorched to smithereens.
Ladies, bikinis do feel like a lot of work at times. With the tops coming undone, bottoms collecting excess water and basically being a nuisance, you don't want them dampening your summer plans. Enter the one piece. It's fashionable, it's sexy and most importantly, it leaves you with nothing to worry about.
Regardless if you are a plus size beauty or have a lean frame, a hourglass silhouette or apple shaped, the one piece swimsuit looks great on every body type, every weight and every age, hugging your curves in all the right places.
Now you know how badly you need that one piece in your closet. Let us guide you a bit more through the selection process. Get a black one. Yes, there are many other colors in the spectrum. Bubble gum pink may just be your most favorite color in the world. But when you are making the splurge for the ultimate swimsuit, you can't risk it. Black is every woman's friend; you simply can't go wrong with this solid shade. It instantly slims you down and adds a dash of chic to your overall look.
Don't believe us? Go over to Kim Kardashian's Instagram and have a look at her army of black one pieces. Strategic cut outs or fully covered, plunging necklines or a modest boatneck, super high legs or sexy side ties- you will never run out of options nor fail to impress in a black one piece.
This summer, how about you make the waves? Here are our top 5 black one piece picks that every true beach babe must own.
1. Dixperfect Baywatch-Inspired One Piece Swimsuit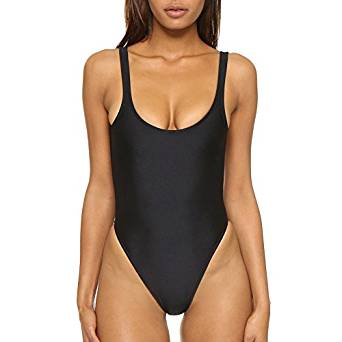 Baywatch is swimsuit goals. The show has inspired generations of swimsuits and Dixperfect, the swimwear brand, is no different. In fact, we are totally loving their spin on this classic. Their onyx shade one piece, which comes in many other colors but absolutely stuns in the black, features legs cut high up to the waist, a low back, low neck and is lined all over so you don't anything you don't want to. The fabric used is 82% nylon and 18% spandex. Approved by OEKO TEX as part of their Standard 100, this makes for an exceedingly comfortable swimsuit that doesn't ride up in places.
But there is one features that completely steals the show for this swimsuit. The graphic printed front is a delight to look at. There are many texts for you to choose from- Birthday Slay, On Fleek, Bride Squad and more. With its shiny golden lettering, we know the holosexual in you is going to love it.
If you've decided you need this in your life right now, order away on Amazon according to the size chart provided by Dixperfect. Here are some tips they've offered for when you are picking your size.
Long legs and a shorter torso? Deduct two inches from your height to find your pick
Is your body type just the opposite? Add two inches to your height.
For a D or larger cup size, add 5 pounds to your weight.
For an A cup size, deduct 5 pounds.
Now you know your Dixpefect size, simply order this fierce piece of fashion. Wear it to the beach in daytime and pair it with jeans for a night at the club. You can never go wrong with this.
2. Hilor Women's Strappy Monokinis Bathing Suit
Strappy bikinis are always a favorite. But we are tired of dealing with the endless unravelling. So, what do you do when you want none of the hassle and all of the sexiness? Hilor is here to save the day! If you need the best of both worlds, this swimsuit is what comes to mind. It comes in just one color, an inky black and frankly, this is all you need.
Made of 80% nylon and 20% spandex, it hugs you just right while being just a tad bit modest. The wide shoulder straps offer comfortable bust support while the encircled shelf bra ensures you look in perfect shape. And if you are a heavier woman, you might just fall in love with this swimsuit. The power mesh panel sucks in your tummy, giving an instant slimming effect.
We have all seen bikinis that are more straps than actual fabric. Doesn't sound good, does it? It doesn't look great either. The straps on this one though are beautiful without being over the top. The back is filled with straps coming together in a criss-cross pattern as they hold up the swimsuit. Yes, we do realize that it can create funny looking tan lines. But hey, that's the price you pay for looking this good. A boldly understated swimsuit, we imagine any woman can effortless rock this.
Think you have to dig a hole in your pocket for this classy item? Worry not. This swimsuit is for all you ladies who want value for money. I mean, with this super affordable buy, you are getting an instant beach bod' without having to sweat out in the gym. Sounds like a win, right, ladies?
3. ALove Womens Monokini Bathing Suit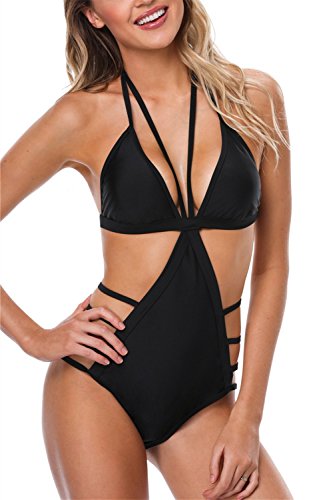 Have you ever seen a swimsuit that has it all? It oozes sexiness without being obscene, it is classy yet cute, it screams summer without being a typical florid mishmash. ALove's Lace up Side one piece swimsuit is every girl's dream come true and once you have look at it, we expect you to go gaga over this one.
82% nylon and 18% spandex with a 100% polyester lining, it has a low scooping neckline and a built in bra with light padding. Luckily for us pool girls, this swimsuit is chlorine resistant. So, party in the pool as much as you like; this one is never wearing off. Besides, this is bound to be a perfect fit for all the ladies, thanks to the stretchable fabric and shoulder straps you adjust as per your preferences.
This swimsuit comes in two other colors (red and green) besides the classic true black and two slightly differing designs. One of them features keyhole cut outs on the sides with lace up string details while the other is completely composed of larger cut outs on the sides held together by rings. The latter reminds us of the famous black Versace dress worn by Elizabeth Hurley which might not be the best option for all of us ladies. This is why we suggest you go with the lace up sides. The peek-a-boo style leaves some for the imagination with its playfully sexy look.
A design to kill for, breathable fabric, great fit- what more could we ask for? Go for a dip in the ocean, play beach volleyball or just take a long walk on the sandy shores. This ALove swimsuit is a showstopper no matter where you are.
4. Tempt Me Women Flounce Monokini Bathing Suits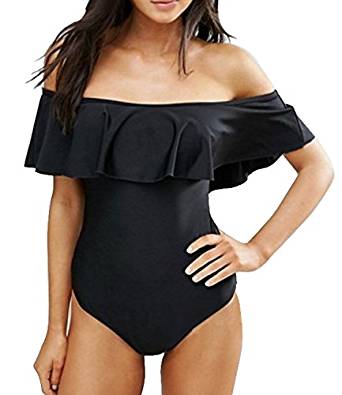 We already told you 2018 is the year of the ruffle and frankly, we couldn't be happier about it. With cuteness straight out of fairytale books and perfect fittings for women of all shapes and sizes, what's not to love about this trend? Except maybe the overtly flowery patterns and hotchpotch attempts at getting all the cool fads in one swimsuit. Seems like swimwear for preteens, doesn't it?
Thank God for Tempt Me for bringing in ruffles for us women. Their Lace Up Ruffled Off Shoulder Flounce swimsuit is a lesson in how to do them ruffles right without losing out on the hotness quotient. It's available in two other colors besides the original jet black. But if you want to look like a complete head turner, go with the black. Combining the flirty princess charm with the sexy dominatrix effect in an all-black ensemble, this swimsuit is sure to set the temperatures soaring.
Not sure if off shoulder is your thing? This swimsuit comes along with removable halter straps, so you have all your options. And let us not forget the sultry lace up on the front. The crisscross lace up goes all the way from the décolletage down to the belly for a peek-a-boo effect that keeps you wanting for more. Tighten it up to accentuate your curves in all the right places or simply let it be if you are in the mood to cover up.
This sexy one piece comes along in all the major sizes (S, M, L, XL) and is a perfect buy for the curvilicious babe. The stretchable fabric compresses and draws away attention from any problem areas for a smokin' hot silhouette with just a dash of cute. Going off on a vacation this summer? Make sure you pack this one in!
5. COCOSHIP Retro Swimwear (FBA)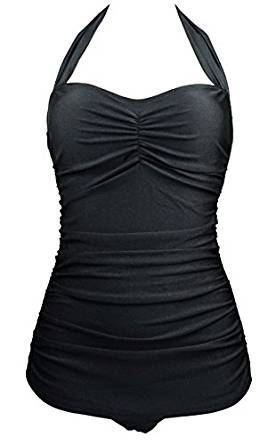 This summer is going to be all about giving off retro vibes on the beach. And Cocoship is doing it right. They are bringing out the ultimate one piece that will take you for a ride in the time machine with its vintage charm. It's available in tons of patterns- floral, hounds tooth, stripes- and plenty of colors such as tangerine, green, white, black and more. But for the vintage beach babe look that is the pulse of the season, the thick black stripes on a barely there white backdrop is your friend.
Yes, this is the bathing suit we've seen yesteryear divas such as Marilyn Monroe and Brigitte Bardot frolic in the waves in. Fast forward several decades, and this high waisted swimsuit is now the star of fashion shows and countless music videos. This one's more than just a fad; it's pure style.
It's slightly pricier than the other swimsuits on the list. But hey, there's no price tag on vintage class, is there? Besides, for the quality and sheer oomph of this one piece, it still is an affordable buy for us ladies. The fabric is thick, very durable and definitely not see-through. The bottoms are high waisted while the front is backless and pinned up. There is extra fabric in the bust area to ensure there are no slipups.
Rejoice, top heavy women. The Cocoship one-piece may just be the lifesaver you had been looking for. It's classy, shows just the right amount of skin and covers up where you want it to. We can't say no this cute vintage swimsuit and neither can you. Grab yours from Amazon and this season, flaunt your back in the beach.
Can't wait to buy all 5 of these? Well, your summer wardrobe surely is going to be the envy of the town this year. To top off your complete look, here are some ideas on how to style your one piece.
Wear a pair of feathery or tassel earrings to create a splash.
A long dangling necklace with perhaps an Aztec vibe to it will pop beautifully against your black one piece.
Avoid metallic jewellery as it might end up staining your new swimsuit.
Don't be afraid to go funky! A black swimsuit is all about playing with contrasts.
Girls, the summer of 2018 is going to be an exciting ride. Hope you are ready to feel flirty, sexy and confident in swimsuits that make heads turn. Don't be afraid to experiment and go against the tides; we are all for the bold beauties. Or go with the flow, if you like. Stay sprawled in the sun or go surfing in the riptide, blare the latest summer anthems and dance to the rhythm, sip a mimosa or an innocent lemonade- just remember to have fun. Hope to see you at the beach soon!
Pin for later