This product is listed here: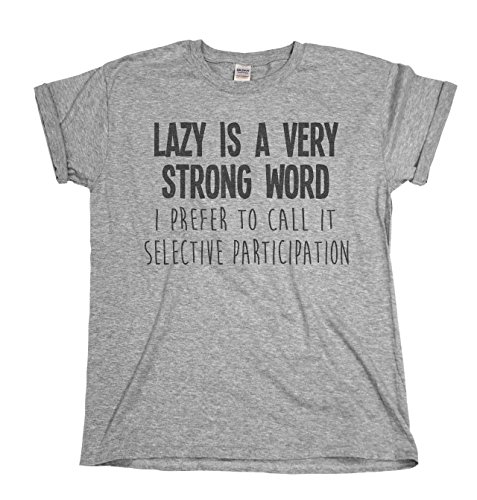 Lazy is A Very Strong Word – Funny Slogan T-Shirt
Let's be honest – we all have that one person in our lives who, on some days, prefer to throw in the towel and just lounge around for some quality rest and relaxation. Maybe they just want to read a book with a cup of hot chocolate in hand instead of throwing a frisbee with you and your friends.
Maybe they are more into bingeing their favorite series instead of doing the laundry for once. Or simply, their personality just reminds you of a sloth. If this sounds familiar to you, then you have found the perfect gift for that one person who just refuses to get off the couch. Help them ward off potential invitations to go out by gifting them this funny shirt. Just in case they are not in the mood to explain things further, this shirt will do all the talking.
Detailed information about Lazy is A Very Strong Word – Funny Slogan T-Shirt
This shirt is amazing because it comes in a wide range of sizes (Small - 6X Large!) and you can choose from five different colors - Gray, Pink, Natural (which is like a Nude or Beige color), White and a lighter Gray.
It is also very lightweight and comfortable, making it very ideal for loungewear or even going out. Pair it with your favorite shorts, pajamas or just your underwear and enjoy!
WHY WE LIKE IT?
Lightweight and breathable
Available in sizes up to 6X Large, unlike other shirt brands
Price is low for something high-quality, you can even buy more than one and not worry about the cost
WHY WE dont LIKE IT?
Sizing is a little tricky according to the reviews, so be sure to check the size chart provided in the details section before you order to ensure the best fit
What we love about this product
The shirt is unisex, so you can gift it to basically anybody. Give this funny yet smart shirt to your son, daughter, girlfriend, boyfriend, best friend or even your coworker.