This product is listed here: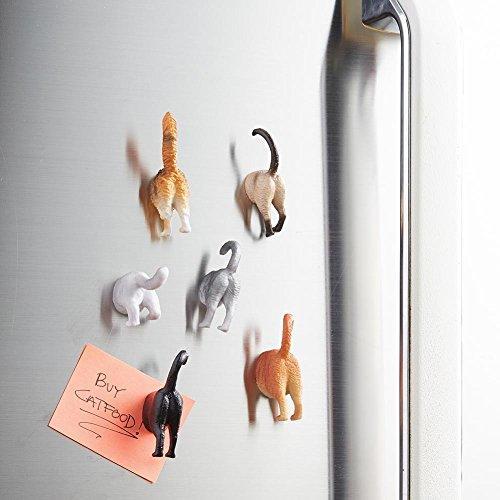 Kikkerland Cat Butt Magnets
From Kikkerland comes this wonderfully silly gift perfect for the cat lover in your life – a set of 6 Cat Butt Magnets! That's right, these magnets are sculpted to look like cat butts! They are super funny and super cute! Each one of the magnets is designed specially to look like a different cat breed with its signature tail. Some of the included breeds are Siamese, Calico, and Tabby!
Detailed information about Kikkerland Cat Butt Magnets
Each one of the cat butt magnets has a different size and shape to make it look most like the breed that it is modeled after. However, the largest of the cat butt magnets is 2 inches tall, 1.25 inches deep, and .75 inches wide. Another awesome bonus of these adorable magnets is that they are made from a phthalate-free vinyl material. This is great considering that phthalates can be dangerous. So, you can rest assured that your cat butt magnets are nice and safe!
These are super fun conversation starters! They work great anywhere that a magnet will stick! They are a perfect way to attach memos, photos, or artwork to your fridge!