This product is listed here: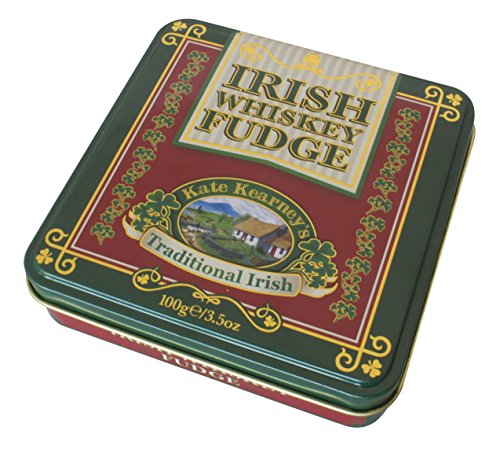 Kate Kearney Irish Whiskey Fudge In Tin
If you want to give a gift from Ireland to a favorite person, there is nothing better than real Irish fudge. Fudge is a traditional delicacy that has been popular in Ireland for many years and is often taken away as a souvenir gift when tourists go home after a vacation there.
Fudge is made from sugar and condensed milk with a little bit of flavoring and in the case of this product, Kate Kearney Irish Whiskey Fudge from Carrolls Irish Gifts; it also has a little bit of whiskey flavoring to remind the gift recipient of the Old Country.
Detailed information about Kate Kearney Irish Whiskey Fudge In Tin
The brightly colored tin is about 4" x 4" and holds 100g (3.5oz) of wonderfully sweet Irish fudge. There are approximately ten pieces of individually wrapped fudge inside the tin and they are so sweet that you won't need to eat too many of them at any one sitting. Remember that if the proposed gift recipient has allergies or food intolerances, this product contains milk and may contain traces of nuts.
Otherwise, the product is absolutely delicious and a lovely gift for anyone who likes Ireland or who has a sweet tooth.
WHY WE LIKE IT?
This is a tin of authentic Irish whiskey flavored fudge, made in Dublin Ireland
Contains a full 100g of Irish fudge
Is quite safe for children or those on medication as it does not contain alcohol
A delicious treat for the adults in the family
WHY WE dont LIKE IT?
None
What we love about this product
Ireland has always had a reputation for good hospitality and that is why the Irish remember Kate Kearney whose name has lived for about two hundred years and is almost synonymous with generosity and hospitality to passing travelers. This range of traditional fudge has been named after this person and celebrates the tradition of Irish hospitality.