This product is listed here: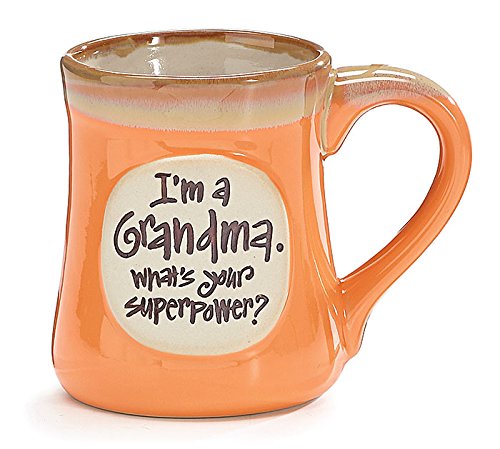 "I'm a Grandma, What's Your Superpower" Porcelain Coffee Mug
With Grandparent's Day right around the corner, there could not be a better gift for Grandma than this awesome coffee mug from Burton and Burton. She is sure to absolutely love it and will use it proudly.
This roomy and fun coffee mug is sure to put a smile on Grandma's face.
This porcelain ceramic mug is glazed in a pretty peach color with a cream and brown glazed rim and a central creamy white oval that contains the message "I'm a Grandma, What's Your Superpower?" How much fun!
Detailed information about "I'm a Grandma, What's Your Superpower" Porcelain Coffee Mug
The wording is carefully added by hand and is rendered in a dark brown for legibility and sharp contrast.
The extra-large handle is designed for a comfortable grip while keeping delicate fingers away from the hot body of the mug.
This cup is constructed out of high-quality porcelain which is sturdy as well as a great insulator; it will keep whatever beverage it holds hot for quite a long time.
The Grandma Superpower mug is safe for use in the dishwasher and can be put in the microwave oven without a care.
This cup is perfect for holding a generous 18 ounces of tea, coffee, hot cocoa, soup, or any other beverage that Grandma is partial to.
WHY WE LIKE IT?
Generously holds 18 ounces of coffee, tea, any beverage hot or cold
Handpainted message sets this mug apart
Safe for use in the microwave and dishwasher
WHY WE dont LIKE IT?
None
What we love about this product
The glazing and paint are approved by the Food and Drug Administration and their seal is always a sign of safety and quality.