How to Make a Latte at Home? Latte Addicts Just Took Over Our Blog!
last updated:
Sep 24, 2019
10280
We all love the idea of being able to go to our favorite local café to get a tasty latte first thing in the morning or as an afternoon pick-me-up. However, it can quickly get costly, which may lead you to try to figure out how to make a latte yourself.
There are multiple recipes that you can follow, but finding the perfect one will take a lot of trial and error. From methods to use with coffee machines to others that you can make without a machine, the options are endless.
In this guide, we'll discuss our favorite ways to make the perfect latte at home with and without a coffee machine.
What is a Latte?
Being able to answer, what is a latte, will give you a clear idea of the ingredients you're going to need to make your own at home and what it should taste like.
Compared to most other types of coffee, lattes are very different, which is why they are one of the most popular beverages in the world.
Latte as a word is derived initially from caffé latte, an Italian word that means "milk coffee." What is most interesting is that if you were to ask for a latte in Italy, you'd receive a glass of milk. Even in France, you'd be expected to ask for a café au lait, meaning, coffee with milk.
This is what leads us to our definition of what our idea of latte is, only coffee with milk.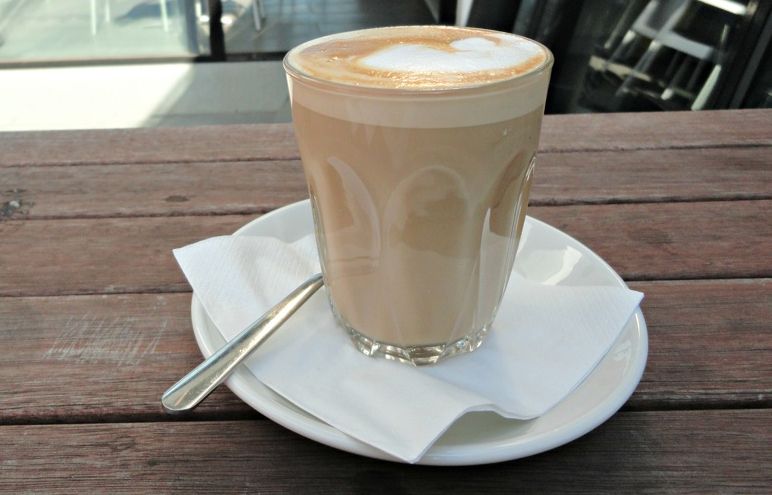 The ingredients used to make a latte, however, are what set it apart from a regular cup of Joe. On average, a latte will have eight ounces of steamed milk and a single shot of espresso
. The larger the latte, the more espresso, and milk you will have to add. But what makes it truly unique is the layer of delectable foam that rests on the surface of the beverage. With lattes, the milk is steamed more than it is foamed.
In all honesty, the espresso is what makes the most difference in a latte because it gives an extra added kick because it is incredibly concentrated.
It is also the main reason as to why a latte is packed with far more caffeine than a regular cup of coffee. By taking all of these factors into account, you can quickly answer, what is a latte?
How to Make a Latte at Home
Now that you have a clear idea of where lattes come from and how they are made, it's time to explore all of our favorite latte recipes.
Depending on who you ask, there are numerous ways that you can craft your own at home, especially if you have access to an espresso maker. Below are our favorite methods for learning how to make a latte at home.
1. Traditional Caffé Latte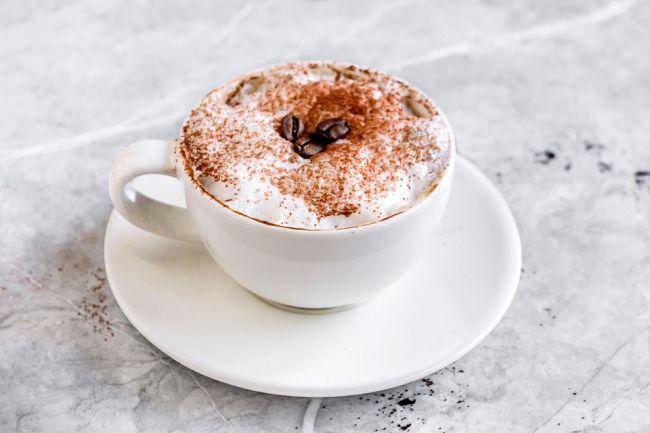 The first recipe we're going to explore is a traditional caffé latte that you would get from a café in Italy. With the basic concept of espresso and foamed milk, the majority of the flavor from this beverage will be from the espresso beans themselves.
It is highly recommended for espresso enthusiasts that are on the hunt for a more high-class way to get their regular dose of caffeine first thing in the morning.
Ingredients
1 shot of espresso
2 shots of foamed milk
1 tablespoon of chocolate powder
Directions
✓ The very first thing you're going to want to do is to brew your shot of espresso using your espresso machine. Once the shot is brewed, you can pour it into a cup of your choosing.
✓ Next, you're going to want to steam the two shots of milk also using your espresso maker. Once they have been steamed, use a spoon to retain the bubbles on the steamed milk. Allow 2/3 of the milk to go into your latte cup.
✓ Using the same spoon, spoon the remaining bubbles and foam onto the top of your latte, if desired. Some people prefer to get rid of any foam from their lattes before drinking.
✓ Sprinkle the foam with your tablespoon of chocolate powder for an added aesthetic touch.
2. Vanilla Latte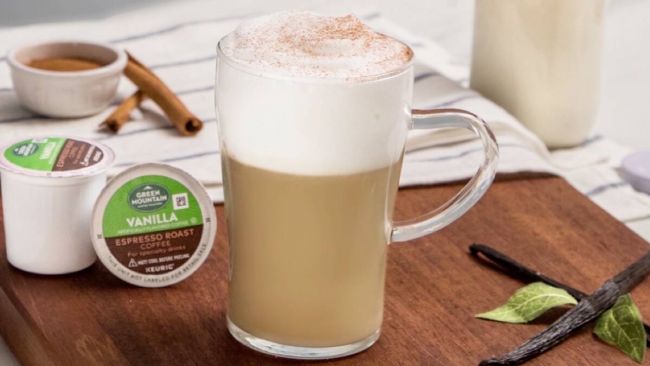 If you're not interested in a latte with a ton of different ingredients but still want a flavored coffee, this vanilla latte recipe will quickly become your favorite.
The best part is that you have complete control over the flavor profile and the level of sweetness, thanks to the vanilla syrup.
Ingredients
1.5 fluid ounces of brewed espresso
1 ¼ cup of 2% milk
2 tablespoons of vanilla syrup
Directions
✓ Similar to our previous recipe, the first thing to do is to brew your espresso. If you want to transform this recipe into an iced latte, you'll want to brew the espresso far in advance and give it time to cool down.
Otherwise, take the espresso and pour it into your latte cup once finished.
✓ Using a tablespoon, measure out two tablespoons of vanilla syrup and add it into the latte cup, stirring until both the espresso and syrup are combined. If you're someone who prefers a less sweet beverage, use only one tablespoon.
✓ Next, pour the 1 ¼ cups of 2% milk into your steaming pitcher and make sure you steam the liquid until it reaches up to 165 degrees F.
Once complete, pour it into your latte cup, making sure you hold back the foam with a spoon.
✓ For finishing touches, take your spoon and scoop out the remaining foam, topping your latte, if desired.
3. Caramel Latte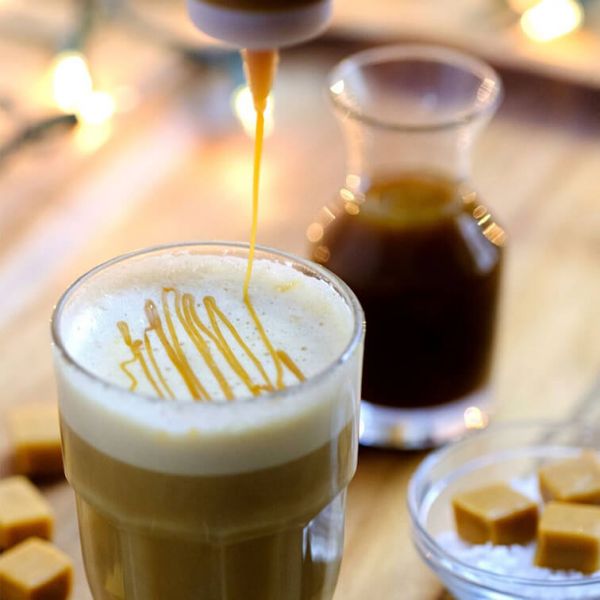 There can't be a list of latte recipes without mentioning a caramel latte, especially as it was one of the first recipes we used to learn how to make a latte.
These simple steps will give you a fantastic beverage that is quite similar to ones from popular chains, such as Starbucks.
It will surely help you to save time and money in the morning if you want something a little different than a generic pot of coffee.
What makes this recipe different, however, is that you'll need to get your hands on Starbucks' caramel syrup, which is easy enough to find at Walmart, for example.
You can also opt to use other syrups, depending on your preferences.
Ingredients
1 tablespoon of Starbucks caramel syrup
2 ounces of espresso
8 ounces of 2% milk
Directions
✓ Using your machine of choice, begin to prepare your espresso. There are multiple options for you to choose from, whether it's a Nespresso or a Keurig. Once your espresso is ready, pour it into your latte cup.
✓ If you have a milk frother, you'll want to pour the milk into the jug and begin frothing until it reaches the consistency you desire.
Otherwise, you can warm the milk either in the microwave or on the stove until it becomes frothed.
✓ Add your one tablespoon of Starbucks caramel syrup to your espresso and then top it off with your frothed milk. If you want the latte to be extra sweet to take away some of the bitter flavors of the espresso, you can always add a second tablespoon of syrup.
4. Pumpkin Spice Latte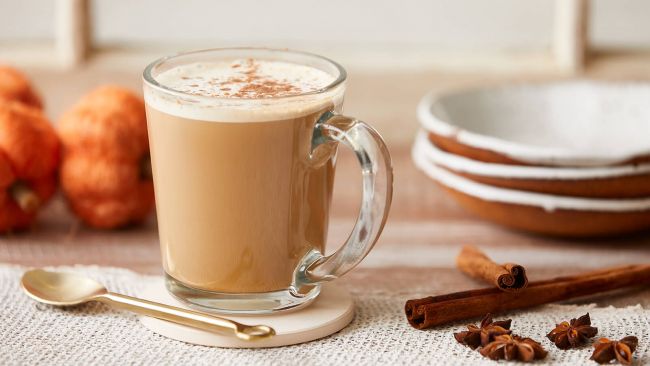 Easily one of fall's most popular beverages, learning how to make a pumpkin spice latte at home is a life-changing experience that will transform the way you enjoy your morning lattes.
This is by far our favorite recipe that we have ever found as it is most similar to the original formula released by Starbucks.
Most of all, it's relatively easy to master so that you can make it for friends and family members as well.
Ingredients
2 cups of milk
2 tablespoons of pumpkin puree
3 tablespoons of sugar
1 tablespoon of vanilla extract
½ teaspoon of pumpkin pie spice
½ cup of espresso
Whipped cream
Directions
✓ Just like all of the other recipes on this list, you'll first want to brew your espresso using your desired methods. Once finished, set the espresso aside.
✓ In a saucepan turned onto medium heat, add in the pumpkin puree, milk, and sugar. Heat all of the ingredients together until they are combined, but be sure to no to boil them.
Once heated, remove the pan from the oven and whisk in your pumpkin pie spice, vanilla, and espresso.
✓ Once everything has been thoroughly mixed, you can then disperse the ingredients between two mugs. We highly recommend topping them with your favorite whipped cream and using a little bit of extra pumpkin pie spice for added flavor.
How to Make a Latte Without a Coffee Machine
Everyone can learn how to make a latte at home, even if you don't have an espresso machine.
There is a multitude of ways that you can brew the perfect espresso for the above recipes; all you have to do is follow a couple of steps.
Below, you'll find our two top ways for learning how to make a latte, even if you don't have an espresso machine or anything like it.
✓

French Press Method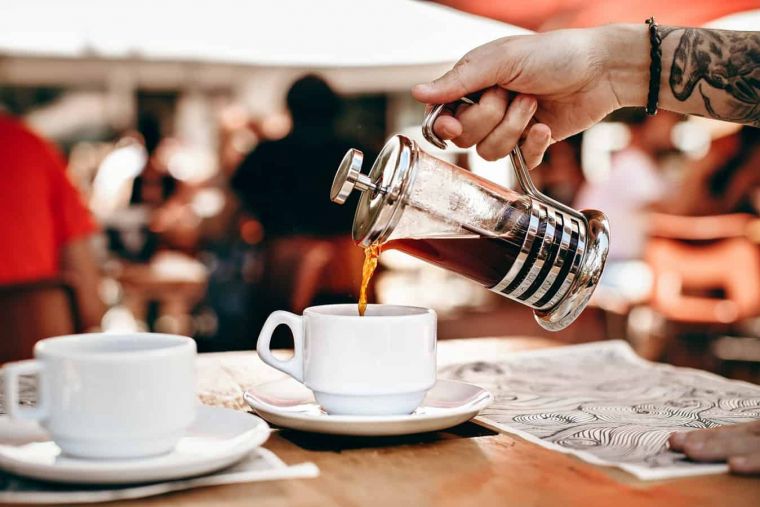 The most important thing to remember is that to make a latte, all you need is frothed milk and hot espresso, both of which can be made using a French press and these two simple tricks.
Making the Espresso
◆ Pour your desired amount of espresso into the bottom of your French press, depending on how many lattes you intend on making.
◆ Add the plunger and lid to the top of the beaker and then pour in the required amount of water.
◆ Slowly push the handle of the plunger down until the espresso is brewed and then pour it into a latte cup of your choosing.
Frothing Milk
◆ Take the beaker for your French press and fill it 1/3 of the way with milk.
◆ Pump the plunger continually for 20 seconds; this will aerate the milk and cause it to double in volume.
◆ Remove the plunger and lid, setting it aside. You will also want to remove any metal or plastic from the beaker.
◆ Place the beaker in a microwave for about 30 to 45 seconds, or until the foam rises to the top.
◆ You now have fresh milk foam ready to add to your espresso.
What we love the most about the French press method is that it's simple and it's a task that only requires a single piece of equipment that you likely already have at home. Not to mention cleaning up afterward has never been easier.
✓

Mason Jar Method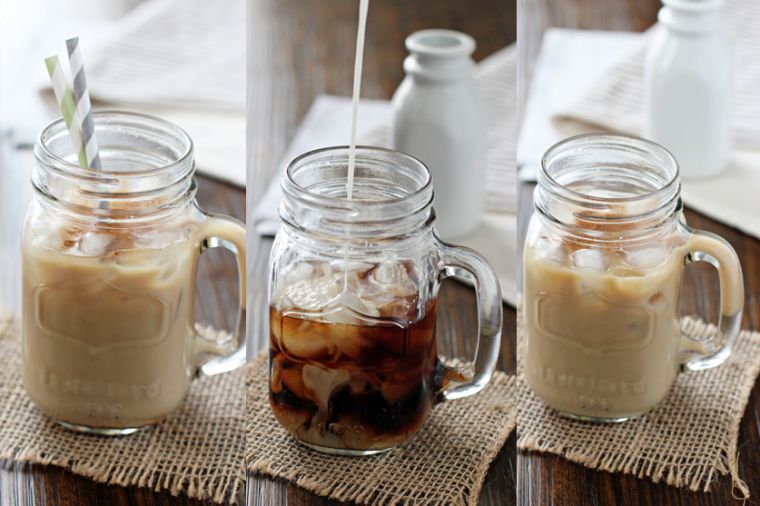 This mason jar method is quite similar to the French press method, except you'll be preparing your milk in a mason jar and without the French press.
This recipe also gives you the ability to brew your espresso in other ways, though we recommend using a French press as it's simple and inexpensive.
Ingredients
◆ 2/3 cup of brewed espresso
◆ 2 cups of milk
Directions
◆ Using your French press, brew your espresso accordingly. You'll first want to pour in the ground coffee, then replace the plunger and lid, following with the correct amount of water for the number of lattes you are preparing.
Push the plunger down slowly until the water reaches the proper coloring for the intensity you prefer.
◆ Pour the brewed espresso into a latte cup of your choosing.
◆ Pour the milk into your mason jar and then place the lid on top, making sure it is very tight. Shake the mason jar repeatedly until bubbles start to form and the milk is twice its original size.
Removing the lid, place the mason jar in the microwave, and microwave the liquid for about 30 seconds.
◆ Pour your newly frothed milk on top of your prepared espresso, and now you have a latte made without the need for an espresso machine!
Finally..
If you've ever wondered, what is a latte, or how to make a latte at home, there are multiple ways for you to make your favorite beverage in the morning.
Whether you have a latte maker or not, using these fantastic recipes will make it much simpler to know how to make a latte that you and your guests can enjoy.
Pin for later