How to Get Used to High Heels? We Know the Right products!
last updated:
Oct 23, 2020
3715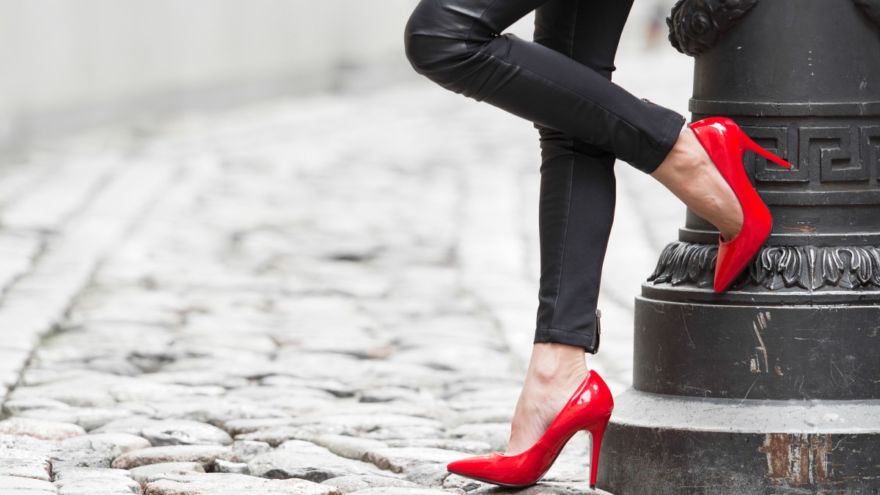 High heels. Love them or hate them, you can't ignore them. Yes, that sounded cliché. High heels can pretty much make or ruin your outfit of the day, based on the type of setting you are headed to. If you are new in the game, you could use some handy tips to strut in style, without breaking your back and ankles at the end of a long day.
High heels come in many different styles – pumps, kitten, platform, stiletto, wedge, chunky, sling back, open toe are only a few. Based on your comfort and convenience, you can choose whichever goes the best with you. But of course, you need to know how to get used to them no matter which style you prefer to go with.
Know Your Size and Style
First of all, you should get a pair that perfectly fits you. Walking in heels is hard enough. Having to do it in ill-fitting shoes can turn into a nightmare real quick, no matter how stylish they may look. Go to a place where it's easy to try on shoes.
If you're having trouble knowing which one fits you best, take the help of a salesperson by all means. But as a rule of thumb, always remember, if it's painful in the store while trying it on, it'll be painful later on as well. Move on to the next pair, no matter how fabulous they look. If you're not sure whether it's comfortable or not, use this handy technique.
Put on the shoes and then get up in a standing position. Next, try to lift yourself up on the shoes, about an inch or so. If it's still not painful, it means the shoes are balanced to evenly distribute your weight.
And yes, it might feel like a good choice to go straight to the stiletto while shopping for high heels, but if it's your first time, try out those wedges instead. Wedges have broader heels than stilettos and thus will obviously provide more comfort.
Moreover, shoes with ankle straps and open toes are more comfortable than the ones without these characteristics and shoes with more open design will provide less support. Once you have your high heels game down by walking comfortably in broad heels and ankle straps, you can go to a more advanced level of stilettos and open front designs.
Don't Go Shopping in the Morning!
Chances are, you are well rested in the morning and so are your feet. If you buy high heels when you are in your best shape, it is very likely that you will not feel comfortable with them when you are feeling a little sore in the feet area. So instead, go for high heels shopping at the end of your day. Your feet are likely to be tired and swollen after a day's worth of walking. If you put on a pair of high heels and they still feel comfortable enough to buy, you can be sure that they will feel even better in the morning when your feet are most likely in the best shape.
Adjust Your Gait
You can't pretend to be walking in flats while wearing high heels. You need to adjust your gait in order to take care of your back and ankles. This will also improve your overall posture. The best way to walk in high heels while also looking the most natural is to walk from your heel to toe. Do not put down your whole feet at once like you would while wearing flats. It also makes your strut look clumsy among other things. Always walk from heel to toe while wearing high heels.
Take Small Steps
The whole point of strutting in high heels is to come across more elegant with better posture. Don't ruin the purpose of high heels by taking bigger strides. They make you look clumsy and also make you more prone to causing injuries to yourself. The higher the heels, the smaller your steps should be.
Once you are comfortable with walking in your high heels, you can take it to the next step and try increasing your speed. Also, you can't actually imagine running in your heels. While wearing high heels, you are essentially standing on your tip toes. Try doing it barefoot. It's impractical, right? So don't try to do it when you have high heels on.
Take Breaks
Don't wear high heels seven days a week! Not only will they be super painful, but also will result in chronic pain in old age. Take a break of a day or two in between wearing high heels. If you work a 14 hours shift, it is also advisable that you take breaks from the high heels midway and opt for flats instead. For this reason, you can keep foldable flats in your purse. Your feet will thank you.
Wear Them More
I know that sounds counterintuitive to what I just said, but hear me out. Say you bought a new pair of fabulous high heels for your best friend's wedding where you are also a maid of honor. You are excited to get hold of such a sparkly pair that goes perfectly with your outfit. You can imagine yourself dancing with full confidence in the same pair. But then the day rolls around and you are walking barefoot by the time of the toasts.
Not a cute picture right? If you get a new pair and put them on first time on a special day, you are making a huge mistake. Instead, wear these shoes on a normal day to see how they hold up. This will also help to break them down a bit for that special occasion. Maybe you'll notice that you are getting a blister or the soles are slippery from your practice day and will be able to pack the necessary stuff accordingly.
Now, with high heels come higher maintenance. Okay just kidding, but here are some nice little accessories which will help in your high heels journey.
Our Top Picks
Kefee High Heel Pads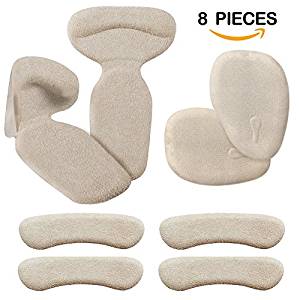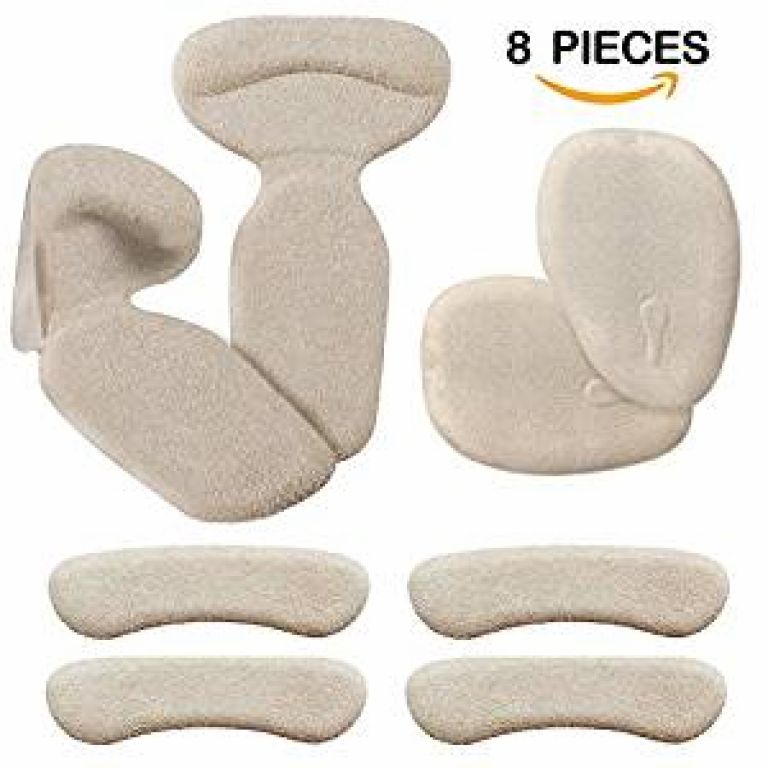 These high heel pads are a heel painkiller. The pads will prevent your shoes to rub on the feet and cause a blister. You can also use them to get better fit as they will prevent your feet from slipping out of the heels. The pads are made of skin-friendly silica gel with a velvet outer. The pads are washable and reusable with strong adhesive to keep them in the place for prolonged use.
Product Specifics:
One size fits most

Suitable for various types of shoes, including high heels

Keeps the back of your feet from rubbing on the shoe and getting painful blisters

Will be a better fit for shoes that are a tad bigger than your actual size

Pads are made from skin friendly and sweat free silica gel

Pads are washable and reusable

Comes with strong adhesive to reuse in different shoes
Pros
Helpful in lessening pain by covering already existing blisters or callous

Helpful in not causing blisters from new shoes from chuffing

Are washable and reusable

The adhesive is strong enough to be used over and over
Cons
Shoes need to be half size bigger than your actual size for a comfortable fit

Can adhere well to leather compared to other materials
Still Standing Spray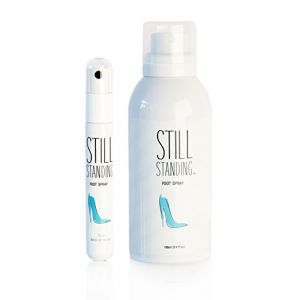 This is an all-natural spray type of product. It's free of parabens, sulfates or drugs to help prevent your feet from swelling from wearing high heels for a long period. The effect of this spray can last for up to six hours. All the A-list celebrities, including Selena Gomez, swear by it. You just need to spray it directly onto your entire foot before putting the shoes on, making sure they are completely dry before you put them.
Product Specifics:
The spray doesn't numb your feet as that can be dangerous

The spray prevents the swelling of your feet so that you can wear them for prolonged hours

The effect can last up to six hours

You can store it in your purse as it comes in a travel size bottle for touchups every 2-4 hours

The spray is made from a patented formula with the addition of tea tree oil, cooling menthol and Vitamin E
Pros
Prevents your feet from swelling from wearing high heels

Helps your feet pain-free for up to six hours

Comes in a handy travel size spray bottle for easy access throughout the day

Patented formula is made to not numb your feet
Cons
The lavender smell can be overwhelming at first before it dries out

The spray only prevents swelling from wearing comfortable heels for a longer period rather than unfit shoes
Dr. Scholl's Stylish Step High Heel Relief Insoles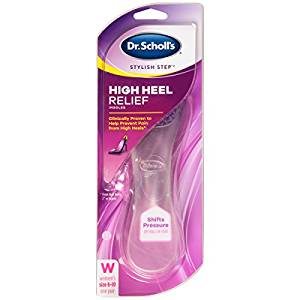 These insoles were specifically designed for high heels. The idea is to put it in the shoe to make sure that the foot is rebalanced so that the pressure is shifted from the ball of the foot. This can be used for all high heels of 1 ½ inches and higher. The insoles are made with ultra-soft gel to give that cushiony and comfortable feeling.
Product Specifics
Gives you comfort to wear high heels all day long

The insole takes away the tilted center of gravity from the ball of feet, which is the main reason for pain from high heels

Designed for high heels of 1 ½ inches and higher

Slim design so that the shoes don't feel bulky

Comes with a money back guarantee for any sort of discomfort from the product
Pros
Gives proper arch support to free you from pain

Specifically designed for high heels of 1 ½ inches and higher

Takes away the imbalanced center of gravity from the ball of feet

Ultra soft gel for comfortable wear
Cons
Don't work as well for people with shoe size 8 and upwards

They start to move around after a couple of hours of use
MARZ Products Men's & Women's 2 –way Plastic Shoe Stretcher Shaper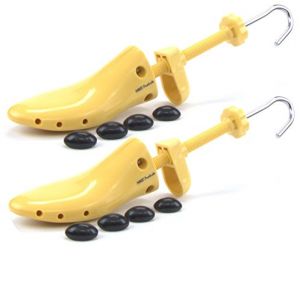 These are shoe stretcher and shaper to give your shoes for the room for your feet to sit around comfortably. Sometimes those pesky high heels just won't break down, no matter how hard you try to walk in them around the house. This stretcher comes in a few dials so that you can stretch your heels for up to a size bigger.
Product Specifics:
Made from polyurethane plastic and steel shaft to make them more durable compared to the traditional wood ones that generally broke after a couple of uses

Provides stretch for both the length and width of the shoes

Comes with different dials for a customized fit

Can be used for both right and left shoes
Pros
Very durable

Easy to use

Useful for people with two different shoe sizes
Cons
Comes as one piece and not a pair so you can only stretch one shoe at once, which can be time-consuming since you need to leave it overnight

Buying a pair of these can be more expensive compared to other brands that come in a pair
Sole Serum Instant Foot Pain Relief Solution for High Heels and Aching Feet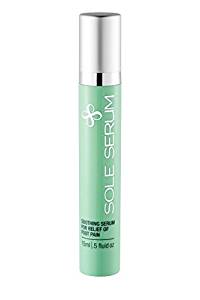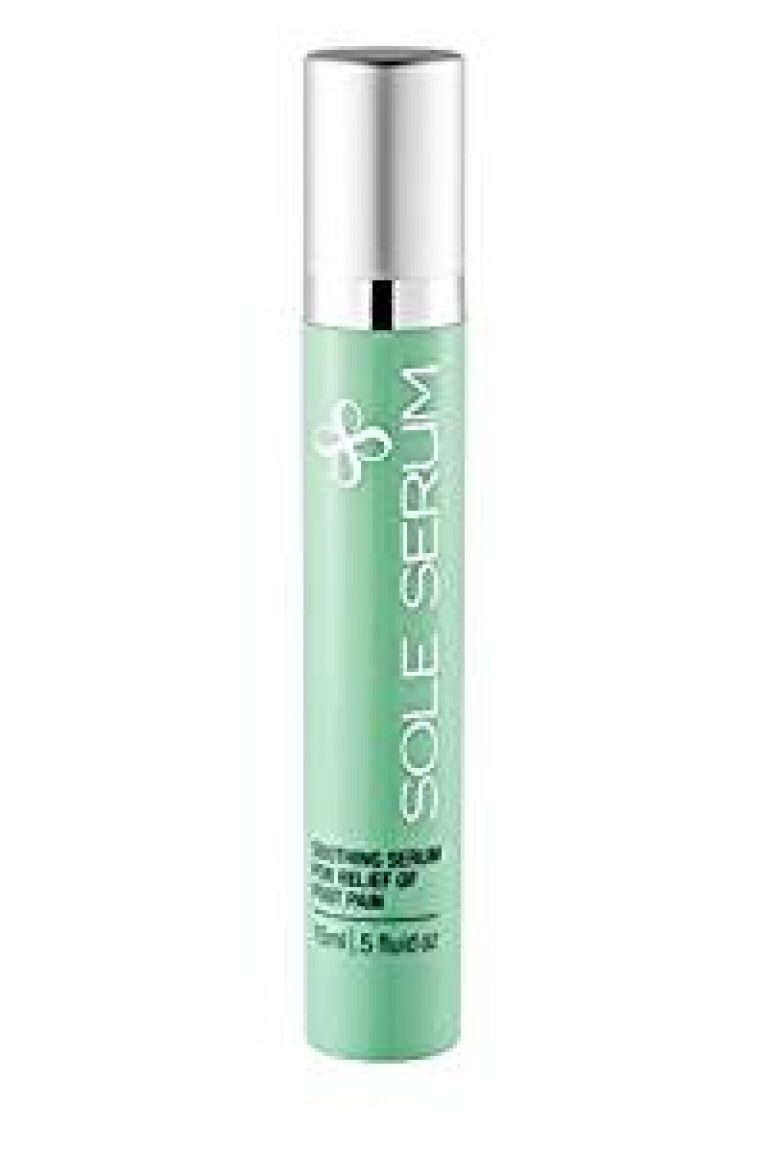 This product will come in handy after a day's worth of walking in high heels. Once you start to feel pain, you can take off your shoes and put on this product. The effects last for up to 2 hours. You can reapply it as you see fit for up to 4 times a day.
Product Specifics:
Made from 4% over the counter strength lidocaine for providing instant relief

Lavender oil uses anti-inflammation properties to stop the swelling

Peppermint oil soothes the nerves

Tea tree oil moisturizes the skin for a smooth feeling

It is a non-greasy formula that dries out within a minute
Pros
The blend of natural oils gives an instant pain relief

Dries out within a minute

Non- greasy formula keeps the shoe from slipping off

FDA approved

Small enough to be carried in a purse
Cons
• Not in a spray form, rather a type of lotion.
Solemates Heel Protectors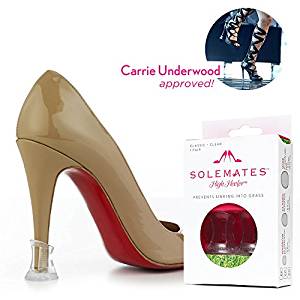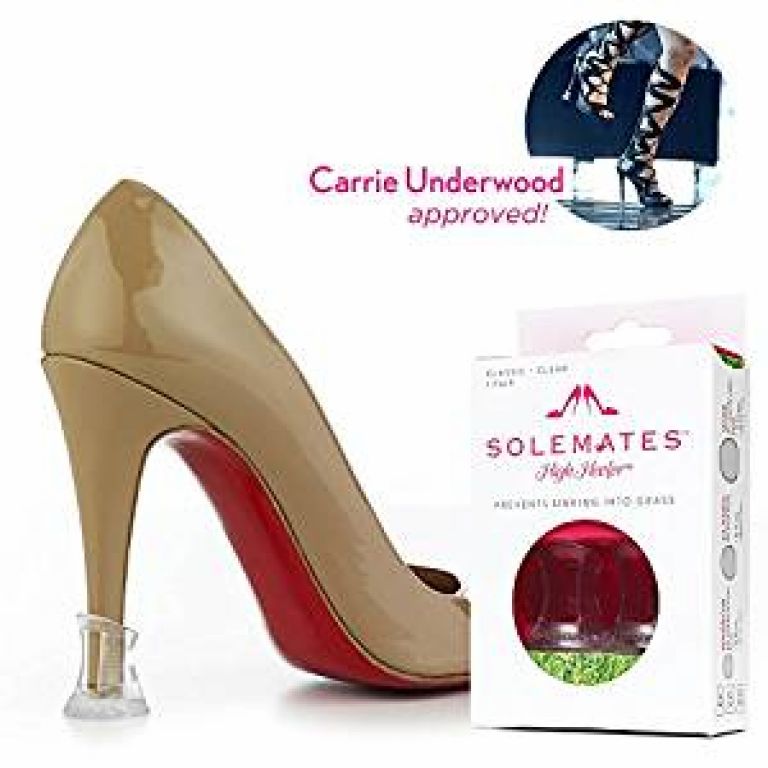 These protect the heels from sinking into problematic surfaces. Also, if your heels are slippery, this can provide some much-needed resistance. They also protect your heels from getting damaged or broken. You put them on directly over the heels, like caps. These heel protectors will be helpful in keeping your high heels in top condition. A good pair of high heels is an investment so these heel protectors can help them to keep in good shape longer.
Product Specifics:
Can be worn over grass without any discomfort

Comes in either transparent or black hourglass shape without making your heels gaudy

Available in three sizes – narrow, classic and wide for best fit

Many A-listed celebrities are in love with this product
Pros
Discreet design to blend in perfectly with your shoe

Makes great gifts for wedding parties, especially the ones being held outdoors

Protects the high heels against rough textures and broken pavements
Cons
Doesn't work on moist lawns as the soft ground will just absorb these products.
Frequently Asked Questions (FAQ)
Q: How do I walk in high heels without falling?
A: If you are a beginner, try to take it slow and also take small steps. Don't try to dance, run or jump in heels at the beginning. Practice will eventually get you there and be confident that you are not going to fall.
Q: How do I walk faster in high heels?
A: Again, start slow. Buy broad heels such as wedges at first. Once you get used to them, you'll be able to walk faster. The more you practice, the better you get. Wear them around the house while doing your household chores.
Q: How do I feel comfortable in high heels?
A: By buying heels in your size. And don't go for stilettos as your first pair. High heels are not meant to be comfortable shoes, but with proper size and style, you can get comfortable. But don't stretch your comfort zone by wearing high heels for a longer period. Know that your feet need some relief from high heels once in a while.
Q: How do I reduce the pain while walking in high heels?
A: Invest in a good pair that is in your size. Then buy some necessary accessories such as heel pads, standing spray, shoe protectors etc. as you see fit. With the help of the extra products, you can minimize the pain from high heels. But also keep in mind that if your shoes are unfit, these won't help much anyway. So again, get them in your size.
In Conclusion…
High heels are not comfortable shoes, to begin with, period. But if you keep at it, while being strategic about choosing your first pair, you can better at it. With practice, you can strut in style in no time. Once you get it down, you can also take help from the accessories to keep the pain at bay and keep in mind that high heels and long hours is strictly non-advisable!
Pin for later