This product is listed here: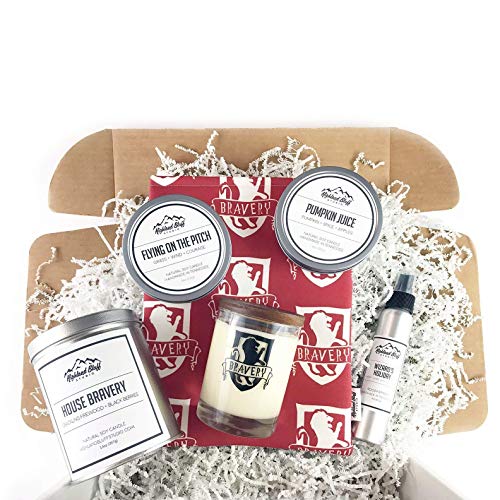 House Bravery Gift Box
The House Bravery Gift box packed with scented candles, a scented spray and book sleeve would be the best gift to send love to a book lover in your life. Book lovers cherish a serene environment, where they snuggle in their favorite chair and spend hours flipping page to page of their favorite book.
This gift box comes with everything anyone would need to create relaxed and quiet surrounding for some quality time. Candles have a calming effect, and that's the first thing you get in this gift box. The deluxe gift box comes with a 14oz glass candle from House Bravery.
Detailed information about House Bravery Gift Box
The glass candles are made of all-natural soy wax and have cotton wicks. The candles have no dyes. Each of the scented candles is 14oz and comes in the all-time old fashioned double glass. The candle glass is topped with a delicately designed wood lid which greatly helps the sweet calming scent to last longer.
The candles not only give a lasting scent, but they also have a long burn time which approximately goes for 70-75hours. The receiver will not have a hard time taking care of these glass candles. A simple wash with warm soapy water will keep these little lovelies clean. After cleaning, they will have beautiful and reusable drinking glass.
WHY WE LIKE IT?
Everything in the gift set comes well packaged in a durable gift box
The gift box is shipped inside an outer box for extra protection
WHY WE dont LIKE IT?
None
What we love about this product
The scented candles are not the only thing in this deluxe gift box. The receiver will get an 8.5" X11" book sleeve big enough to fit Harry Potter hardback. The book has a lovely pattern printed on it, and the interior has nice white lining.