This product is listed here: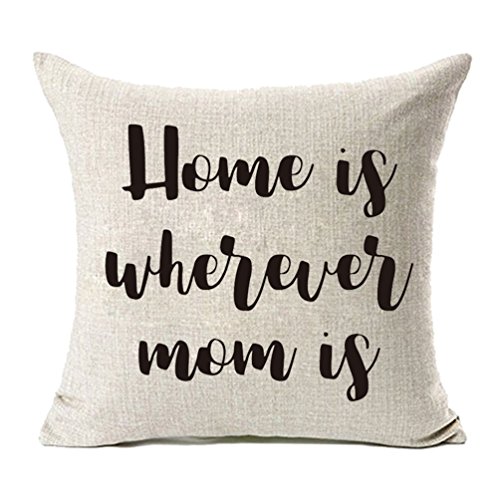 Home is Wherever Mom is Cushion Cover
The things that mom, cushions, and home have in common are that they are all comfortable and secure. Home is wherever your mom lives and this is the sentiment echoed by the motto printed on this lovely cushion. The disadvantage of moving away from home is that you can't usually take your mom or your childhood bedroom with you. The advantage with a cushion is that you can take it with you no matter where you decide to live.
This special cushion cover will always remind the owner of their home and the security that comes with it.
Detailed information about Home is Wherever Mom is Cushion Cover
This cushion cover is made from a 100% cotton linen fabric with a message printed on one side. The cover has an invisible zipper tucked away along one edge that allows the gift recipient to remove the cushion so that the cover can be washed (it is perfectly safe to machine wash) or to replace the cushion.
It accepts standard 18" x 18" cushion inserts and will also accept 20" x 20" inserts but you might find the 20" might make it very full.
WHY WE LIKE IT?
Made from 100% cotton linen
Sentimental printed message on one side of the cushion cover
Accepts standard sized throw cushion inserts
Perfect to remind someone of home
WHY WE dont LIKE IT?
None
What we love about this product
If you want another motto or color scheme, the seller provides a total of 21 different cushion covers for you to choose from, all with a sentimental message or image.