This product is listed here: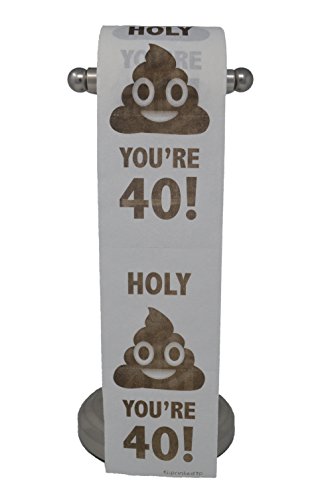 Happy 40th Birthday Prank Toilet Paper Gag Gift
"Holy crap (insert emoji poop here) you're 40!" This clever roll of toilet paper is quite possibly the best birthday prank yet. What a fun way to let someone know that you are ready to celebrate their one and only 40th birthday. This once in a lifetime event requires a gift with a little imagination and a lot of humor.
Detailed information about Happy 40th Birthday Prank Toilet Paper Gag Gift
Imagine the birthday man or woman waking up, stumbling bleary-eyed into the restroom only to sit down and have this little gem staring them in the face. Now that is a fun way to start the day off right – at least for the prankster, and hopefully, the subject of the prank will also have a good laugh at this hysterical gag gift.
This paper is a high-quality two-ply product and is made in America. Additionally, the printing is present throughout the entire roll, from the first sheet to the last, unlike so many other custom printed toilet paper that has the image on the first portion of the roll only. After all, the reality of turning 40 may need to be reinforced a few times to get it to stick.
WHY WE LIKE IT?
High-quality toilet paper that is two sheets thick
The "crap" emoji and poignant saying are both printed on the entire roll of toilet paper
This toilet paper used is sourced in America and is recycled and biodegradable
WHY WE dont LIKE IT?
None
What we love about this product
This toilet paper is safe for use with a septic tank and it is completely biodegradable, so as well as being a great birthday prank, this gift is also safe for the environment. The recipient will know that their benefactor is ecologically responsible as well as hysterically funny. What a great combination that is.