10 Handmade Jewelry Gift Ideas
last updated:
Nov 05, 2020
1319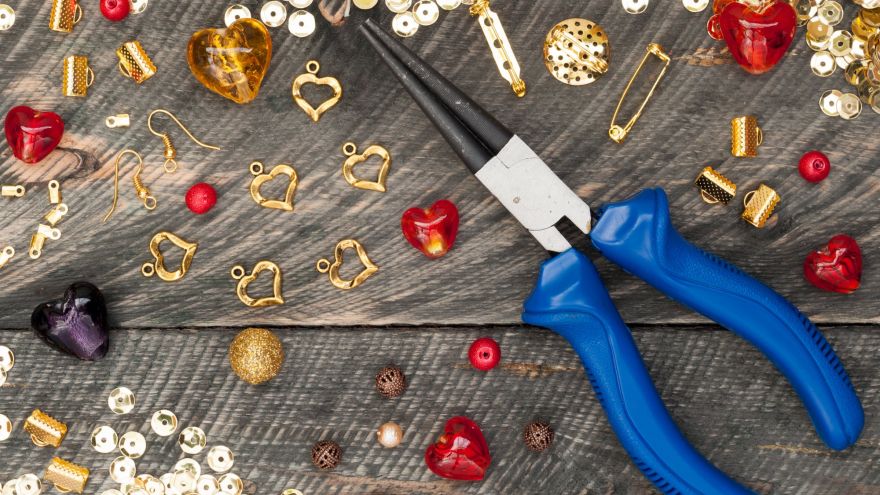 Handmade gifts have become so popular lately, and it is a trend that we are loving as well! Handmade items are some of the most meaningful gifts because they are more unique in nature and aren't just something you can go pick up at any store. Putting in effort for a gift is oftentimes more meaningful to someone than the gift itself!
While many people love receiving handmade gifts, it is not always as exciting if you are the person having to make the gift. We love a good DIY craft, but not everyone does! If you aren't particularly crafty or don't have access to the right tools, it can feel almost impossible to put something together that is handmade and also something that someone would actually want to receive as a gift.
Handmade jewelry is in particular one of the hottest trends lately, and they make for such great gifts! Making it yourself is a sure way to really wow whoever you are giving the gift to, but if you don't have the time, the tools, or the talent to create handmade jewelry, that is okay too!
Because handmade items have become so popular lately, it has also become incredibly easy to purchase handmade gifts from others. Stores like Etsy or ArtFire are dedicated entirely to selling handmade items, and even the ecommerce giant Amazon has gotten onboard and added a handmade section to their website as well!
Are you thinking about creating (or buying) some handmade jewelry to give as a gift? We are here to help give you some ideas to get you thinking! Best of all, these are pieces you can decide to make on your own, or you can simply buy them from an artist who will handmake it for you! Either way, the result is a one of a kind handmade piece of jewelry that your wife, mother, sister, or friend is sure to absolutely love.
1. Drop Earrings
Earrings are always a great gift idea, but did you know that they are great as a handmade gift as well? You might think they would be really difficult to make, but that doesn't have to be the case! We love the look of a drop earring- they are wonderful statement pieces of jewelry that you can add to just about any outfit.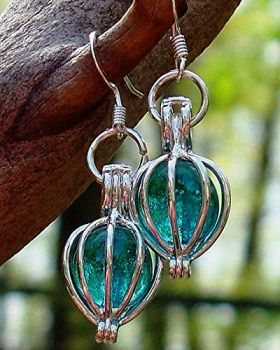 Get her favorite gemstone and attach it to a fishhook earring back which gives the earring the drop effect (instead of just being a stud). Perfect for date night!
2. Coordinate Bracelet
Are you looking for a unique way to mark a special occasion or location? Most people get jewelry engraved with the name of a city or a special date, but why not be a little more unique by using the exact coordinates of a special location? It could be the place you first met, had your first kiss, where you got married, or even what city you live in if you are in a long distance relationship.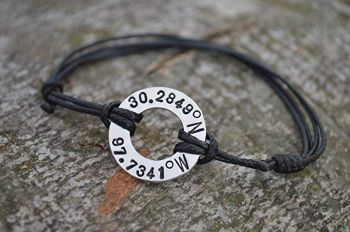 This is such a cool, special way to make this bracelet unique, and it isn't all that hard to make! All you need to do is have a washer engraved (make sure you get the coordinates correct!) and then attach it to a leather band. Such a great gift!
3. Initial Necklace
You can't go wrong with a personalized necklace, and it makes for a perfect handmade gift! Have her initial engraved on something small (small, dainty necklaces are trending right now!!) and attach it to a simple, thin chain! Pick whatever her favorite metal is- gold, silver, or rose gold, and you've got the perfect gift you know she'll love.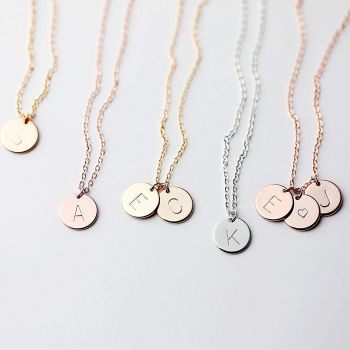 You could also consider engraving the initial of her child if she happens to be a mom (or grandmother). There's nothing a mom loves more than her kids! This makes for a perfect Mother's Day gift.
4. Stud Earrings
Studs are always a classic jewelry piece that never go out of style. Best of all, you can make just about any stud earring you want! Find the perfect charm that fits the personality of who you are creating the earrings for.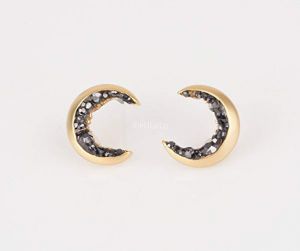 It can be just about anything you want! Then, all you need to do is attach the post backing to it, and you've got your set of earrings! If you struggle to find the perfect unique pair of studs at the store, why not just make a pair yourself? Problem solved!
5. Charm Bracelet
Charm bracelets have long been a classic handmade jewelry idea, so we knew we had to include them on our list! It is pretty easy to put together a charm bracelet, making it a perfect option for those who don't want to take on a major project. Best of all, you can include on the bracelet whatever you want!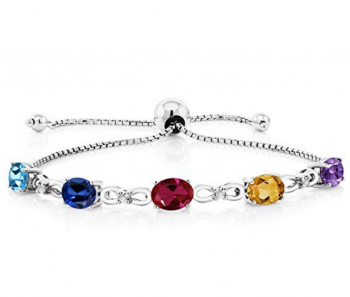 From fun charms that signify important life events, to initials, to various colored beads, you can easily make a bracelet super personalized. This is a great option if you are looking to make bracelets for a group of your friends, or perhaps for your bridesmaids if you are recently engaged and looking for the perfect gift for all the girls who will support you on your big day!
6. Birthstone Friendship Necklace
Did you and your best friend have BFF necklaces as kids? We all did! Why not put a modern twist on the childhood classic and gift your friend an updated necklace? This is a great, easy handmade jewelry item that your friend is sure to love. We like the idea of using her birthstone as the main part of the necklace, but you could use something else significant as well- the choice is yours! Make one for yourself and one for her- it makes for the perfect birthday gift for her!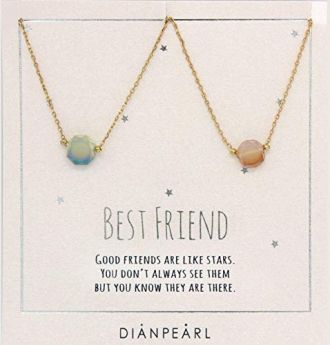 This way you'll have matching necklaces that are still unique and personal to each of you. This also makes a great going away gift– if your best friend is moving away be sure to gift her this necklace that she can wear to help remember her that you'll always be around to support her, even from miles away!
7. Charm Necklace
If you want a quick, easy handmade gift idea, you can't go wrong with a simple charm necklace. All you need is a simple chain, and whatever charm you want to put on it! This is another gift that is easy to personalize, but it is also incredibly easy to put together.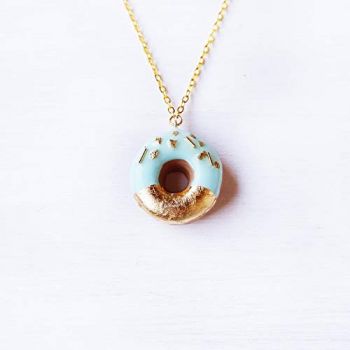 Anyone can put a charm on a chain! Put some effort into the charm itself and you will still end up with a thoughtful gift that any girl would love.
8. Delicate Chain Necklace
If you want to create a piece of jewelry for the trendsetter in your life, a simple chain necklace is a great idea. Simple jewelry pieces are so popular today, especially body chain type necklaces. Best of all, this type of jewelry isn't all that hard to make, but it will certainly be loved by whoever gets it as a gift!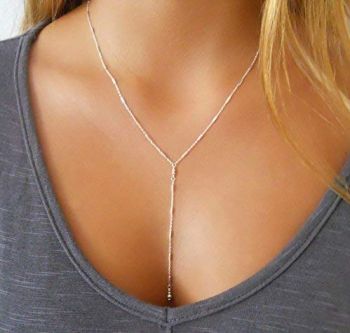 Pick the metal type that she will love the most (gold has made a major comeback lately) and determine the proper length you want. Long chains are in style, but you can adjust it how you like. Such an easy, yet great gift idea!
9. Pin or Brooch
We have noticed that pins have made a bit of a comeback lately, and we think they would make the perfect gift for any girl who likes to experiment with fun accessories. Pins are great because you can place them on your clothes, on hats, scarves, bags, just about anywhere! They are also pretty easy to make- you just need to attach the pin backing to whatever charm or item you want!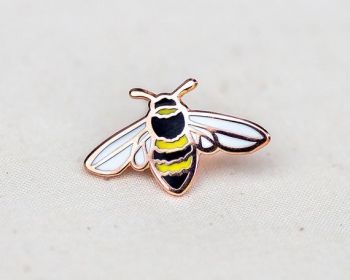 Go with something different and unique for the fashion risk taker, or consider making something a bit more personal if you want to create more of a sentimental gift for say your mother or grandmother. You actually have a lot of options when it comes to making your own pin, and for that reason, we think they make for a great gift idea!
10. Cufflinks
Finally, we know we focused on the ladies for this list, but we wanted to finish off with something for the guys out there! There are plenty of options to consider when it comes to handmade items for men, and one of our favorite ideas is cufflinks! Cufflinks are such a great accessory that any guy can add to their suit to really give it a nice finishing touch.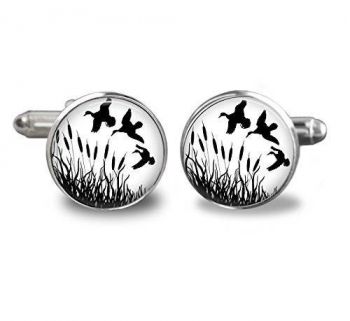 Whether you make cufflinks that have their initials, their favorite sports team, or favorite hobby, they are a great way to personalize an outfit. Most guys probably wouldn't think to buy cufflinks for themselves, so this is a great gift idea, and it gets even better when they are handmade!
Wrapping Up
Handmade jewelry is a great gift idea to get for your family and friends. These pieces are one of a kind and can easily be personalized to match their name, birthday, personality, interests, and more! Whether you decide to make the jewelry yourself, or enlist the help of a skilled artist, you'll still end up with a gift that you know your friend or family member is sure to love.
What is your favorite type of handmade gift to receive? Let us know!
Pin for later