We Found 10 Groomsmen Socks Which are Probably Better than the Whole Outfit!
last updated:
Jul 16, 2019
1861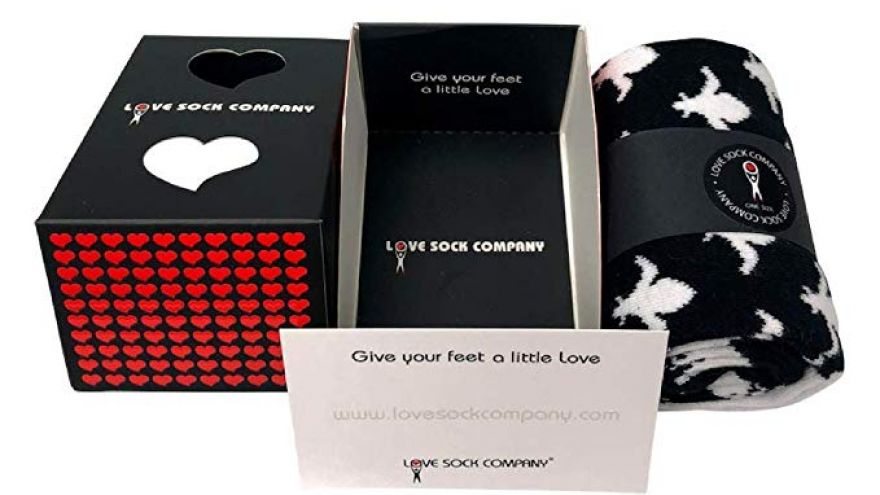 When it comes to wedding attire, a lot of attention goes towards the wedding gown, bridesmaids' dresses, and the groom's suit. Sure, that makes sense, but what about other small details? We like to think that little details can actually make a big difference, and one such detail is groomsmen socks.
Not only can detail like socks help complete an outfit, but it also gives you an opportunity to have some fun and show off your personality. You likely won't go with a bright-colored suit or tie, but you can go a little bolder when it comes to socks!
Are you looking to spice things up a bit when planning your groomsmen's outfits? Check out these 10 sock options we found and see what you think! All are unique and give you the opportunity to add a pop of color and personality and who doesn't want that? You might end up liking their socks more than the rest of their outfit!
10 Fun Groomsmen Socks!
1. Fleur De Lis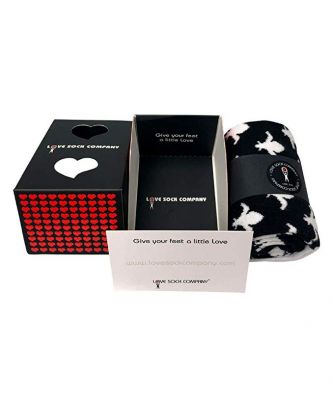 How cool are these Fleur de Lis socks? We think this is an excellent way to add something unique to their outfit without going over the top. In black and cream, these will pair excellently with black or gray suits.
This is also a perfect sock option if you are getting married in New Orleans or if New Orleans is your hometown. Show your pride for your city while still looking polished and cool with these socks!
2. Funny Dress Socks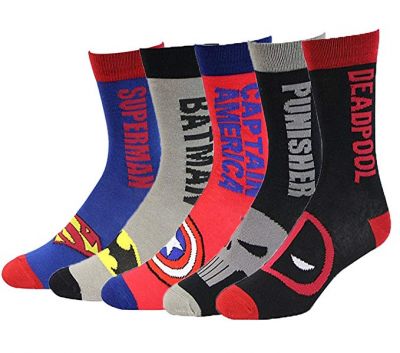 If the groom, and therefore also his groomsmen, has a great sense of humor, these superhero socks may just be the perfect option to consider. With six superheroes to choose from – Superman, Batman, Captain America, Deadpool, and The Punisher, each guy can select which pair best fits his personality!
This is a great way to add some fun to a wedding outfit. Make sure they all take pictures showing off their socks!
3. Patriotic American Flag Socks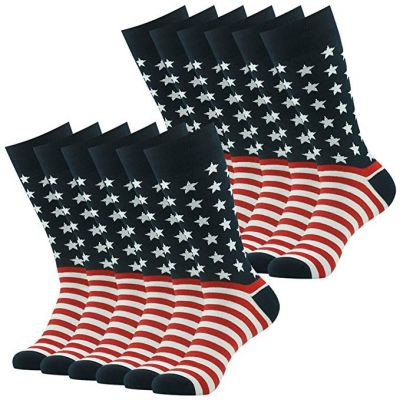 Feeling patriotic? Getting married in July? Why not go with these flag socks? They are fun, festive, and will go great with either blue or gray suits. If you want to do something a bit unique but still want everyone to match, this is a great sock option to consider.
4. Argyle Dress Socks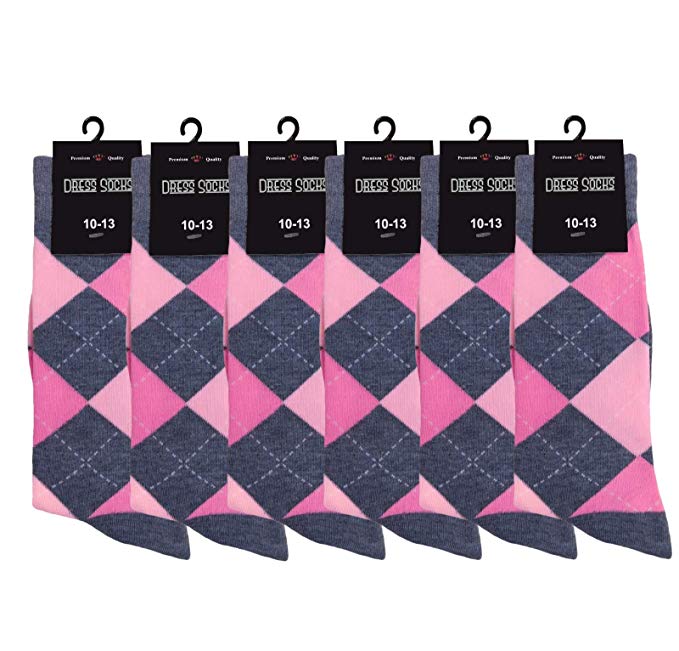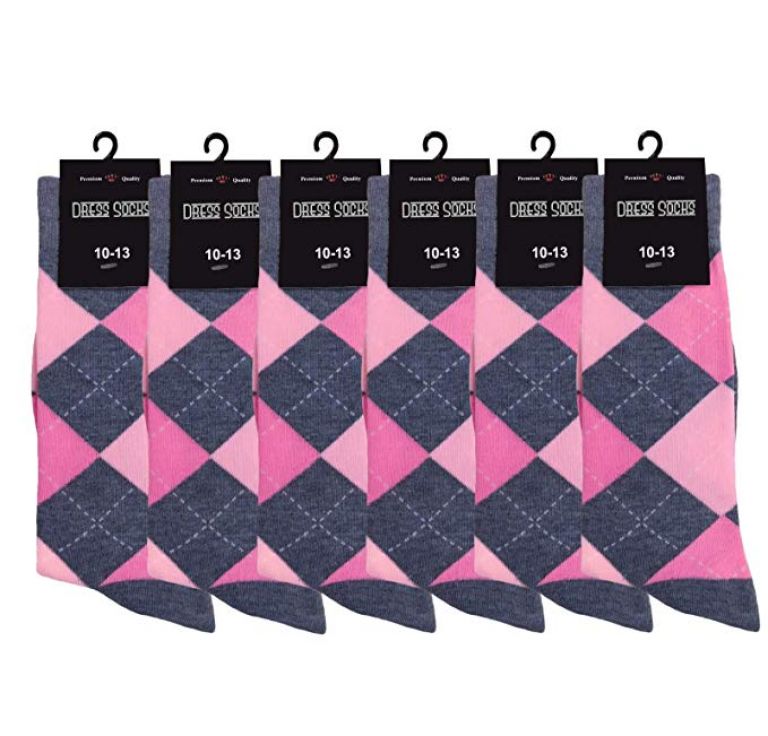 Argyle is a classic choice when it comes to men's socks, but you can still make it a bit more fun by picking a bolder color! We love this pink and gray set, for example, and think it's a great way to add a pop of color in a more subtle way. If your bridesmaids are wearing pink, this is also an awesome way to tie in their color to the groomsmen's' outfits in a different way.
5. Modern Motif – 6 Pair Men's Matching Dress Socks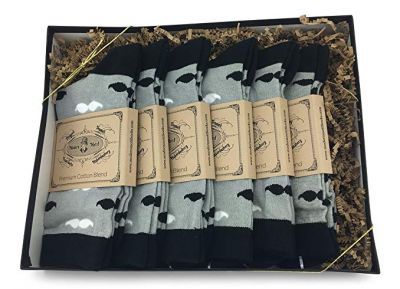 Who said polka dots just have to be for women? We absolutely love these blue socks with the white polka dots and think they would make for such great groomsmen socks.
If your groomsmen are wearing gray or blue suits, these are the perfect accent that adds some personality without being too bold. Stripes may be the most popular design on men's socks, but we are hoping that polka dots increase in popularity!
6. Men's Cotton Dress Socks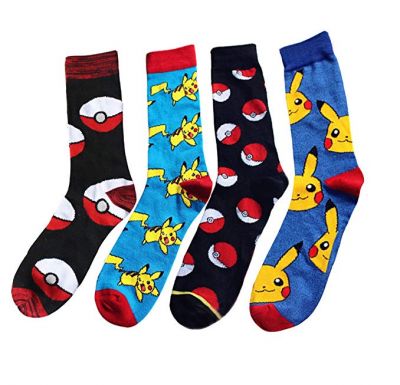 If superheroes weren't the right fit for your groomsmen socks, then what about Pokemon characters? If you are looking for pure fun with your socks, it doesn't get much better than this. Embrace your inner child and just go for it with these socks.
These will also make for some great silly wedding pictures that you will appreciate having for years to come! Pokemon has remained popular with people of all ages, so if the groom and his groomsmen still love it, why not incorporate it in the wedding with their socks?
7. Men's Patriotic Socks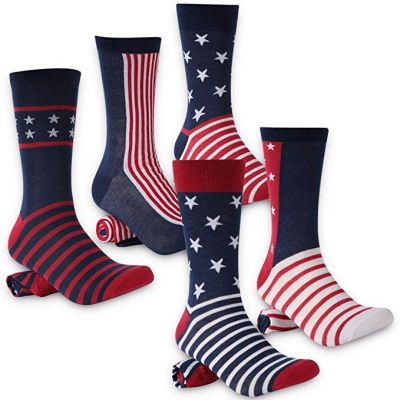 Nautical themed socks? Why not! These are such eye-catching, fun socks that we loved the instant we saw them! A nautical theme has been very popular these days, so why not bring it to your wedding as well?
The pop of color and the fun anchor print makes these socks so unique and will definitely stand out from the whole outfit. And that's not a bad thing! If you happen to love orange and want it as an accent color, these socks are a perfect choice.
8. Novelty Socks for Men – Fun Colorful Socks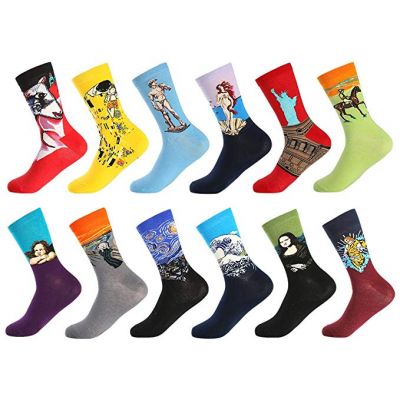 It is a wedding after all, so why not choose a fun pair of socks with 'love' printed on them? These really are perfect wedding socks and would go great with a black or gray suit. If red is your accent color, these are the perfect socks to add to the groomsmen's' outfits!
Most people choose to add a pop of color with a tie or pocket square, and that is fine, but if you want to do something a little more unique, why not do it with the socks?
9. The Tie Bar Platform Paisley Socks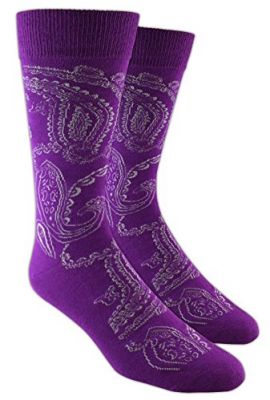 Paisley is another print that we really love but don't see a lot, especially when it comes to menswear. We think these blue paisley print socks are such a cool addition to any groomsmen outfit.
If you want to do something different but still want it to be subtle, these socks are a great option. The print is there but it isn't too bold, and the blue color is a classic and would go great with a blue or gray suit!
10. Urban-Peacock Casual Socks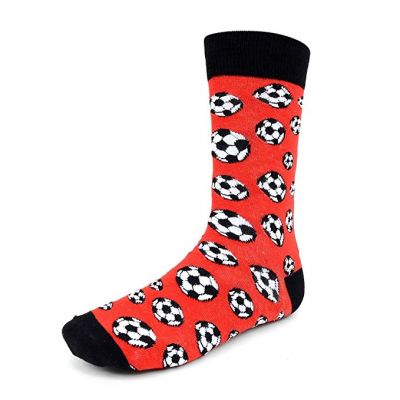 Finally, if the groom and his groomsmen are into sports, why not go with sports-themed socks? These particular socks are baseball themed, but not to worry! You can choose from tons of other designs- including basketball, cycling, billiards, bowling, golf, skateboarding, and soccer!
This is a great way to incorporate each groomsman's personality into the wedding- they can pick their own socks based on their favorite sport to play (or to watch). We think these are such fun socks and would be perfect to add to any groomsmen outfit.
Believe it or not, you have a lot of great options when it comes to choosing groomsmen socks! Whether you go with something a little more traditional like Argyle or Paisley, full-on fun with superheroes or Pokemon, or something in between, you can easily add some personality to their outfits in a way that is still subtle enough that it won't detract from the rest of their outfit.
Which style of socks do you prefer? Do you think weddings require something more traditional, or are you going for all-out fun? Let us know!
Pin for later