This product is listed here: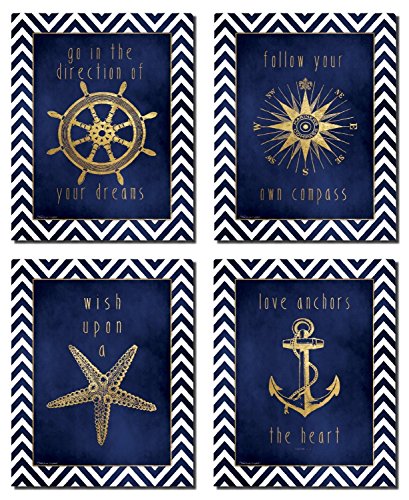 Beautiful Gold & Blue Chevron Inspirational Prints
It is hard to think of a better color combination than navy blue and gold, which is why these nautical prints make for a beautiful gift to give to anyone who loves nautical themed pieces, or who just has a great eye for design!
Regardless of whether the person you are shopping for has a specific love for nautical themed items or not, these prints are a wonderful gift because of how beautiful and well designed they are. Complete with a modern chevron background, tthey feature golden images of an anchor, wheel, starfish, and compass. To finish off the design, these prints have nice inspirational sayings: "go in the direction of your dreams," "follow your own compass," "wish upon a star" and "love anchors the heart."
Detailed information about Beautiful Gold & Blue Chevron Inspirational Prints
Choose whether you want mounted prints or poster prints and whether you want 8x10 inch designs or 12x16 inch designs. The poster prints will make an excellent gift for someone living in a dorm room or apartment, and the mounted prints for those in a home where they can easily hang them up and display them. Hang all 4 together, or divide them up in different rooms, either way they are sure to improve the look of any room they hang in!