This product is listed here: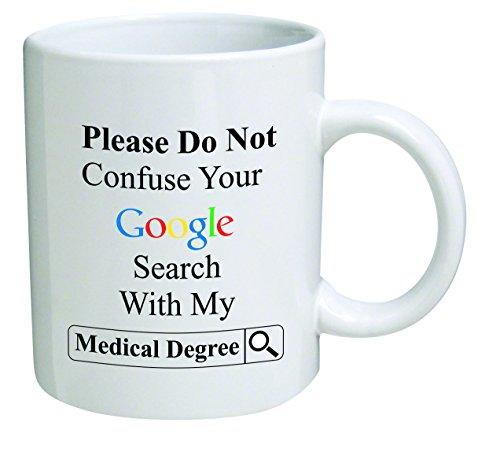 Funny Doctor Mug
Have you thought about how much effort goes into pursuing a medical degree? Well, with the recent technology, Google certainly has all the answers to queries. But, when it comes to your health, it may not be accurate, and you will therefore need the services of a professional.
Doctors deserve treats for the fantastic job they do. But, does it have to be all medical and hospital related? Why not get a fun gift for them? This mug from Dellas Pace has a hilarious message and will surely do the job right as a gift.
Detailed information about Funny Doctor Mug
The mug comes with printed messages on both sides. It is made from pure white ceramic from the Yates and Franco collection. It can be a gift that a doctor or other medical practitioners can relate to. The hilarious message will surely crack up laughter and make your loved one's day. It is suitable for hot or cold beverages which makes it ideal for home or office use.
The other advantage is that it is safe to use in the microwave and still keep up the quality. Also, it is safe to wash in the dishwasher as well as hand washing. The print is permanent and does not come off with regular washing. This funny gift can be ideal as a gift for the physicians in your life.om