The 5 Fidget Spinners that Are All the Rage in Our Office!
last updated:
Aug 02, 2018
2504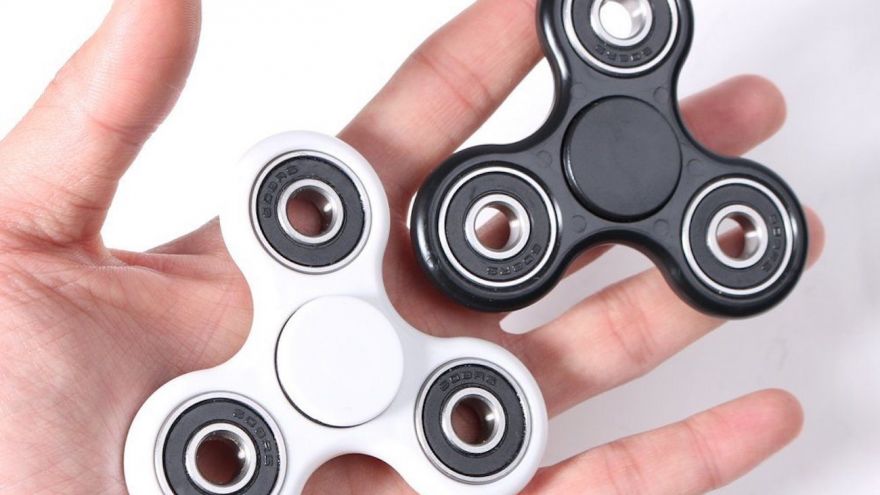 Fidget spinners are divided into categories if you're considering their use. The first category deals with fun/pleasure while the second category deals with benefits or functions. The latter deals with the release of pent-up stress, and essentially, just makes you more comfortable.
Still, we digress, the benefits are known, but what are the options you need to consider to get them?
So, the whole purpose of the post is to treat 5 top fidget spinners that we've chosen. You just need to consider each of them individually to see whichever one appeals to you. Additionally, they are excellent performers in both of those categories, and they're iterated below.
1. MAGTIMESRainbow Fidget Spinner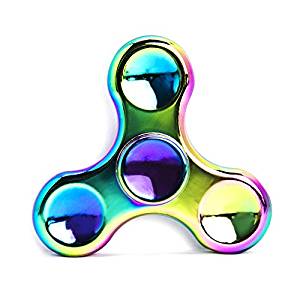 Like most of the fidget spinners on the market, the MAGTIMESRainbow comes with the usual repertoire, though this one is a bit eye-catching that most of them.
The fidget spinner is stylish, durable (made from steel), and fit for both adult and kid hands, so compatibility is not an issue to worry about in regards to the latter.
That said, pertaining to the two categories, fun and functions. The spinner, due to the combination of colors (rainbow-like), is a sight to see when it spins, and that's one more aspect why kids would prefer it to most others. Moving on to the functions, the gradual spinning, which averages between 3-5 minutes (actually longer than the ones on the market), constantly eases stress, as it serves as a form of distraction from anything you consider unnecessary. We can take a guess and say boredom and stress are just two, that you might face.
The fidget spinner has a comfortable weight, and the manufacturer made sure to properly distribute it, while at the same time, made sure that it works as long as it does.
What about the cost?
Compared to most others on the market, and also when you consider the quality (nice weight, colors, etc), the MAGTIMESRainbow is one of the best spinners in terms of price.
What you should like about it?
✓ Feels expensive with the metallic build and its proper weight distribution
✓ Aesthetically pleasing, if you're going by the colors alone
✓ Price is very reasonable
✓ Perfect gift for kids, since it gives them an object that keeps their focus and can even stand wear
✓ Gradually alleviates stress and boredom
The letdown
There were times that we thought it was too flashy.
2. Trianium Spinner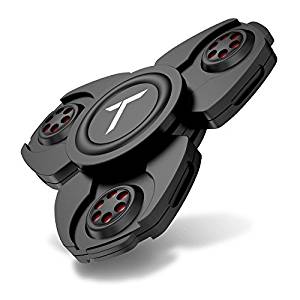 Though they could use the typical design that's pretty popular, Trianium Fidget Spinner choose their own design, which looks rather advanced or dare we say it, a bit futuristic.
The fidget spinner employs the use of strong materials (metal-alloy), with uses that are not apparent until the spinner is dropped, and still keeps its integrity. Additionally, the durability, if you're gifting this spinner to a child is welcomed, as there's bound to be some rough play and it luckily can keep up.
That point made, the spinner has the usual inherent capabilities like easing boredom and stress. And in fact, based on the looks and proper weight distribution, it does this rather well. Both functions or is it categories, makes it a perfect gift for both adults and kids.
In addition to the above, the spin time, to us, is excellent as the spinner averages someways above 4 minutes per spin. Nonetheless, the sound it emits, though due to the bearings, could still be quieter to us. Though, it's more or less like most of the spinners on the market with an operating noise that's still manageable.
What about the cost?
The price is similar to those on the market and was a sign of high-quality when we came across it. So, we had to confirm our thoughts and we can say it's worth it if you like the idea of a durable and functional fidget spinner. Still, the price is a bit above average, though there's nothing about its quality that resembles the word "average".
What you should like about it?
✓ Price is actually ok if you don't mind the quality
✓ Spin-time is excellent, and helpful in the case of children since they get to enjoy more
✓ Perfect gift for kids and adults since it helps with boredom
✓ Removes stress and helps keep boredom at bay
✓ Aesthetic-wise, we find it to be satisfactory
✓ Size enhances comfortability
The letdown
The fidget spinner was noisy in some copies.
3. Maxboost Fidget Spinner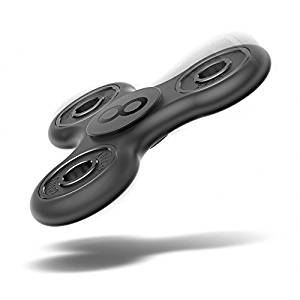 In terms of looks alone, the Maxboost Fidget Spinner can keep up with the previous products. And if you're worried about its functions, it can likewise keep up in that area too.
The spinner has a portable size, with it being lightweight and compact. That makes it easy for both kids and adults to use it. Though, individuals with larger hands may find it small, which might be a bit uncomfortable during long periods of use.
Moving on, it only needs a single spin to oscillate for more than 3 minutes, and during use, even if it falls, the construction is top-notch so it easily resists wear.
Whilst working, it generally remains quiet which is one point we personally appreciate, since it shows off the tight design language. On the part of easing stress, it's rather helpful in drastically reducing that, since it gives another focus or might we say task to the individual.
What about the cost?
The price, considering all its looks, durability, and spin-time is a bit better than the ones of the previous products.
What you should like about it?
✓ The price is reasonable
✓ Perfect for anybody since boredom is the norm
✓ Its ability to reduce stress is helpful in many scenarios (autism, anxiety, etc)
✓ The handsome looks are welcomed
✓ Portable and particularly suitable for kids
✓ Passed safety tests, which are specifically important because of kids
✓ Has a spin-time that's good enough (a little above 3 minutes)
The letdown
Small size can make it uncomfortable for adults to use.
4. ATESSON Toy 4-10 Min Spins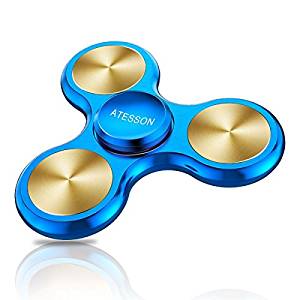 Supposedly, the ATESSON Fidget Spinner has an average spin-time of 4-10 minutes. Well, that's definitely true, which makes it the spinner with the longest spin-time on the list at a recorded 8 minutes with a casual spin.
Looking inside the spinner, we found part of the long spin-time's cause, which are the bearings, made from stainless steel.
In relation to that point, we found, complementing that established advantage, the durability of the fidget spinner which is as a result of its aluminum build. Your giftee(s), regardless if it's an adult or not, will appreciate this since it easily resists wear.
It is also perfect for relieving stress (related to autism, anxiety, bad habits, etc) and resisting boredom, and the long spin-time certainly enhances these features.
Moving on to the looks department, it is definitely a looker, with it coming in 3 colors that are individually beautiful. This makes for an easy to love gift, as its first impression capabilities if you're going on design alone is outstanding.
What about the cost?
The price is a bit high, even when compared to others on this list. So, you might not share our thoughts on the matter. But as you're getting excellent build quality in return, we find that a good trade-off.
What you should like about it?
✓ The build quality is excellent and will stand a lot of abuse
✓ The aesthetic appeal is very good, and it'll catch your giftee's attention
✓ Spin-time is simply phenomenal
✓ Perfect for adults
✓ Long spin-time allows for easy relief of stress and also resists boredom
✓ Centered weight which equals comfortability
The letdown
Due to the choice of materials, it is a bit too heavy for kids.
5. Owen Kyne 12 Pack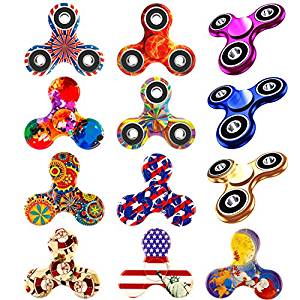 Well, in terms of design language, you have a lot to pick from if you select the Owen Kyne 12 Pack Fidget Spinner as your gift for someone in the office. There are 12 fidget spinners in the package, with each having a different and eye-catching design. Though, most are not on the level of the previous products on the list.
Point made, each fspinner is built well, with the manufacturer using both heavy plastic and metal to create them. The former isn't an issue, as nothing short of crushing it will put it out of work. Though, do take in mind that, it doesn't mean they're impervious to damage. It's just that your giftees will appreciate a fidget spinner that can keep up with their demands.
The spinners oscillate for around 3 minutes, which could be less or more depending on the spins you apply. Now, the spinners are a lot of fun to use, and due to the fact that they're 12 in a set, you can build on that, by combining their use together, through using various tricks. Still, on the part of the functions, the spinners' ability to sate boredom is impeccable, and its capacity to reduce stress will very much be appreciated.
Nevertheless, there are some spinners in the package that depict Christmas and, they might have to be removed depending on the time and your preference.
What about the cost?
Seeing as you're getting 12 fidget spinners in a single package, while at the same time, each individual spinner is durable, excellently functional, and fun to use, we can say it has a budget-friendly price that's the best on the list.
What you should like about it?
✓ Price is very reasonable
✓ Each piece is individually different in terms of looks whilst maintaining the same kind of reliability
✓ Spin-time is just ok
✓ Perfect as a gift for both adult and kid
✓ Small sizes of spinners make way for portability
✓ Reduces stress, which in turn helps manage anxiety, ADHD, autism, etc
The letdown
Despite the quality of other spinners, in some copies, we found some spinners to be of low quality.
Yes, the products above are more or less the same in terms of functions, and that's because they do the same thing, and they use the same mechanism to do their job.
Nonetheless, there is the fact, that they do their thing in different forms, and that's the essence of the different options above. You pick anyone that you think will best appeal to your giftee. We mean, some spinners have mature looks, that'll fit adults while some are a bit tailored to kids more than anybody.
Additionally, the price itself might be an issue, but you're after all buying a gift, and quality is essential in that regard.
Pin for later