This product is listed here: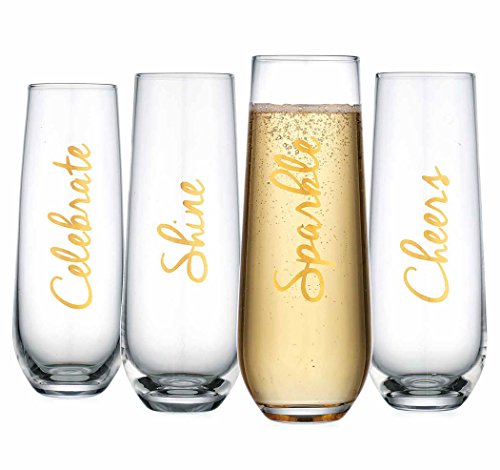 Elegant Home Gold Script Flutes Wine Glasses (Set of 4)
There are plenty of gift items out there to give, but wine glasses must be the most preferred choice for housewarming, hostess gift, weddings, birthdays and so on.
They are useful, and people always need new glasses probably because you can never have too much of them in your collection. And each new set of glasses is always better looking and tastier than the last one!
For this reason, if you have a wine lover in your gift list who, after a long day at work loves coming home to unwind with a glass of wine, we believe a set of wine glasses will be the best gift to them.
The market might have plenty of them, but this set of four stemless toasting flutes by HC will be an instant hit.
Detailed information about Elegant Home Gold Script Flutes Wine Glasses (Set of 4)
These wine glasses are super cool and elegant. They are classy and stylish enough to make a difference and add a little bit class to an evening wine taking a moment.
Ask any wine lover, and they will tell you that if one is to enjoy a fine glass of wine, the glass should enhance the drink and also complement the occasion.
This set will without a doubt make an elegant display to any table setting. They will also aerate the drink and ensure that one gets the best taste out of their wine.
But there is a little more charm added on these glasses. A special touch that sets them apart from the rest and makes them a great addition in any setup.
WHY WE LIKE IT?
Sturdy glasses suitable for everyday
They have attractive gold scripts
They are elegant
WHY WE dont LIKE IT?
None
What we love about this product
The four glasses are not only handcrafted, but they are also beautifully scripted in genuine 18k gold. Each glass is strikingly etched with one of following gold scripts which include "Celebrate," "Shine," "Sparkle," and "Cheers."
All these are the words that describe a cheerful wine moment and set the mood for a good time. In addition, they to make the glasses unique and will always be a great conversation starter at any gathering.