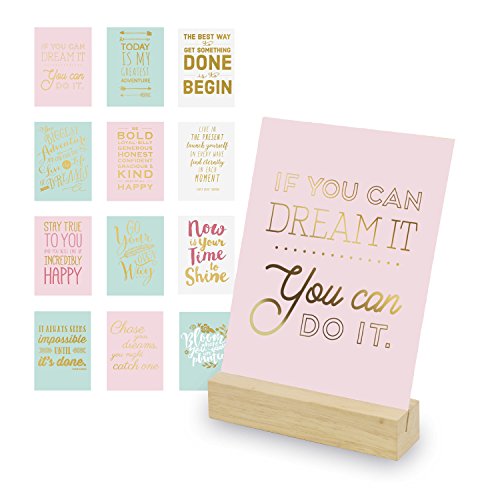 Eccolo World Traveler Inspiring Art
Anyone can really enjoy and benefit from this super thoughtful and very nice-looking gift choice. It is a simple wooden block stand that is designed to hold and display inspirational cards in it. It even includes 12 cards right along with it to increase its value and give you some awesome inspiration from the get-go. The wooden block itself is made of natural wood for a simple look that will literally match any style and décor. This is a great piece that can be used to quickly and easily dress up any area. It can be a really awesome decoration to place on a desk but can also be used in a variety of other places like a bookshelf, table, or even nightstand.
Detailed information about Eccolo World Traveler Inspiring Art
The 12 different inspirational cards that come along with the wooden block stand are all made from high-quality, thick cardstock. Each one is done in full color for a bright and appealing appearance that attracts attention and matches the inspiring messages perfectly. In addition to the full color design, each inspirational card is also gold stamped to give it extra eye-catching detail and style. The wooden block is 5 inches across, 1 inch high and measures at 1 ½ inches from front to back. It features a slit in the top that is slightly angled to make it perfect for displaying your cards. You can choose to use the cards that it comes with and change them out monthly or however often you please or you can use your own cards. This can be a way to display greeting cards, fun prints, or even photos printed on thick paper or cardstock.