This product is listed here: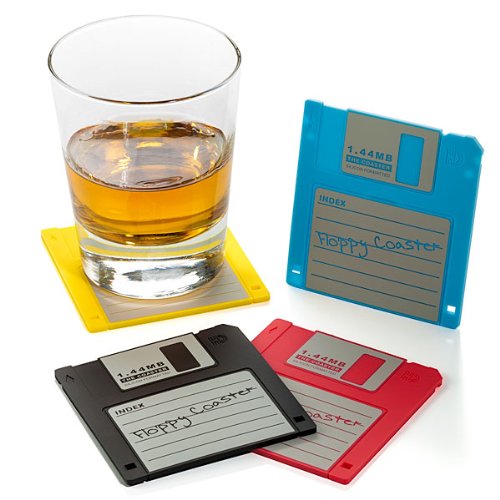 Dunk Trading Floppy Disk Drink Coasters
Almost each one of us has probably placed a drink on the table only to realize it flopped and fell. The results end up being a broken glass, a spilled drink and a mess to clean. Why then would someone have to deal with these and there are ways to prevent it from happening?
Coasters have been in existence for some time now, but not many people utilize them. They come in different designs to suit the style and preference. This set from Drunk Trading is one suitable choice and can be a gift for a friend or family.
Detailed information about Dunk Trading Floppy Disk Drink Coasters
The coasters come in an exciting design of a floppy disk. They look the same as a real floppy dick just that they are big. They are made of rubber which ensures they have a grip on a flat surface. This feature ensures the drinks sits on nicely without wobbling or slipping on the surface.
The coaters also come in different colors which are bright enough to add some style to the table. They are suitable for family events, office parties, bars, and restaurants. Also, the coaters can easily be washed and used immediately by sponging them or wiping.