This product is listed here: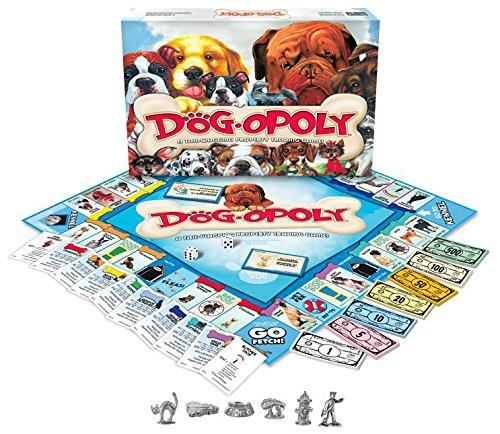 Dog-Opoly
There are in total over 30 different types of breeds of dogs. From German Shepherds to Great Danes, from Golden Retrievers to Pugs, there is almost a dog fit for anyone. If you are shopping for someone who loves dogs you came to the right place! Chances you, your spouse, a neighbor, a friend, a co-worker, or anyone else you know adores dogs. We here at That Sweet Gift might have just the solution for you! We now introduce to you the Dog-Opoly Game; the Dog (Monopoly) game!
Detailed information about Dog-Opoly
Dog-Opoly was made in mind to be a brother counterpart to its sister game, Cat-Opoly! You can find that game on our site here also. Basically, Dog-Opoly is a Monopoly styled game but with a dog theme.  It takes your classic game of Monopoly, and brings a fun-filled new version with a little doggie treat! The game can be played with 2-6 players just like any regular Monopoly game. Instead of having 'actual' real estate and buying houses, it is now arranged by dog breed sizes. Each dog breed you 'purchase' comes with fun facts that you can learn about while playing. The game can be played in a faster version, or if you prefer to have it a bit longer, you can play for an hour. You will be able to buy your favorite dogs, from Chihuahuas to Great Danes. You have the possibility of becoming the owner of the neighborhood butcher shop or even the popular community fire hydrant! Instead of passing 'Go' like in normal Monopoly, you will be passing 'Go Fetch' and collect your $200 - that is unless you have fleas in which case you will have to pay $200!