This product is listed here: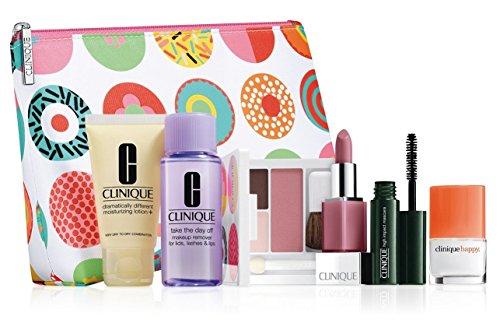 Clinique Skin Care Makeup Kit
A special skincare makeup kit including all the essentials for a complete makeup. A great gift idea for moms, girlfriend, wife, or any special lady in your life who could use a little "me" time!
Detailed information about Clinique Skin Care Makeup Kit
Stay gorgeous and stay fresh on every occasion with the Clinique 7-PC Skincare Makeup Kit! A makeup kit is every woman's most prized possession because let's face it -  every woman wants to look good and in her best shape all the time regardless of the occasion.
If it's the one thing that a woman never leaves without, it's her makeup kit – no matter if it's just a compact makeup bag fit for travel, or a complete skincare package with every product at her disposal. So pamper your loved ones with this adorable skincare makeup gift set by Clinique on her special day – doesn't matter if it's her anniversary or her birthday. A makeup kit for face, eyes, cheeks or lips makes the perfect gift – especially for your lovely wife – regardless of the occasion.
A compliment to your everyday look, the Clinique Makeup Kit includes all the essentials for a complete makeup for any occasion. This special skincare makeup kit will also make a great gift for your adorable sister, your loving mom or your sweetheart girlfriend. Not to mention you get a colorful two-tone case and a package full of cult-classic skin care. If it isn't a beauty bargain you've been looking for, we're not sure what is!