This product is listed here: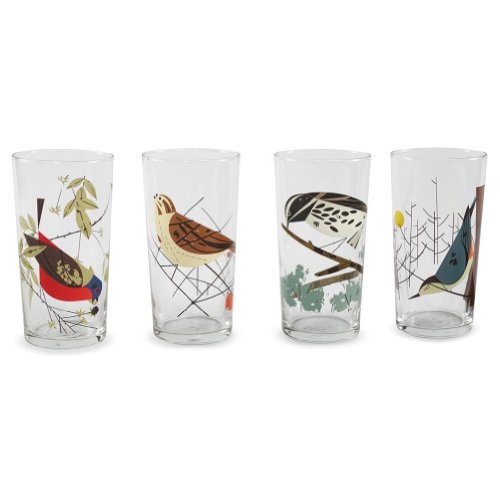 Charley Harper Birds Glasses, Box of 4
Have a bird lover in your life?
Whether he/she is a novice or an expert, or a globetrotting adventurer always up and down discovering bird species, or a backyard birder who finds it pleasurable to sit in their garden and watch their feeders, or a seasoned birdie who knows all the hot spots and is usually up every weekend, one thing is for sure; they love these exquisite creatures.
And now it's that time of the year where you have to find a unique gift for the birdie in your life because it's a special day like a birthday or Father's Day.
Sure, you could buy them yet another set of binoculars, but any bird lover worth their salt will without a doubt own a pair. You need to be unpredictable to make an impact with your gift, and that's why we are here to help.
If you walk into a home of any serious bird lover, you will not miss bird décor piece because that's one way of expressing their passion for this lovely winged creatures. On that note, we believe this set of Charley Harper bird glasses will be the perfect gift for a bird lover as well as Charley Harper enthusiast.
Detailed information about Charley Harper Birds Glasses, Box of 4
His work made an impact when Todd Oldham rediscovered Charley's work, and the two worked together to produce illustrations and prints that became popular through interior designs, fashion lines, books, décor accessories and even appeared on TV shows.
These colorful glasses are a perfect presentation of the excellent work of Charley Harper and Todd Oldham.
They will surely make a perfect bird lover decor item in any space, whether in the kitchen, home bar, or at the mantle.
WHY WE LIKE IT?
A set of four colorful glasses with lovely bird illustrations
Features great works of Charley Harper and Todd Oldham
Comes packaged in a cardboard gift box
WHY WE dont LIKE IT?
None
What we love about this product
These lovely glasses feature the great works of Charley Harper. He was an American original best known for his elaborate and highly stylized colorful graphic illustrations showcasing animals, insects, birds, nature, and people alike.