5 Boss Watches: Statement Watches to Gift
last updated:
Jul 13, 2018
1823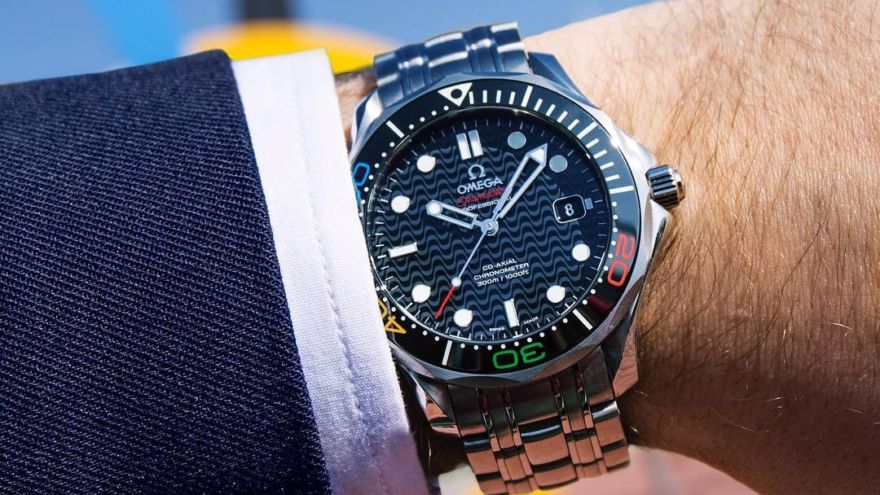 Watches are far more than devices that are used to tell time, as they also give you the ability to showcase your personal style with an accessory that can pull your whole outfit together. As a boss, it's important that you always put your best foot forward and it's easy to do so when you have a confident statement piece to rely on. In this list, we'll go over the top boss watches that you can get your hands on for both men and women in leadership positions.
1. Diesel Men's DX7346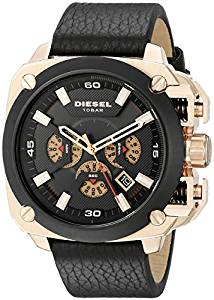 One of the things that can certainly be said about Diesel watches is that they boast a young and trendy confidence that is equally as bold as it is rebellious, which makes it ideal for the everyday boss that wants to extend a hand and show off their personal style.
There are plenty of other interesting features of the Diesel Men's DX7346, including:
Materials: Constructed out of stainless steel with the perfect fashionable hint of rose gold and a stunning black leather strap, all of the colors not only work together but also set the ideal amount of contrast. You'll also fall in love with the black ion bezel, rose gold skeleton hands, and black dial.
Chronograph: Instead of relying on digital technologies to keep track of time, the chronograph watch face also offers three different dials that keep you apprised of the seconds, minutes and hours with quartz movement.
Durability: Designed for everyday wear, you'll love the mineral crystal that is entirety scratch resistant, helping to keep your watch in its perfect condition for years on end. This watch is also water resistant at up to 330 feet.
2. Wristology Charlotte Watch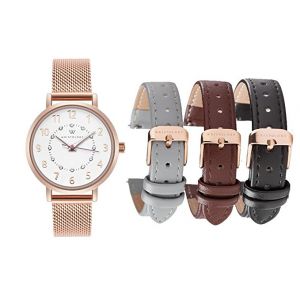 For women that are less interested in the typical thick and chunky appearance of power watches, the Wristology Charlotte Watch is a phenomenal choice to have at your disposal. What makes it such a great choice is the fact that it can be paired with a formal outfit but it can also be added to a casual outfit to help add a more heightened appearance. This particular watch comes with a mesh rose gold metal wristband, and you will also receive three leather wristbands that are interchangeable.
Some of the best features of the Wristology Charlotte Watch include:
Easily interchangeable bands: Each of the bands that you receive in the package can be changed within seconds without the need for any tools.
Handcrafted: Another thing you'll love about this watch is its attention to detail as it has very minimalist features, but looks incredibly high quality. With a Japanese analog quartz movement, you'll have the perfect watch to turn to for everyday wear.
3. TreeHut Men's Wooden Bamboo Watch
This is the perfect watch for men that are tired of the traditional classic appearance of an all-metal watch with diamonds and other flashy features. If you're someone who is more interested in uniqueness and natural elements, this TreeHut Men's Wooden Bamboo Watch is right up your alley. It accentuates all of the best features of natural wood but it is still constructed in such a modern way that it will not only show your personal style but it can also be worn with formal and casual gear as well.
A couple of the most unique features of this watch include:
Ecologically designed: Constructed with the environment in mind, this TreeHut watch is designed using sustainable wood from bamboo. There also isn't any traces of chemicals and paints that go into the creation of the watch, which is phenomenal for people who are likely to suffer from skin allergies or that have sensitive skin.
Adjustable and comfortable strap: There's nothing more frustrating than relying on an uncomfortable and stiff watch, especially if you prefer to have full movement of your wrists throughout the day. The naturally soft leather material used in the watch creates an adjustable strap that is only going to continue getting softer the more often you wear it.
Handcrafted features: There are plenty of great handcrafted features that express the smart and modern appearance of the TreeHut Men's Wooden Bamboo Watch, including its Japanese quartz movement.
4. Michael Kors Lexington Trilogy Watch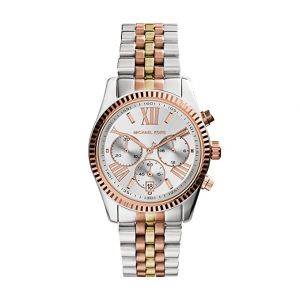 Michael Kors is one of the reigning champions when it comes to designer watches, and for women that are searching for the perfect timepiece for professional engagements, this is the perfect design for you. It has the ideal combination of silver, rose gold, and yellow gold to set a stunning appearance on your wrist. Plus, the combination of colors helps to make it perfect to wear with any type of jewelry that you may own.
The features you'll fall in love with include:
Multiple dials and wheels: Functionality is one of the top things the Michael Kors Lexington Trilogy Watch has to offer as it not only has three subdials, but it also has a date wheel to keep you apprised of the time and day.
Roman numerals: There's nothing that exudes elegance and class as well as Roman numbers, and this watch has just that.
5. Wristology Ellie Hexagon Boyfriend Watch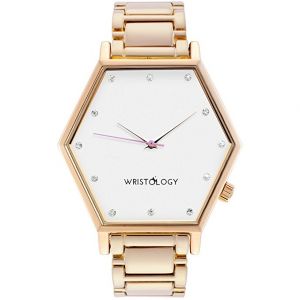 If you're not a fan of watches and you aren't particularly interested in wearing one, the best option is to choose a design that is basic and can give you just as much functionality as a bigger unit. The Wristology Ellie Hexagon Boyfriend Watch has limited features, which is what makes it the ideal watch for the everyday working woman that wants to show off their confidence without having to rely on a traditional timepiece.
A couple of the most interesting features include:
Slim and sleek design: With a modernized hexagonal case, crystals to show the time, and a simple white face, it has everything that you would expect a trendy watch to have.
Interchangeable straps: Although this watch doesn't come with extra straps, you can easily buy several different types depending on your everyday style and your color preferences.
With thousands of different types of watches on the market, finding the right ones for your needs can be a lot easier than you originally thought. Every boss has the right to wear a timepiece that will set the right impression with every handshake they make, and that helps them to feel confident in their business attire. With the help of this guide, you'll find the perfect piece for everyday wear.
Pin for later