Is Wearing Makeup at Work a "Must"?
last updated:
Apr 08, 2019
3558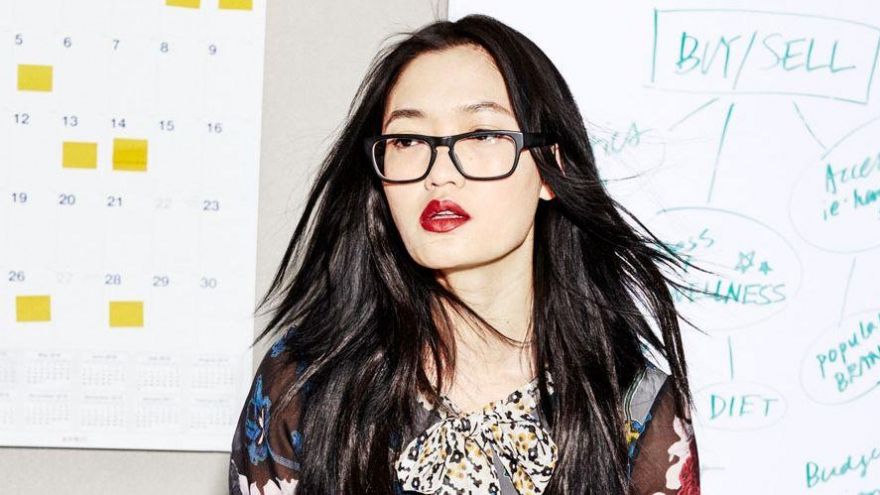 When it's time to get ready in the morning for work, many women take the time to shower, do their hair, choose the perfect outfit, and finish their look off with a full face of makeup. Although your regular routine will help you feel ready to tackle the day, it can be relatively time consuming. This has led many women to wonder whether it's necessary to wear makeup to work at all, or is it some type of societal standard that everyone simply follows.
There are a variety of different reasons as to why women choose to and choose not to wear makeup into work. Deciding on whether it's a "must" is dependent on your personal needs and the way you see yourself in a professional manner.
The Advantages of Wearing Makeup to Work
A few of the most notable advantages to wearing makeup to work include:
1. Looking Presentable
There may be a few women in the world who look like supermodels when they wake up in the morning, but the vast majority doesn't. Even though everyone is beautiful in their own way, when it comes to getting ready for work you have to consider how other people see you and relate you to the business you are working for. As an example, looking presentable as an administrative assistant or a doctor is more important than looking presentable as a pipefitter or mechanic.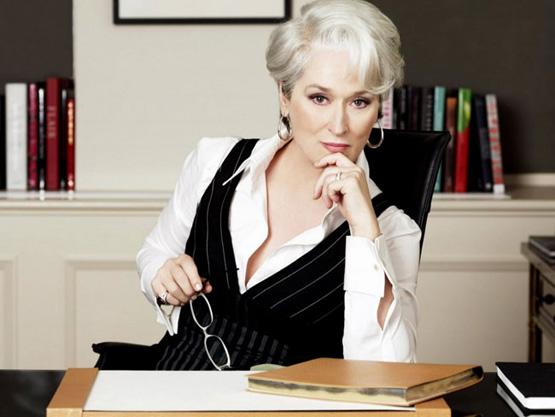 The makeup you apply to your face every morning works similarly to the outfits you choose to wear, it accentuates all of your best features meanwhile hiding any flaws that may give off the wrong impression.
With that being said, it is not a woman's responsibility to wear a full face of makeup, but to instead consider what would help to elevate their appearance to boost the reputation of their company.
2. Getting Your Dream Job
This is dependent on the type of job you want to have for the rest of your life, but you're certainly going to find that the majority of customer-facing positions will require you to look your best at all times. No matter if you're a retail sales associate or the CEO of a multi-million dollar conglomerate, makeup is a part of getting to your dream job.
Take a few moments to put yourself in the shoes of an interviewer. Would you be more likely to offer a position to someone who clearly takes the time to perfect his or her appearance or someone who seemingly rolled out of bed, showered, and ran to the interview?
Makeup adds this feel of sophistication and class as it helps to elevate your appearance and show that you are well put together.
3. Giving a Boost of Confidence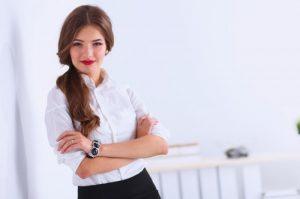 Similar to how men take the time to groom themselves in the morning, makeup is one of the many ways that women can groom themselves to get the confidence they need to tackle the day. There's nothing worse than being faced with a meeting or a customer luncheon only to feel like the other people in the room are outshining you. Sure, your professional expertise is mostly what people are going to care about, but how do you feel about yourself?
By taking the time to apply some mascara, powder, and lipstick first thing in the morning, you're going to be creating a stronger and more resilient piece of yourself. You'll not only exude confidence when you walk through the door but you'll also feel incredibly comfortable throughout the day. It's important to help yourself feel special, beautiful, and appreciated.
4. Having Some Fun!
No matter how you look at it, playing around with makeup is the time when you get to bring out your creativity for the greater good. Your face is essentially a canvas and you will have the ability to modify facial features with the help of a few products. It can be incredibly rewarding to master certain skills such as lining your lips perfectly or getting the perfect cut-crease eye shadow look for a business meeting.
With the hundreds of different products out on the market for you to try, you'll never get bored of the looks you can create with the help of makeup.
The Disadvantages of Wearing Makeup at Work
As with any positive, there will always be a negative. Many women find that there are more disadvantages to wearing makeup to work, especially if you are prone to problematic skin conditions.
1. Getting Ready to Spend Money
Remember, if you're the type of person who is going to wear makeup to the office every day, you're going to go through a lot of makeup. Although the vast majority of high-end brands create products designed to last months on end, the more often you put on a full face the faster you're going to go through your current supply.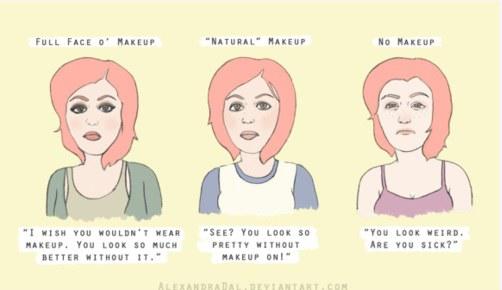 Your best bet in terms of saving money on makeup is to refrain from using high-end products wherever possible. For example, you might find a high end foundation works best, but you can also opt for drugstore eyeliner and primer to help save a few dollars.
2. Losing Time in the Morning
There are plenty of women who already have a full list of things to do in the morning ranging from working out to helping their children get ready for the day. Doing all of their regular morning chores on top of putting on a full face of makeup can be overwhelming. You might even find that some mornings you just won't want to get out of bed and relax for an extra 30 minutes instead of standing up in the bathroom applying lipstick and mascara.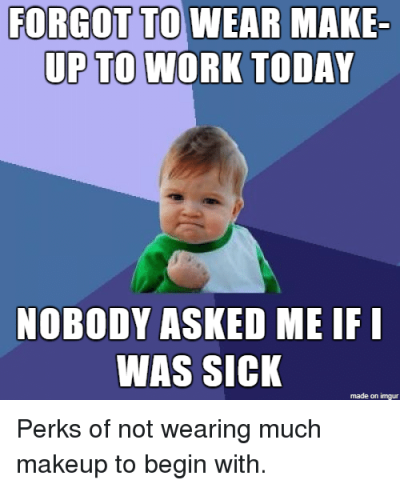 If you're already crunched for time, it's best to skip out on wearing a lot of makeup and focus on the things that are most important to you, such as spending time with your family.
Makeup can be a great thing to have in your bathroom cabinet for a variety of professional reasons and if you're looking for an easy way to set a strong first impression, makeup is something you need to take advantage of. Though there are plenty of women in the world who prefer to wear their naked face, you need to consider the expectations of your company before making a final decision.
Pin for later