This product is listed here: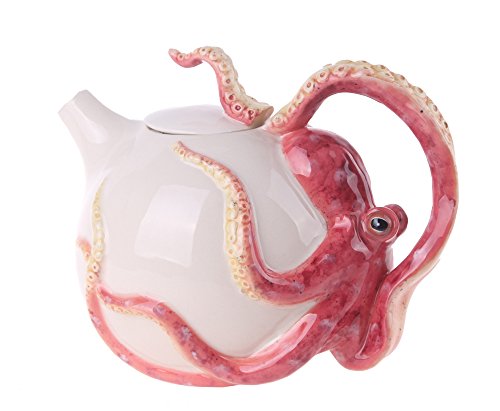 Blue Sky Ceramic Circular Octopus Teapot
This unique teapot could be the perfect gift for the friend who loves all things unique and different, and of course, a friend or relative who loves drinking tea.
This quirky teapot is sure to take afternoon tea to a whole new level of fun and exotic. Not just anyone can serve up their Earl Grey from a carafe sporting a red octopus.
The ideal quirky gift for that friend who likes life a little on the strange and different side, this server is not only well-made and durable, but it is also exceptionally unique.
Detailed information about Blue Sky Ceramic Circular Octopus Teapot
The pot itself is made from high-quality ceramic that is meticulously painted and beautifully glazed.
The red octopus' tentacles are sculpted in such a way as to form the handle of the pot as well as the handle for removing the lid on top of the pot for adding water and of course tea bags or leaves.
This cute little guy is almost lovingly wrapped around the ceramic carafe, making it seem that he is indeed the one in charge of pouring the afternoon service.
The pot measures 8.5 inches by 8.5 inches by 6.5 inches and is perfect for everyday use as well as for display.
Additionally, Blue Sky Ceramics offers a wide variety of octopus themed serving pieces and kitchenware to go with this fun pot.
WHY WE LIKE IT?
Made out of durable high-quality ceramic
Interesting octopus design, great conversation starter
Other octopus themed items available from the manufacturer Blue Sky Ceramics
WHY WE dont LIKE IT?
None
What we love about this product
The form of the octopus is incredibly detailed, right down to the large and round black eyes and the individual suction cups on the eight long and slithery tentacles!