Bachelorette Destinations Which Will Rock your World (Way More than Vegas!)
last updated:
Oct 29, 2018
1347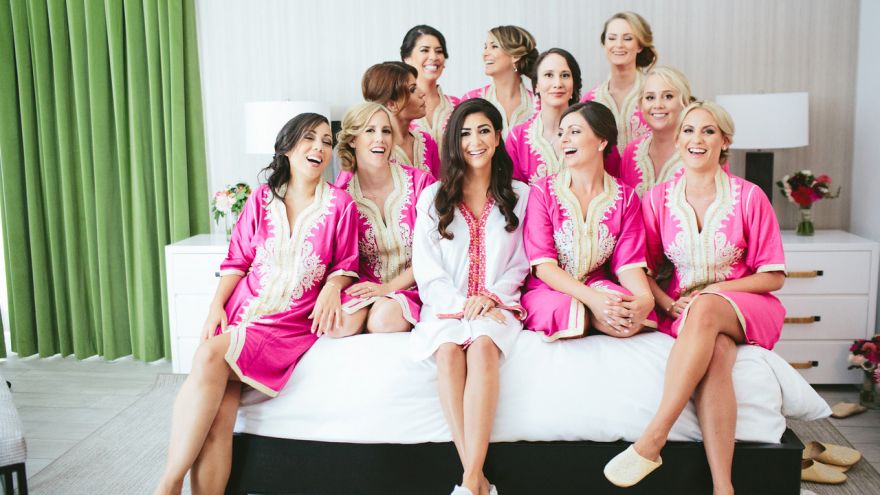 You've picked the dress, secured the venue, tasted the food, what's left to do? That's right- celebrate your wedding with your bridesmaids! Your bachelorette party is the perfect excuse to gather with friends and family in a new, fun destination and celebrate your final few moments of being a single lady!
Of course, everyone thinks of Las Vegas when thinking about a bachelorette party, but in our opinion there are so many other great options! Why not try something different and explore a new city? Vegas will always be there for you when you need (or want it) but why not get together with your girls and have a truly unforgettable time in a new, exciting city?
There are tons of excellent bachelorette destinations, but we've narrowed the list down to 6! Whether you are looking for a big city, warm temps, a great party scene, or delicious food, there is a city here to match your perfect bachelorette vibe!
1. New Orleans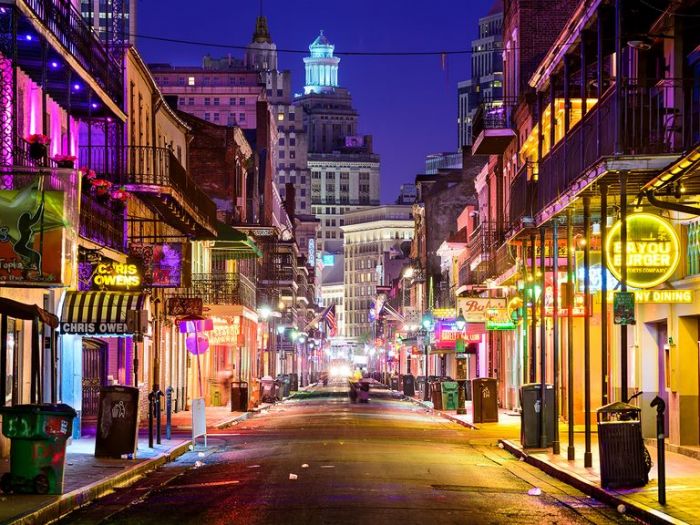 Looking to escape to the south and enjoy some delicious food and fun? New Orleans is the perfect spot for a bachelorette party! Set in a gorgeous city with beautiful architecture everywhere you turn, you will have the time of your life and come back with some gorgeous pictures of you out and about in the city! Try some delicious cajun cuisine, stop by Cafe Du Monde for their beignets, and of course, head to Bourbon Street for some great night life!
Don't forget about the great music scene here as well! Listen to some great jazz music while you dance the night away with all of your girls! This is a super fun location that makes for the perfect backdrop for your bachelorette party and perfect for any bride who wants to get down and have some fun!
Home to Mardi Gras, if your bachelorette happens to line up with the big event, you are sure to have an unforgettable time at the biggest party in the world! No matter what time of year you go you are sure to have a great time and find plenty of people who are ready to party with you!
Looking to get a little spooked while you are in town? Schedule one of their famous ghost tours and learn about the history of the city and some of its more haunted moments!
2. Charleston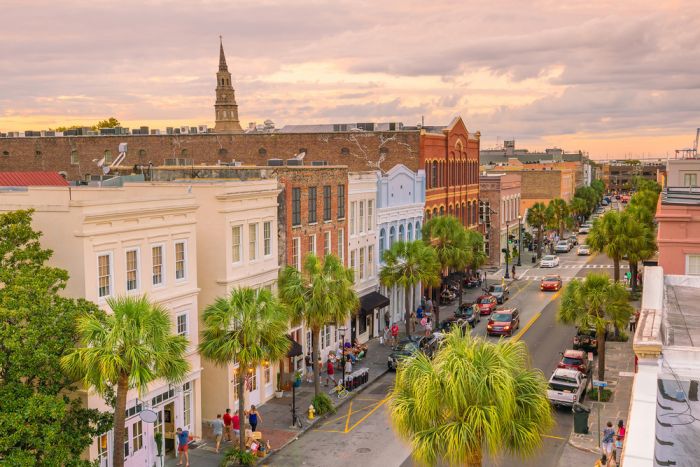 While Charleston might not instantly come to mind when thinking of bachelorette destinations, it has become one of the most popular destinations, and with good reason! With their beautiful architecture, brightly colored mansions, beautiful weather, and most importantly, delicious food!
This is a great destination if you are a self-proclaimed foodie and want to eat some unique and delicious food your entire trip! Gather up your girls and hit this classic southern city and enjoy some fun in the sun!
Oh, and did we mention the beach? What we love about this destination is that you can spend time at the beach and in the city all in one trip. Usually you have to pick one or the other, but not with Charleston! The city and the beach are equally beautiful but give you so many different, fun things to do! Hit the sand one day and the city the next- trust us, you'll never want to go home!
Make sure you stop by Rainbow Row and take some pictures! On this street each house is not only beautiful, it is a unique bright shade that makes it one of the most iconic streets in the United States. The perfect backdrop for some fun pictures with your girls!
There is also a wonderful shopping scene here in Charleston, so make sure you take advantage while you are in town! After all, isn't this the perfect time to shop for your honeymoon wardrobe? We think so!
With so much to do, this is an excellent choice for any bride for her bachelorette party and tops on our list!
3. Nashville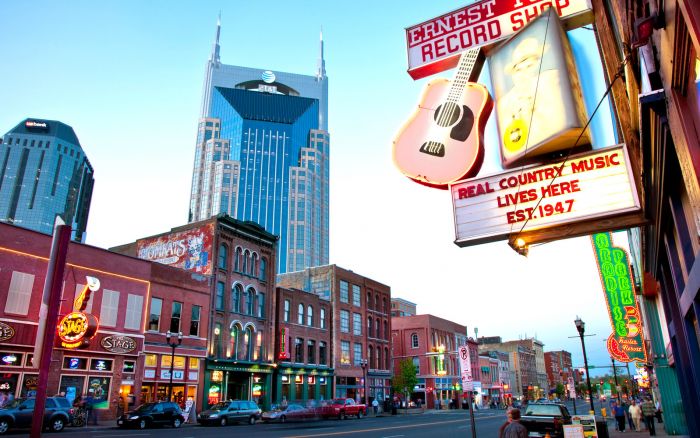 For music, dancing, and fun, why not head to Nashville for your bachelorette? Aptly called NashVegas, this is a great city to visit if you want something similar to Las Vegas but still want to try something new! With plenty of fun bars, great restaurants, and of course a great music scene, this is perfect for you and your girls if you just want to have fun!
There is plenty to do in Nashville, and all of it is just incredibly fun. If you are looking to get in touch with your southern roots and have a darn good time, Nashville is the spot for you! It is also a great centrally located spot in the south, so if your bridal party is located in the south this is a great place where you can all easily meet up!
No matter what you decide to do, you are sure to leave having had the best weekend of your life! If music, food, and dancing are on your wishlist, Nashville is the spot for you!
4. New York City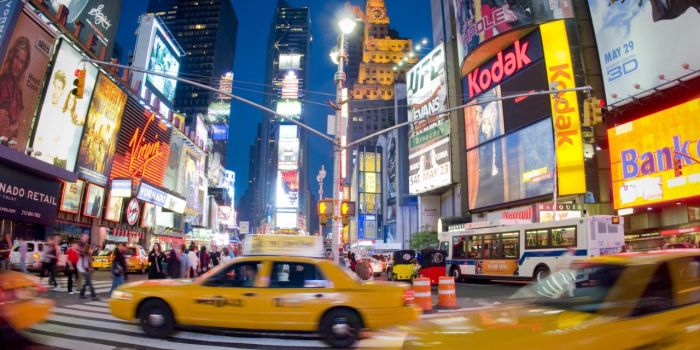 Are you looking for the chance to live out Sex in the City, even if just for a weekend? You have to head to New York City then! Plenty of great shopping, restaurants, bars, Broadway, Times Square- do we need to go on? The City That Never Sleeps- you certainly won't either if you come for your bachelorette, but you also won't want to!
If you are looking for a #glamorous destination for your bachelorette party, there is nothing that will top New York City. With so much to do and see, you are sure to be busy from the second your plane lands until you have to leave. You can easily stay busy in just one borough, or you can try and visit all 5!
No matter what you do, you are sure to have a fabulous time in New York City. If you want a busy and exciting bachelorette trip, this should definitely be tops on your list!
5. Miami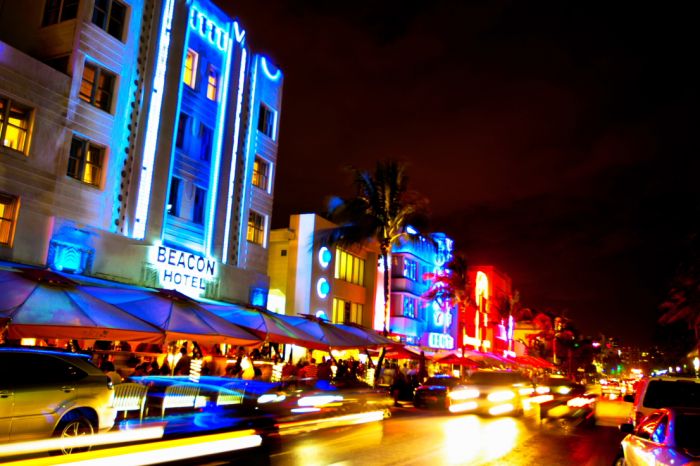 Another great destination for both the city and the beach, Miami is always an excellent vacation spot, and should definitely be some place to consider for your bachelorette party! With plenty of amazing beaches you can certainly soak up the sun, but Miami also has so much else to offer!
We recommend heading straight to South Beach and enjoying the great nightlife, dining, shopping, and of course, people watching! There is so much to do and see here, and it is all accompanied by wonderful weather! You could easily spend an entire weekend walking up and down Lincoln Road, or if you want something different, head right on over to Ocean Drive!
If you know you need to be somewhere warm, Miami is certainly a great choice for you, no matter when you are planning your bachelorette trip for. Make sure to enjoy the white sand, the amazing shopping, and some delicious authentic Cuban food! Top it off with some cocktails and you are in for an amazing trip.
6. Napa Valley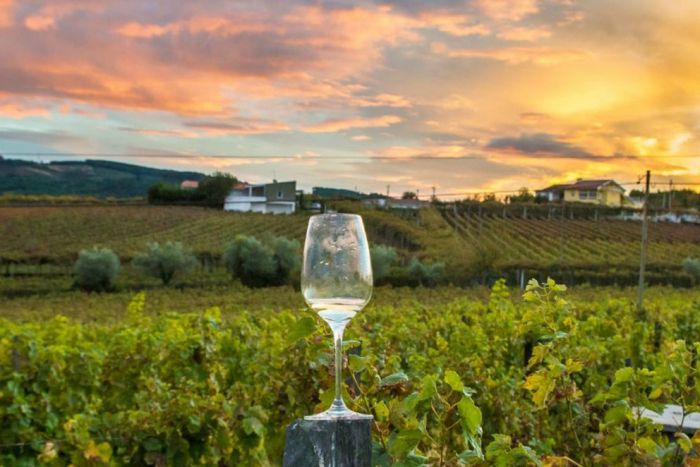 If you picture wine when you think of your bachelorette party (and we don't blame you at all!) why not consider heading out to Napa Valley for your trip? Get together with your girls, sip amazing wine, and take in the beautiful scenery. It's just that simple, and just that amazing.
While most people might not instantly think of Napa as a bachelorette spot, we think it is a great option for any bride that wants to sit back and relax and have some amazing wine (and food as well!) Schedule a winery tour and sit back and relax as you escorted from one amazing winery to another. Honestly, we can't think of anything much better than that!
After your wine tour, head back to your amazing hotel and lounge by the pool or hit up the spa. It doesn't get much more relaxing than that. If that is exactly what you want for your bachelorette party, this is the destination for you.
Wrapping Up
So there you have it! Vegas is not even on your mind anymore, is it? Each of these destinations has something unique to offer, but all will certainly provide you with the best time of your life! Planning a wedding is stressful, but your bachelorette party is your chance to unwind, relax, and most importantly, have fun!
The hardest decision you'll have is picking one city off the list! Which sounds most exciting to you? Let us know!
Pin for later