Meghan Markle's Fashion Items Everyone Wants to Get Their Hands On!
last updated:
Oct 23, 2020
1042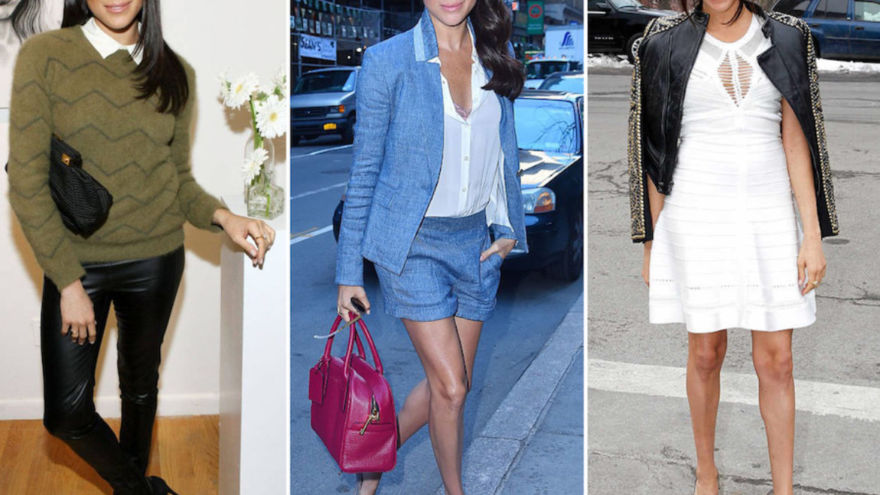 Meghan Markle is easily one of the world's most popular modern fashion icons, in similar fashion to other starlets who are found walking around in some of the most iconic pieces. Although Meghan doesn't wear affluent haute couture to most of the events she attends, her fashion choices are one of the main reasons as to why so many items sell out so quickly because she simply dresses like any other fashionable young adult in the world.
If you've been searching for a way to amp up your wardrobe or if you're wondering how you can get your hands on some influential pieces, below are some of the most popular Meghan Markle fashion items that absolutely everyone wants to get their hands on.
1. Love Gun Jeans
If you had the chance to watch the 2017 Invictus Games, you undoubtedly noticed the stunning pair of skinny jeans that Meghan was wearing as she sat beside her beau, Prince Harry. These jeans seemed to compliment every single curve that she had while showing off her enviable thin figure that seemingly looks great in absolutely anything. Unfortunately, the jeans were sold out for quite a while but since then, they have been restocked in sizes 23 to 32.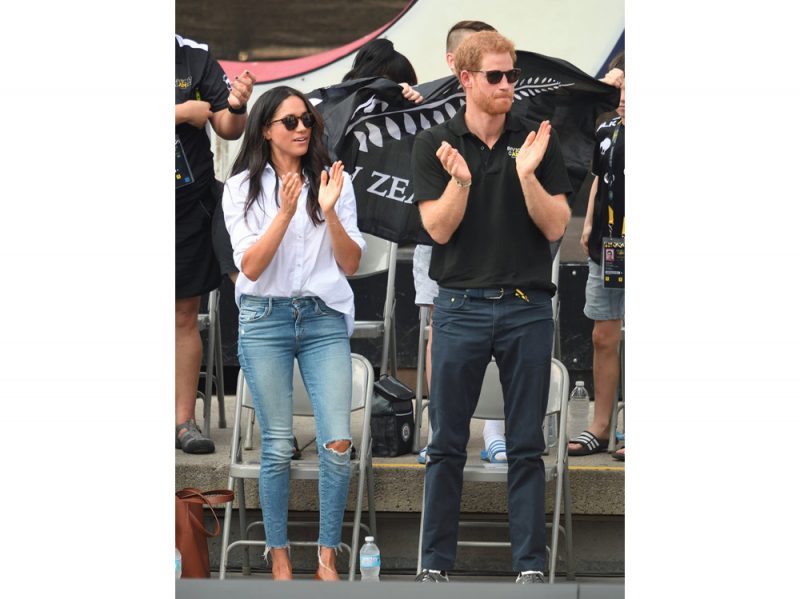 Although the jeans do retail for $228, you can guarantee that they are built to last and they will look stunning when paired with anything ranging from a bulky bomber jacket to a plain white t-shirt. Due to their popularity, we recommend looking for the Love Gun Looker Ankle Fray jeans ASAP before they sell out again.
2. Strathberry Handbag
What woman doesn't love having a reliable tote to bring with them absolutely everywhere? It's not a lie when people say that handbags have the opportunity to completely transform an entire outfit and when it comes to Meghan's Strathberry handbag, there's no exception. Similar to the Love Gun jeans, this handbag sold out almost immediately when she carried it with her to her first official engagement, a walkabout in Nottingham.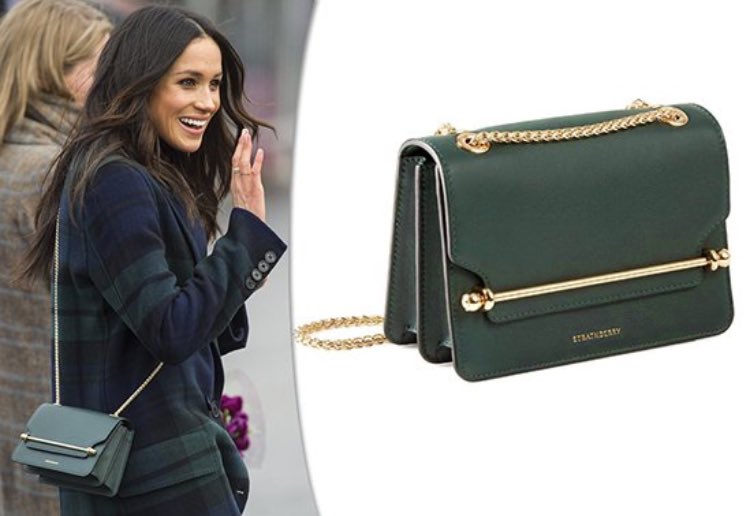 The bag is available for £495, but unfortunately, the same brilliant burgundy that is owned by Meghan Markle is unavailable. However, there are a few other shades that you can browse through until the bag is restocked. Otherwise, it comes in over 10 different colors that you can choose from to compliment absolutely anything in your wardrobe.
3. J Crew Navy Coat
If you're the type of person that loves to buy clothing similar to what starlets own simply because the originals are far too steeply priced, you might have heard about the J Crew navy coat that Meghan wore on International Women's Day alongside Harry. As a more affordable alternative to the high-end designer labels that she has worn in the past, it's no wonder that the jacket sold out within a matter of minutes. In fact, so many people rushed to the J Crew website that it crashed within seconds.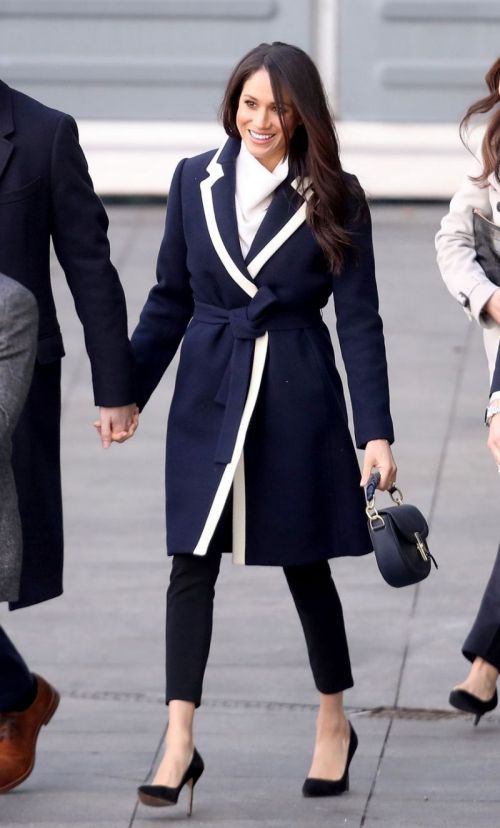 Online, the jacket was available for £330 and seemed to be perfectly tailored to Meghan Markle's body, which is a quite simple look to achieve with a peacoat. It's brilliant wrap design, dark navy body, and cream piping along the lapel and down the front of the coat created a brilliant contrast that tens of thousands of people wanted to own. It truly is a stunning jacket and in the event that you'll be able to grab one when they get back in stock, you'll be quite a lucky fashionista.
4. LINE White Coat
At an event that nearly everyone who is interested in the royal family was able to watch, the day that Meghan and Harry announced their engagement to the world she was wearing a brilliant white wool coat. Designed by Toronto based John Muscat for his clothing line LINE, you can guess just how the "Meghan effect" affected the sales of the jacket. Within minutes of it being aired on the television, women from around the world flocked to the designers website and the jacket sold out within minutes.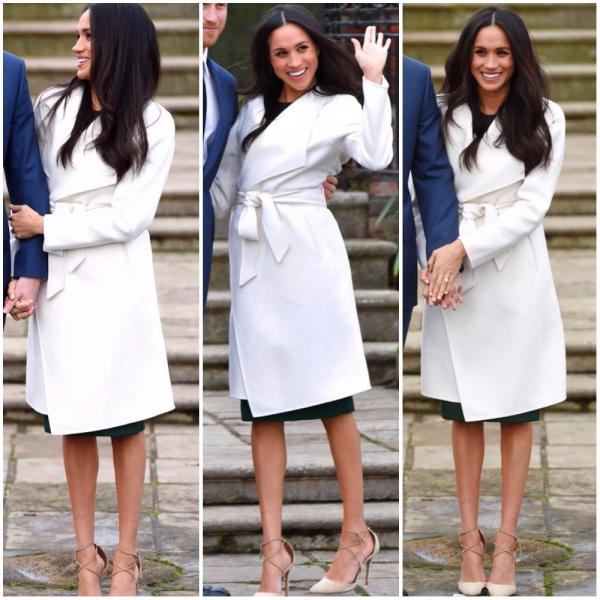 It's also important to note that the jacket has yet to be restocked, but it has been aptly named "The Meghan" due to its tremendous success. The jacket looked absolutely stunning and warmer than anything you could imagine with a soft wool in a brilliant white that complimented every one of her features. As another one of her favorite (and iconic) wrap winter jackets, similar to the J Crew design, the LINE white wool coat is certainly a great find.
5. AllSaints White Turtleneck Jumper
As another iconic piece of Markle's attire on International Women's Day, she was also seen wearing a brilliant white turtleneck jumper from the brand AllSaints. The slouchy shirt is incredibly soft and comfortable to wear, which is what made it the perfect pairing with her straight-legged trousers and the stunning J Crew two-toned jacket.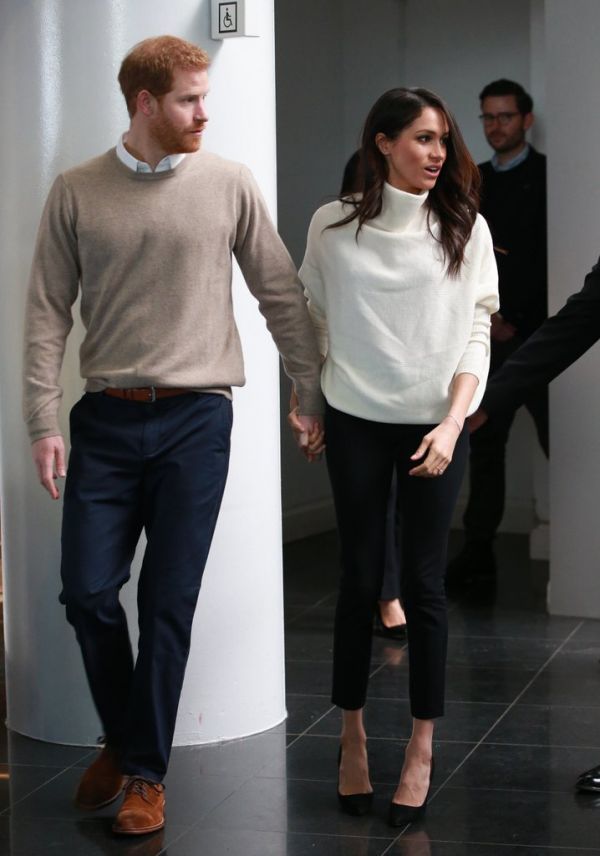 The Ridley Jumper from AllSaints is still available, however, they have an incredibly limited stock and the only color they have available is black, unlike the chalk white that Meghan wore with absolute beauty. The slouchy jumper is available for £168, making it one of the most affordable pieces she has worn to date from a brand that is easily attainable by absolutely anyone.
Getting Your Hands on Meghan Markle Fashion
If there's one thing to be said about Meghan Markle and her clothing items, it's that it's relatively impossible to get your hands on anything she owns unless you are either able to log into the designer's website faster than anyone else or if you wait for a restock. There's a reason as to why fashion designers around the world have dubbed the selling-out frenzy as the "Meghan effect", as it's literally transforming the lives of brands around the world.
With that being said, there are always dupes that you can find from other designers that have a similar look to the original pieces Markle wears, but for a significantly lower cost and they will be far more available than the original pieces from the authentic designers.
Pin for later