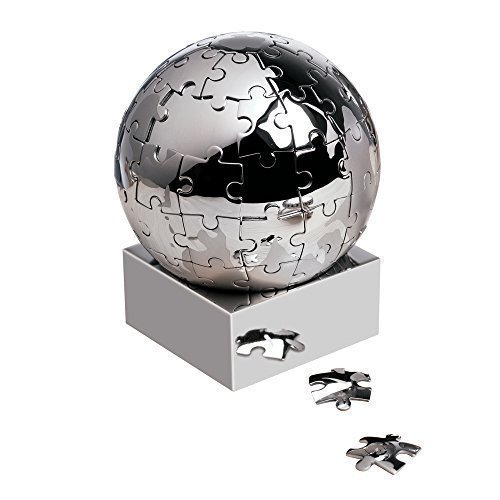 eBuyGB Magnetic Stainless Steel World 3D
In most cases, people love to get unique and stylish gifts for their loved ones and family. But, what happens when you exhaust your list of ideas of executive gifts? As much as getting one can be a challenge, you could still manage to get your hands on one.
Luckily, the art world keeps throwing new and exciting pieces day after day. It even goes to the extent of getting 3D decorative pieces that work well as gifts for loved ones. Think of this 3D world puzzle in a sleek design. It can be a thoughtful gift for anyone and will surely impress.
Detailed information about eBuyGB Magnetic Stainless Steel World 3D
So, what makes this puzzle special? Most puzzles feature as parts and pieces that one is supposed to fill in. But, this one brings about a design that s unique and fun to create as well. The entire piece comes in the form of a globe on a sturdy base. The stainless steel puzzles make up the whole globe with each at its specific place.
The jigsaw puzzle is interesting to assemble and disassemble. Therefore, it works as a great relaxation tool in the office or as a game with friends. More to this, the entire piece can be used as a decorative piece in offices, living rooms, hotels, etc. For this reason, it can be a lovely gift idea for travel enthusiasts.